The Little-Known Way Ellen DeGeneres Makes Millions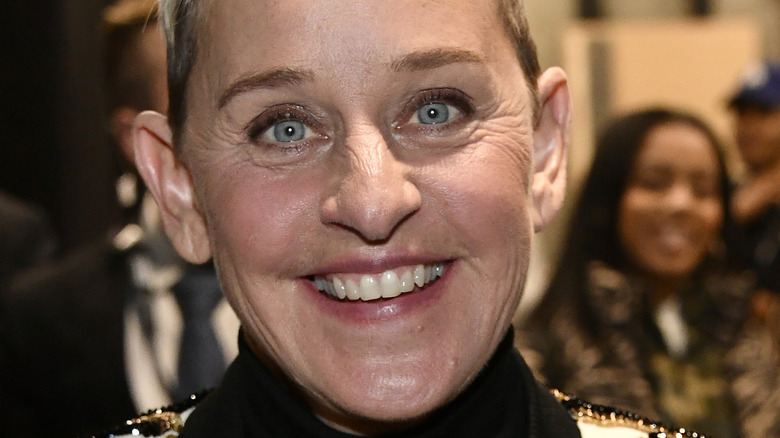 Frazer Harrison/Getty Images
"The Ellen DeGeneres Show" may be basically over, but the talk show host won't have to worry about money. Despite being known for her television work, Ellen DeGeneres has an equally lucrative side hustle — flipping houses. While she's always called it a hobby, it could very well be DeGeneres' financial saving grace once her daytime show departs the airways, per Business Insider. "The Ellen DeGeneres Show" debuted in 2003 and in nearly two decades has won even more hearts than Emmy Awards (the series has won over 60). But in May, the 63-year-old announced she would be quitting the show in 2022. "The point is, I need to take a break from talking. I always trust my instincts, and my instincts told me it's time," she said during an episode, per news.com.au. While she cited that the show was "just not a challenge anymore," the decision to exit followed almost 12 months of backlash from bullying and toxic workplace claims, and dwindling ratings.
Whether you're a fan of DeGeneres or not, the television personality has always been smart with her money. Over the years, she has amassed a sensational fortune of $480 million — although some estimate it could be $680 million — predominantly due to her talk show earnings. However, she also has a penchant for investing with a vast personal real-estate portfolio.
Ellen DeGeneres has reportedly owned $450 million in real-estate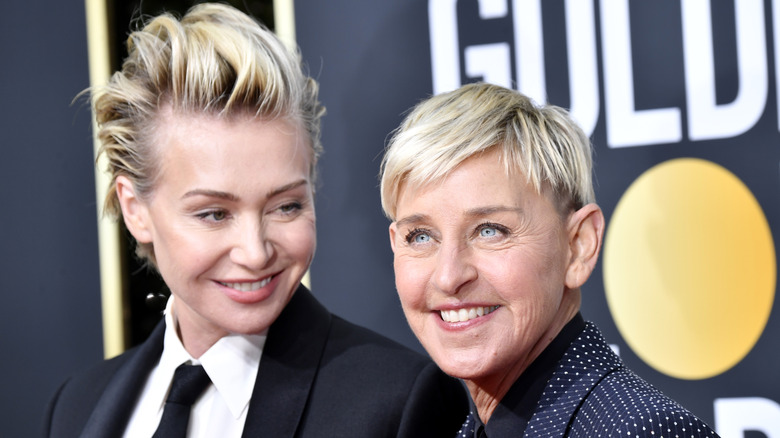 Frazer Harrison/Getty Images
Ellen DeGeneres may have a lot of cash to splash on luxury homes now — but previously she struggled with money. After she and her TV character came out on the hit '90s sitcom, "Ellen," DeGeneres said she stopped receiving work. "I moved out of Los Angeles and I went to Ojai just to get out of L.A. and I was just kind of by myself and running out of money..." she told David Letterman (via Hollywood.com). But after voicing Dory in the popular Disney Pixar animation "Finding Nemo," DeGeneres was able to regain enough prominence to launch her own talk show — one which would make her almost $50 million a year, per news.com.au. In the 2019/2020 financial year, she earned $83 million, making her the second-highest-paid female celeb, behind Kylie Jenner. While DeGeneres also makes money through other channels like her production company, one of her favorite ways to make and spend is by flipping properties. 
Back in 2018, DeGeneres revealed her family couldn't afford to buy a house as they were "poor growing up," per CNBC. "The first thing I did when I made money was buy a house," she told Architectural Digest. Her first residential purchase was a $6 million Hollywood Hills home in 2003, which she later sold to Will Ferrell for $9 million, per Business Insider. Over the next 15 years, DeGeneres continued to spend at least $145 million flipping houses with her wife Portia DeRossi.
Ellen DeGeneres sold a Montecito property to Ariana Grande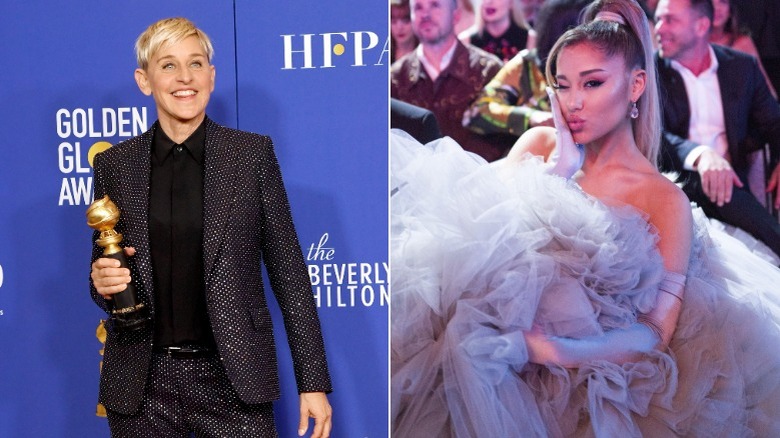 Kevin Winter, John Shearer/Getty Images
Ellen DeGeneres has reportedly sold more than 20 properties, plenty of them to A-Listers. She flipped the estate where Kim Kardashian married Kris Humphries and a Malibu beach house previously owned by Brad Pitt, per Business Insider. She even revealed on her show that Nick Jonas was her tenant. But her most recent celeb buyer was Ariana Grande, who snapped up her English Tudor mansion in Montecito, per The New York Post. According to Architectural Digest, the unique property was built in the 1700s and brought over from Europe in the 1980s. DeGeneres bought it for $3.6 million in 2020 but then sold it to Grande just a few months later for $6.75 million. 
While DeGeneres and Portia de Rossi have bought and sold plenty of properties in the past, this one was never meant to be their home. "This is the first property they have ever purchased with the intention of renovating and selling. They loved working on this home and are thrilled with how it turned out," listing agent Robert Riskin told Mansion Global. But the television personality's most recent project was a sprawling Beverly Hills home once owned by Adam Levine. DeGeneres bought the five-bedroom, nine-bathroom home for a cool $45 million in 2019 and "completely renovated it" to make a $2 million profit. While DeGeneres currently owns two Californian properties, she has reportedly made almost $70 million in selling alone over 17 years.