Courteney Cox Got Her Big Break In This Music Video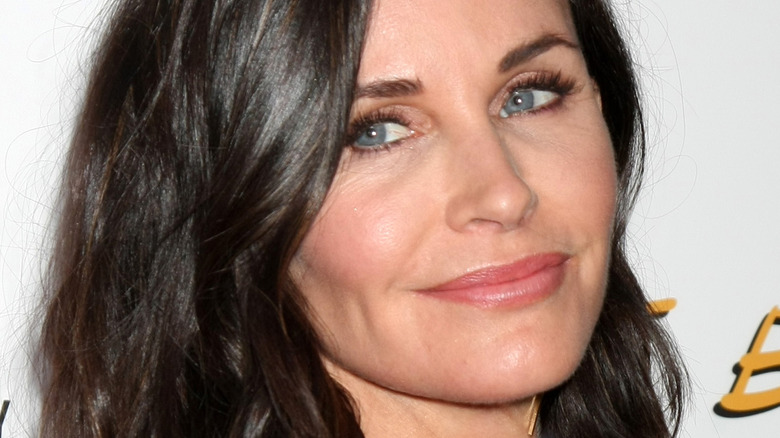 Kathy Hutchins/Shutterstock
Courteney Cox — for better or worse — has become forever ingrained in American pop culture as the high-pitched, neat freak Monica Geller. The "Friends" alum played the iconic character for a full decade, a performance that earned her a series of accolades, including a Screen Actors Guild Award and People's Choice Award. When Cox auditioned for "Friends," she initially read for the part of Rachel Green, Monica's roommate and old school friend, according to Vanity Fair — but she quickly fell in love with Monica. "We originally offered Rachel to Courteney Cox, but she said she wanted to do Monica, not Rachel," co-creator Marta Kauffman told the magazine. 
Cox was 30 years old when "Friends" premiered in 1994 and was the most experienced among the main cast and wanted to use her previous work to motivate her co-workers to be their best, Lisa Kudrow, who played the eccentric Phoebe Buffay, told the magazine. "She just set the stage with: 'I know I'm the one who's been on TV, but this is all of us.' She was the one who set that tone and made it a real group that way. And I thought that was a real turning point," Kudrow said.
Just six months before she starred in her career-defining role, Cox starred in an episode of "Seinfield" as one of the titular character's girlfriends, as Screen Rant noted. But Cox got to that point by starting out small. Keep reading to learn how Cox got her big break.
Courteney Cox danced with Bruce Springsteen in 'Dancing in the Dark'
A lot of actors star in several commercials before they manage to land a TV or small film role. Well, Courteney Cox's journey is a big different. Her first noteworthy work, even if it was small, is a big part of American culture. Every time fans click play on Bruce Springsteen's 1984 "Dancing in the Dark" on YouTube or elsewhere, they will catch a glimpse of Cox's infectious smile (and witness her killer dance moves made even more spectacular in a muscle tee). Director Brian De Palma, of "Scarface" and "Mission: Impossible" fame, instructed the singer to grab a fan from the audience and bring her onto the stage, per the StarTribune.
De Palma singled out Cox, but Springsteen thought she was simply a random person. De Palma later told Springsteen that Cox was an actor who had been through a casting call, per the report. "I walked into this big casting room and all these dancers were there. Their legs right up in the air, they're stretching, [doing] splits, and I was like, 'I don't think I'm in the right place because I can barely touch my toes," Cox said during an appearance on "Off Camera with Sam Jones" in 2017.
Cox was picked with two other girls and Cox was adamant that she should not be the girl to dance onstage, she told Jones. She now laughs about how her career could have turned out if De Palma had listened to her.
Bruce Springsteen's music video opened a lot of doors for Courteney Cox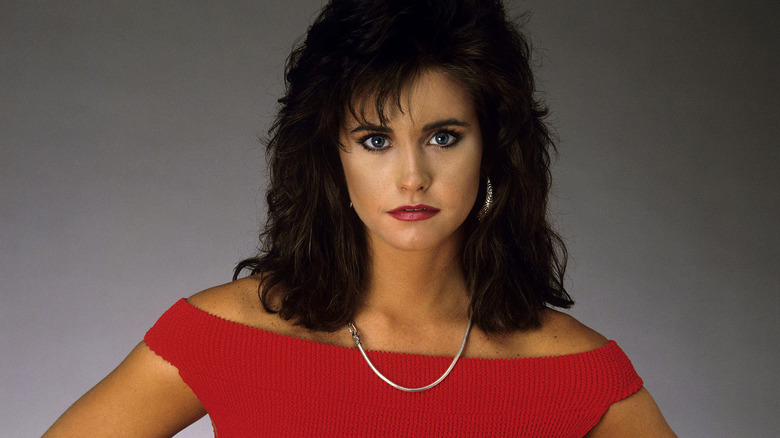 Joe Mcnally/Getty Images
After starring in Bruce Springsteen's iconic music video, Courteney Cox received quite a bit of attention for her role. "I spent a lot of time talking about what Bruce Springsteen was really like after that video. It got me in the door to so many places," she said on "Off Camera with Sam Jones." A year after "Dancing in the Dark," Cox was subsequently cast in the short-lived sci-fi drama "Misfits of Science" and as a guest star on "The Love Boat."
Between 1987 and 1989, Cox played Lauren Miller on NBC's "Family Ties," the girlfriend of Alex P. Keaton, played by Michael J. Fox. At the same time, Cox landed her first film roles, appearing in "Down Twisted," "Masters of the Universe," and "Cocoon: The Return." But sharing the screen with Fox, who went on to become an acclaimed actor and winner of five Emmys and four Golden Globes, also served as a pretty constant conversation starter, she told Jones.
"I felt like my career was 'What is Bruce Springsteen really like,' for the beginning, then it was, 'What was Michael J. Fox really like,' and then it's 'What's Jennifer Aniston really like,'" Cox joked. She may feel that way, but she's still the fourth most beloved character in one of America's most successful sitcoms, ranking above Chandler and Ross, according to a 2021 poll by YouGov. But Cox's humble nature is one of the many reasons we forever love her.