The Crime You Didn't Know Nina Dobrev Committed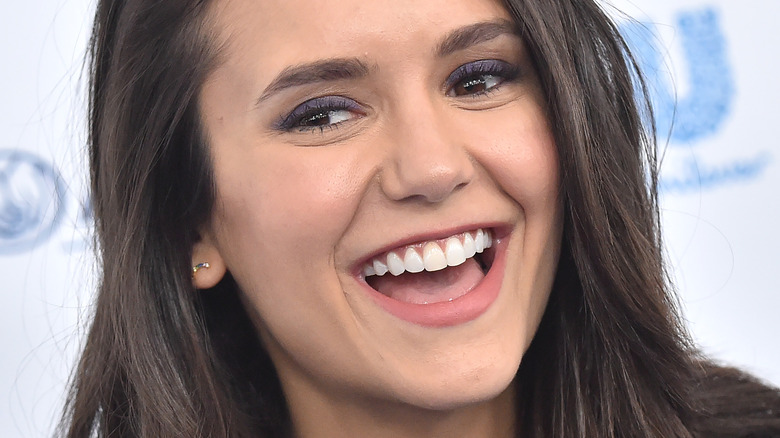 DFree/Shutterstock
During the 2000s, movies and TV shows like "Buffy the Vampire Slayer," "Twilight," and "True Blood" proved audiences were (blood) thirsty for human-vampire romances. Capitalizing on the vamp craze, the CW dropped "The Vampire Diaries" in 2009. The series, which ran for nearly 10 years until 2017, proved to be a huge hit and launched the careers of actors like Ian Somerhalder, Nina Dobrev, and Paul Wesley.
Dobrev, who starred as Elena Gilbert, was at the center of a love triangle between vampire brothers Damon (Somerhalder) and Stefan (Wesley), and frequently acted as the "good girl" who helped keep both men on the straight and narrow. Whether she was reminding Stefan of everything he had to live for, or keeping Damon anchored to his humanity, Elena was the quintessential heroine. But, in Season 4, Elena died and came back as a vampire, marking a darker turn in the series. From here on out, Dobrev's character made hard and fast choices, and briefly went off the rails following the death of her on-screen younger brother, Jeremy Gilbert. By the time Dobrev quit "The Vampire Diaries" for good in Season 6, Elena had transformed from a strait-laced teenager into a mature, nuanced vampire. And, in real life, Dobrev had a wild streak just like the character she played. Keep reading to learn about the crime she once committed!
Nina Dobrev and her co-stars flashed motorists in Georgia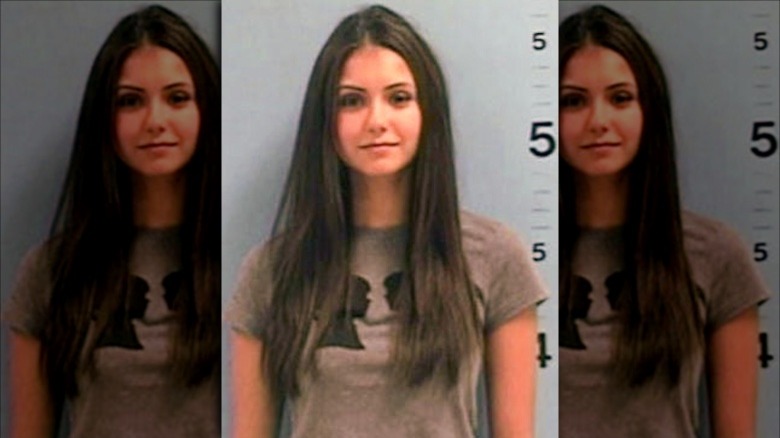 Kypros/Getty Images)
Per Showbiz CheatSheet, cast members including Nina Dobrev, Candice Accola, Kayla Ewell, and Sara Canning, along with photographer Tyler Shields and actor Krystal Vayda, once had a run-in with the law during the early days of filming "The Vampire Diaries." Entertainment Weekly reported that, back in 2009, Georgia-based police responded to phone calls and complaints about women who were "allegedly flashing motorists and hanging off a bridge." According to police documents, the police checked Shields' camera and found "numerous photographs of the females hanging, sitting, and straddling the bridge," per EW. The six women in question (Dobrev among them) were promptly booked for disorderly conduct, taken into police custody, and later released on bond, via Us Weekly.
The whole thing is surprising, especially for young actors eager to put their best foot forward in the entertainment industry. But to hear Ewell tell it, the flashing incident was more wholesome than passersby made it seem. "Having this be the first story that's released is so frustrating," Ewell told EW. "[The situation] is so exaggerated and [has been] made into something it's not." OK, so what was the real story?
Nina Dobrev's flashing incident wasn't what it seemed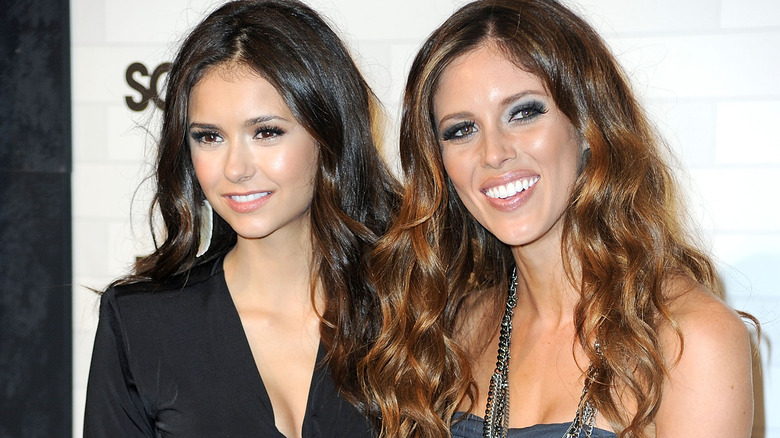 Frazer Harrison/Getty Images
Because the flashing incident overshadowed news of "The Vampire Diaries" ratings, Kayla Ewell was quick to set the record straight about what really happened that night. Per Entertainment Weekly, the actor claims that she and her castmates merely decided to take pictures on a bridge when they were accosted by police. "They were like, 'We're getting calls that people are flashing,'" Ewell explained. "And we're like, 'Whoa, whoa, whoa. The only thing that's flashing is our camera." Ewell added that after police checked their camera, the girls were booked for "loitering on a public walkway." Any accounts of indecent exposure are false, at least according to Ewell.
"I have no idea," the actor told EW, when asked why motorists believed that the women were flashing them. "We are not the type of girls who flash our breasts. In all honesty, the size of my breasts aren't necessarily something people would be interested in. It's so ridiculous. I would never do that." And, regardless of any negativity in the media, Ewell maintained that she was looking on the bright side. "We're trying to ... be happy that we're on a fabulous TV show," she said. "As a cast, we have all worked so incredibly hard to get here. We don't want people to think of us this way." Considering the meteoric success the show enjoyed, it would seem that Ewell got her wish.