Here's How Below Deck Med's Chef Mat Landed On A Super Yacht With No Formal Training - Exclusive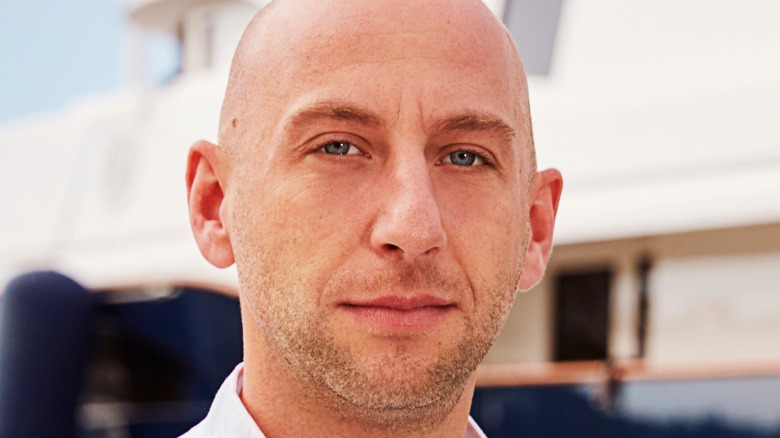 Bravo/Laurent Basset
From Ben Robinson and Adam Glick in the first few seasons of "Below Deck Mediterranean" to Rachel Hargrove on its parent show "Below Deck," the chef position on a superyacht is always one full of personality, professional pride, and sizzling crew drama. It's no different for the sixth season of "Below Deck Med," where Mathew Shea has joined Captain Sandy Yawn's crew on the Lady Michelle, bringing his bag of knives, of course, but also a wealth of strong opinions and the pride of place that so many chefs feel for the kitchens where they operate. It's Chef Mat's galley — everybody else is a visitor.
Shea also brings some rather varied seasoning to his chef role. In an exclusive interview with Nicki Swift, the Rhode Island native shared with us how his non-traditional learning curve — no formal culinary training, but plenty of the on-the-job kind — prepared him for cooking in the highly pressurized environment of pricey superyacht charters. And he definitely felt the pressure. "It was intense," Shea said. "Not like other jobs I've had."
Chef Mat says kitchen learning is the best culinary test
Mathew Shea has an interesting take on his work as a professional chef operating in the sometimes dicey, always drama-filled waters of "Below Deck Mediterranean" and its Season 6 platform, the superyacht Lady Michelle. As he told Nicki Swift in an exclusive interview, Shea grew up in kitchens. His mother ran a cooking school back home in Rhode Island, and Shea knew he'd be a chef at age 12. "I worked under so many great chefs from a young age," he said, "and just had a love for food. And I've been fortunate enough to work private for so long with families that have multiple chefs that I could work with. And working on yachts, traveling, I've been able to be in other countries and immersed in other cultures where I've picked up more knowledge than I think anyone could learn in a four year cooking school."
It's that real-world experience he now brings to serving the whims of moneyed charter guests and feeding his fellow crew members, and Shea's prepped and ready. "I know a lot more than them," Shea said with his typical boldness, referring to all of those chefs laboring away in culinary programs. "[I] have a lot more hands-on experience than a lot of them. And I can do it alone on a moving boat and provision around the world."
Episodes of "Below Deck Mediterranean" air on Mondays at 9 pm ET/PT on Bravo. New episodes will drop one week early on Mondays on Peacock.