The Truth About Elisha Cuthbert's Marriage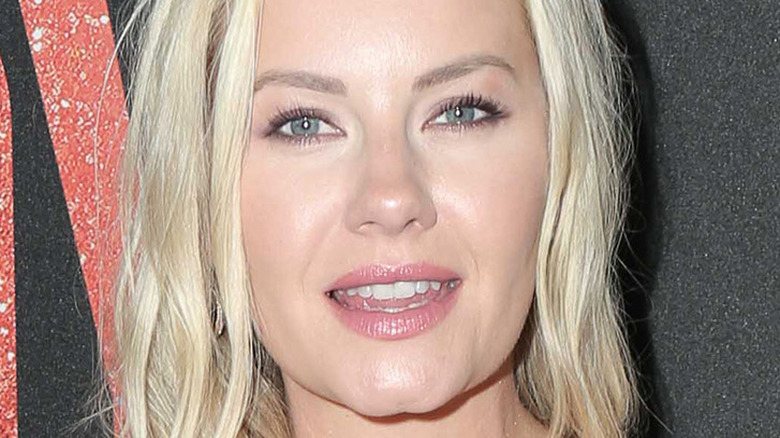 Kathy Hutchins/Shutterstock
It's not uncommon for Hollywood stars to start up romances with famous athletes. Couples like Kendall Jenner and Devin Booker, Gabrielle Union and Dwyane Wade, Carrie Underwood and Mike Fisher, and Jessica Simpson and Eric Johnson are prime examples. There's also actor Elisha Cuthbert, who's starred in shows like "24" and "The Ranch," and evidently has a thing for hockey players, as she been romantically linked to not one, but two NHL stars. She first dated Sean Avery from 2005 to 2007, per Yahoo! News, before ultimately finding her happy ending with husband, Toronto Maple Leafs player Dion Phaneuf.
The romance, which Cuthbert described to Women's Health as the "first real healthy relationship" in her life, started in 2008, according to Us Weekly, and saw the couple get engaged four years later. They tied the knot a year after that in 2013, and they welcomed their first child — a baby girl named Zaphire — in 2018.
Scroll ahead to learn more about Cuthbert and Phaneuf's marriage, including how the actor handles online trolls who hate on her relationship.
Elisha Cuthbert and Dion Phaneuf have dealt with cheating rumors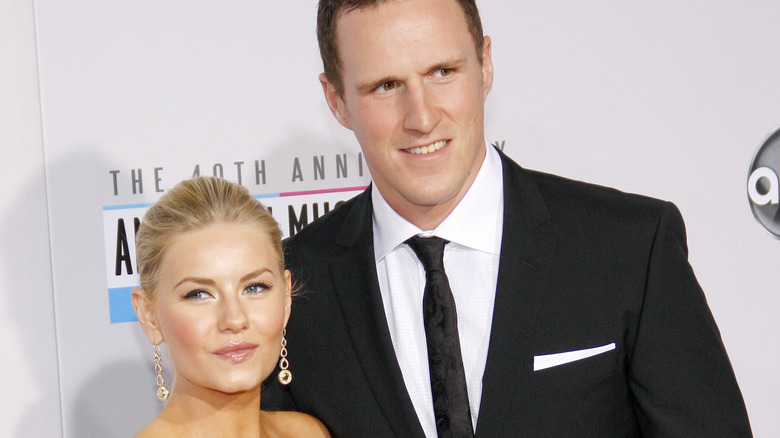 Tinseltown/Shutterstock
Being a hockey wife has its ups and downs, but luckily, Elisha Cuthbert and Dion Phaneuf know how to handle haters who criticize their marriage. In 2015, the couple threatened to sue TSN after they aired an inappropriate tweet that suggested the actor was cheating on her husband. The message, which claimed Cuthbert was having an affair with Maple Leafs player Joffrey Lupul, appeared at the bottom of the screen during a live broadcast, per CBS Sports.
Cuthbert, Phaneuf, and Lupul issued a joint statement through a law firm demanding the sport network "issue a formal apology and pay a significant amount of damages ... for broadcasting a false and defamatory tweet during their trade deadline show." TSN immediately did so.
Cuthbert has also had to deal with a lot of online hate from Instagram users who post negative comments on her photos. In January 2015, Cuthbert clapped back at her trolls, sharing a photo of a disheveled mouse with the caption: "Haters be commenting on your posts and their profile pic be like." She's clearly not letting her haters lead her into a mouse trap. 
Cuthbert and Phaneuf fully support and admire each other's careers
Elisha Cuthbert opened up about her marriage with Dion Phaneuf in 2018 in an interview with What She Said, revealing that they fully support and are proud each other's careers and accomplishments. However, that doesn't mean she doesn't worry about her husband when he's on the ice playing hockey. She explained, "I worry about Dion but he's such a professional and it's his job, it's what he does and what he's been doing his whole life. There is confidence in that and then there is also in the moment of fighting or aggression that instinctually you feel for your spouse but there is this amazing underlying feeling of confidence and pride."
The star said Phaneuf likely feels similar emotions. "I know when he comes to watch me shooting 'The Ranch' for Netflix and we shoot in front of a live audience ... I think he gets butterflies when I have to go out there and lay it on the line — not physically. It's a terrifying job sometimes overwhelming. We feel both admiration for each other." 
Cuthbert went on to say that the fact that they're both Canadian has brought them closer. "Dion and I are really passionate about living in Canada and he's really proud only to have played on Canadian teams thus far," she said. "We make a beautiful life for ourselves out there. We are Canadians through and through." It seems like the pair are smitten for each other and share a balanced, supportive life.