The Crime You Didn't Know Vanilla Ice Committed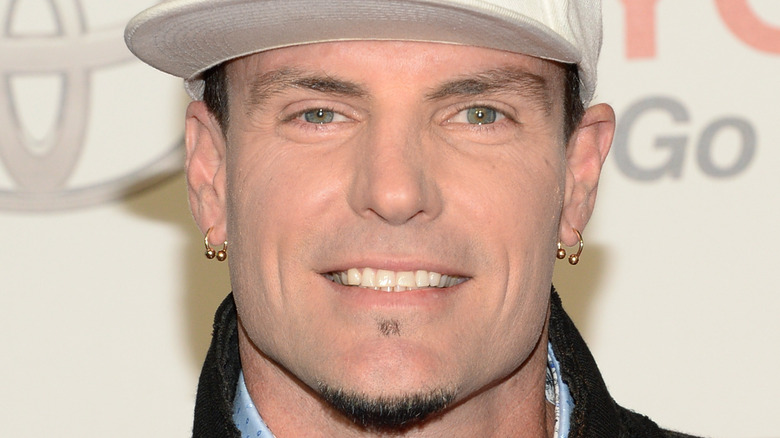 Jason Kempin/Getty Images
Nickelodeon's "All That," the emergence of "South Park," and professional wrestling's rise in popularity — these are just some of the things that embodied the cultural revolution of the 1990s. Of course, when you think back on the iconic decade, you can't forget about the ultimate '90s flag-bearer, Vanilla Ice. Think about it — who doesn't know "Ice Ice Baby?" The classic track, accompanied by the sounds of Queen and David Bowie's "Under Pressure," kicked off the 1990s in such a distinct fashion that it arguably set the standard for the rest of the decade.
Rappers like Vanilla Ice and Everlast appeared at the forefront of the 1990s, setting the bar for white rappers for the years that followed — as stars like Eminem and Limp Bizkit's Fred Durst popped up later on in the decade. But although Vanilla Ice's role saw him as a leader-slash-trendsetter, that only made him more susceptible to the typical celebrity woes — like run-ins with the law. In fact, Vanilla Ice has a rather extensive rap sheet, with charges pertaining to drag racing, firearms, and burglary on the list. The rapper even faced trouble with the law when his pet wallaroo (a kangaroo/wallaby blend) and pet goat escaped into the streets for a week (via The Palm Beach Post)!
And although his list of run-ins with the law is extensive, there's one more serious crime on the list that you might not even know occurred. So what elusive crime did Vanilla Ice commit? Read on to find out.
Vanilla Ice was charged with disorderly conduct against his wife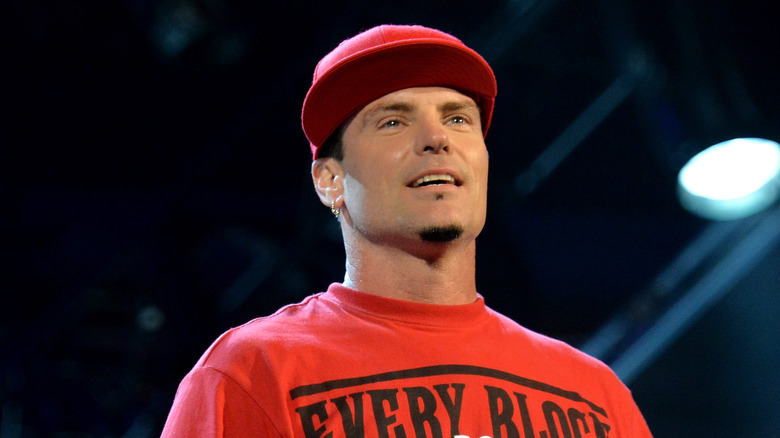 Mike Coppola/Getty Images
In January 2001, Vanilla Ice fell into hot water with the law when he was charged with assault against his then-wife, Laura Giarrita. The situation occurred as the two were driving down Interstate 595 in Davie, Fla. when, according to Vanilla Ice, the two got into a "heated argument," as he told Miami's WSVN TV (via Rolling Stone). What resulted from that argument was a web of physical aggression as told by both parties.
In a police report, Vanilla Ice revealed he put his hand over Giarrita's mouth in an attempt "to shut her up." The rapper also admitted to ripping out some of her hair, which he noted was an attempt to "prevent her from jumping out of the truck's window," per the outlet. Giarrita, however, recalled a different account of the story — claiming she "feared" the rapper. The couple's two children bore witness to the whole situation.
Vanilla Ice was ultimately charged with disorderly conduct and was ordered to attend family therapy alongside his probation sentence (per The Sun), though the buck didn't stop there. In 2008, the rapper found himself in trouble once more following an incident with his wife. 
Vanilla Ice was also arrested for domestic battery in 2008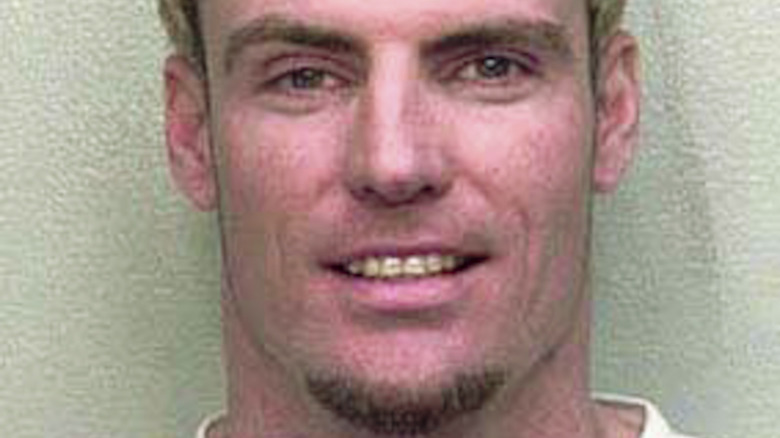 Kypros/Getty Images
In 2008, the rapper was arrested for domestic battery after his then-wife Laura Giarrita claimed he was "hitting and kicking her," as The Daily Mail described. The situation arose when the rapper allegedly yelled at her in front of their daughter for "going out to buy a bedroom set," per The Daily Mail. "I can't say any more until I talk to an attorney," Vanilla Ice originally stated. Giarrita later changed her story to say he only pushed her, as opposed to the initial story she told (per TCPalm). Ice countered, claiming that Giarrita was "bipolar and, despite being on medication, tends to get irrational and argumentative, according to the police report" (per E! News). Oy.
Following the situation, TCPalm noted that Vanilla Ice "[could] only have phone contact with his wife and visit his two daughters as long as he's with neighbor Frank Morales." He was also ordered to, alongside a police escort, retrieve his personal belongings and live separately from Giarrita before the courts made a final decision.
Vanilla Ice and Giarrita first tied the knot in 1997 and welcomed two daughters — Dusti Rain and KeeLee Breeze — into the world during their marriage. After nearly 20 years of marriage, Giarrita ultimately filed for divorce in 2016, which was finalized three years later (per TMZ). Vanilla Ice may have defined the '90s but behind closed doors, he seems like a rough presence. 
If you or someone you know is dealing with domestic abuse, you can call the National Domestic Violence Hotline at 1−800−799−7233. You can also find more information, resources, and support at their website.