What Is Nicki Minaj's Real Name?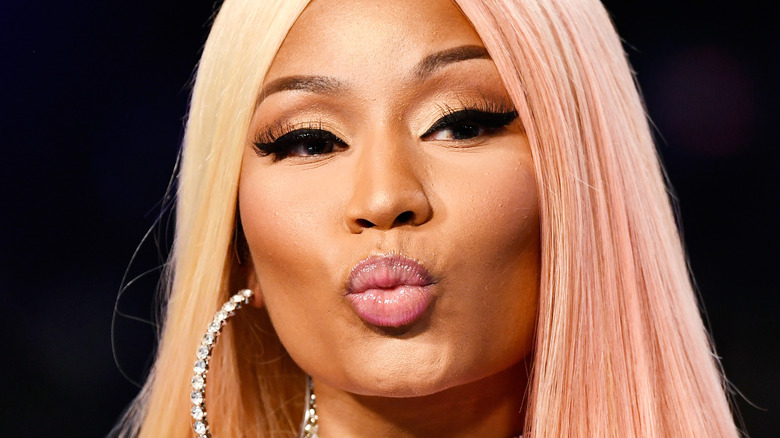 Frazer Harrison/Getty Images
Nicki Minaj has navigated life with the help of her alter egos. She created her first one, "Cookie," when she was still an imaginative child in Saint James, Trinidad and Tobago. "Fantasy was my reality. I must have been such a f***ing annoying little girl," the rapper told New York Magazine in 2010. On Instagram, she is known as Barbie, short for her pink-obsessed alter ego Harajuku Barbie, one that has inspired her legion of dedicated fans to call themselves "Barbs" or "Barbz," per Spin.
Many of Minaj's alter egos are celebrated in her albums and music. "Pink Friday: Roman Reloaded," released in 2012, is a reference to her alter ego Roman Zolanski, an outspoken gay man whose name was inspired by controversial Polish-French filmmaker Roman Polanski, per The Guardian. She has also given Roman an annoying British mother, Martha, who is featured in "Roman's Revenge," a collaboration with Eminem, the newspaper detailed. Then there's Nicki Lewinsky, a sexually explicit woman referenced in at least a dozen songs, as The Cut pointed out. Monica Lewinsky famously thanked Minaj and other rappers for name-dropping her in their songs, MTV reported in 2014.
Minaj's overactive imagination is behind all these characters. Her head is "Crazy, always going, never stops," she told The Guardian. With so many alter egos and names attached to her famous persona, Minaj's real name has taken backstage in her career, which is how she likes it. Keep scrolling to find out the name she was born with.
The stage name Nicki Minaj is derived from her real name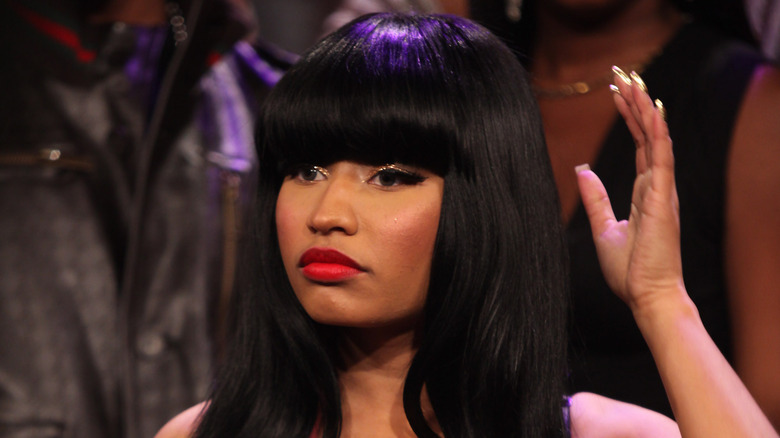 Neilson Barnard/Getty Images
Born Onika Tanya Maraj, the rapper went by Nicki as a child, according to The Guardian. Early on in her career, she adopted the stage name Nicki Maraj, which was basically her childhood nickname and her last name. In 2007, when she was signed by Brooklyn label Dirty Money Records, CEO Fendi convinced the artist to change Maraj to Minaj "because I had such a nasty flow," she told Rap Industry. It wasn't a decision she was happy with. "I fought him tooth and nail. But he convinced me. I've always hated it," she told The Guardian without naming Fendi.
To her, Nicki Minaj is just another name that helps give form to her craft. Minaj goes in and out of characters even when she's not performing, according to The New York Times Magazine's Roxane Gay, who said Minaj switched to a British accent a couple of times during the interview. "I feel it's like one big theatre piece. It's a show," she told The Guardian.
Despite having a wide range of names and alter egos, Minaj dislikes when people who know her as one thing start calling her something else. "My rule is, whatever you were calling me four years ago is what you should be calling me now, because I don't like it when my family or close friends call me Nicki Minaj. To me I'm not Nicki Minaj when I'm with them," she explained.
Nicki Minaj started creating alter egos as an escape from her harsh childhood
Nicki Minaj, who was raised in Queens, New York, came up with Cookie, her first alter ego, to escape the hardships of her childhood. Her father, Robert Maraj, struggled with alcohol and drug addiction, which caused him to become violent at times. His addiction took a toll on the family as the man would sell furniture and other objects to buy drugs. At one point, he even tried to set fire to their home. "I was very, very afraid that he would snap. I wasn't afraid for myself but for my mother. He didn't do anything to me or my brother that made us feel we had to fear him," she told The Guardian.
An avid reader, Minaj allowed her imagination to run wild. "To get away from all their fighting, I would imagine being a new person. 'Cookie' was my first identity — that stayed with me for a while," Minaj told the New York Magazine. She took her role-playing very seriously — so much so that her many of friends called her Cookie, she told The Guardian.
Her father later took control of his addiction with the help of church, Minaj's mother, Carol Maraj, told The Christian Post. "Pastors took my husband under their wings and mentored him through life and our marriage," Carol said. Robert tragically died in February 2021 after being hit by a car, per The New York Times. 
If you or anyone you know is struggling with addiction issues, help is available. Visit the Substance Abuse and Mental Health Services Administration website or contact SAMHSA's National Helpline at 1-800-662-HELP (4357).