Jennifer Lawrence And Cooke Maroney Have Big News To Share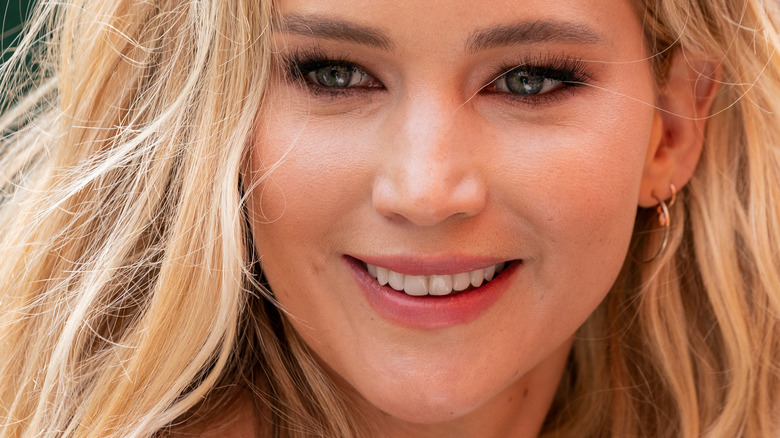 lev radin/Shutterstock
Jennifer Lawrence is about to take on her biggest role to date: mother. The Oscar-winner has been with her husband, art gallery director Cooke Maroney, since June 2018 and supposedly met him via her best friend Laura Simpson, per Elle. The pair got engaged the following February and tied the knot later that year in a star-studded affair in Rhode Island. While Lawrence downplayed wedding planning on the "NAKED with Catt Sadler" podcast in June 2019, it's clear that just a little thought went into it.
The October 19, 2019 nuptials saw the "Silver Linings Playbook" actor and Maroney marry at a palatial mansion in Newport, which was built in 1894 and inspired by Louis XIII's hunting lodge at Versailles, per People. "I've been in a good place. I haven't been neurotic about it. I'm, like, too lazy to be neurotic," she told Sadler. "I saw a dress I liked. I was like, 'That's the dress.' I saw a venue, I was like, 'Cool, we got the venue.'" The reception had 150 guests including Adele, Amy Schumer, Emma Stone and outspoken fan-girl Kris Jenner. And now it seems celeb friends will be waiting by the telephone for Lawrence to ask them to be her future child's godmother. (We're sure there are plenty of contenders.)
Jennifer Lawrence previously wasn't set on having kids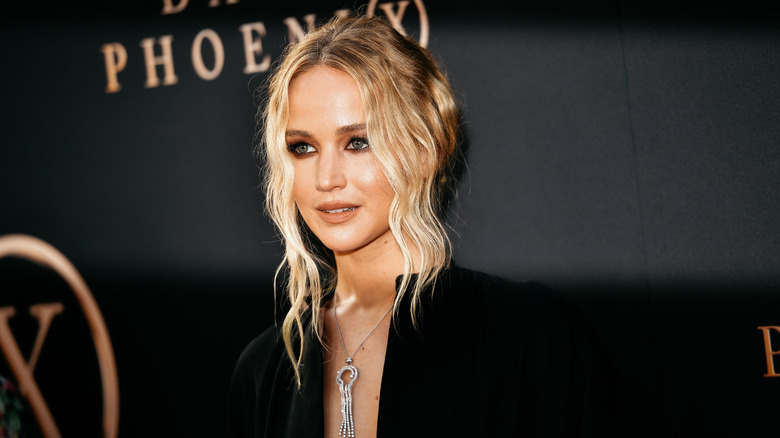 Matt Winkelmeyer/Getty Images
Jennifer Lawrence confirmed to People on September 9 that she and Cooke Maroney are expecting their first baby together. While no other details have been provided, the happy baby news would delight no one more than Lawrence's mom. Shortly after "The Hunger Games" actor's wedding, Karen Lawrence told US Weekly she "can't wait" to be a grandmother to their future kids. Despite already having six grandkids, Karen also said: "I don't think that a grandmother could have too many."
Previously, Lawrence was hesitant about motherhood when she dated "Mother!" director Darren Aronofsky in 2017. "When I was 21 or 22 I was like, 'I can't wait to be a mother. Now I'm like ... [shocked face]," she told E! News. But those views seemingly flew out the door when she met Maroney. The 37-year-old may not be in the entertainment biz, but he is a "high profile" director of the prominent Gladstone Gallery in New York City. Lawrence, who also wasn't in the marrying frame of mind before Maroney, gushed about him being "the one" on "NAKED with Catt Sadler." "I just met Cooke, and I wanted to marry him. We wanted to marry each other. We wanted to commit fully. He's my best friend, so I want to legally bind him to me forever," she joked.
While it's unlikely we'll get a social media reveal given Lawrence doesn't have Instagram, we guess we'll have to wait for impending paparazzi and publication snaps. Stay tuned.