The Truth About Phil Collins' Declining Health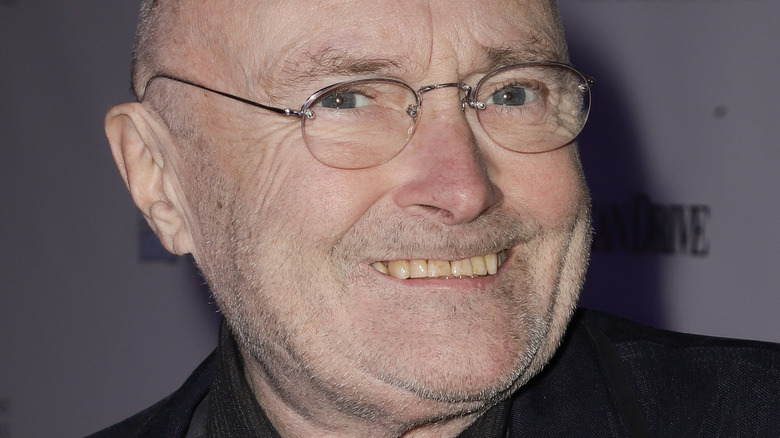 John Parra/Getty Images
Iconic musician Phil Collins has enjoyed a decades-long career as a legendary singer and drummer. His many accolades include an Oscar and seven Grammys, per the Songwriters Hall of Fame. He has also managed to sell over 100 million solo albums, in addition to another 150 million during his time with Genesis. Many remember him fondly for his work on the iconic soundtrack to Disney's "Tarzan," which featured some of his most-famous hits, including "You'll Be in My Heart" and "Strangers Like Me." 
Collins started out as a drummer and only made his way into singing after the lead singer of Genesis, Peter Gabriel, left, reports NPR. He described the experience to the news organization: "I didn't consider myself a real singer," he stated. "I was still kind of hoping, in a way, that someone would appear from out of the woodwork and say, 'I'm your guy,' you know? And I could go back to playing the drums." Luckily, for fans, Collins discovered a passion for singing and went on to forge a career doing just that.
For more than a decade now, Collins has struggled with various health problems that have only been exacerbated over time and have called into question his ability to continue performing. Keep reading to find out more about the "In the Air Tonight" star's declining health.
Phil Collins' injuries and ailments have only multiplied over time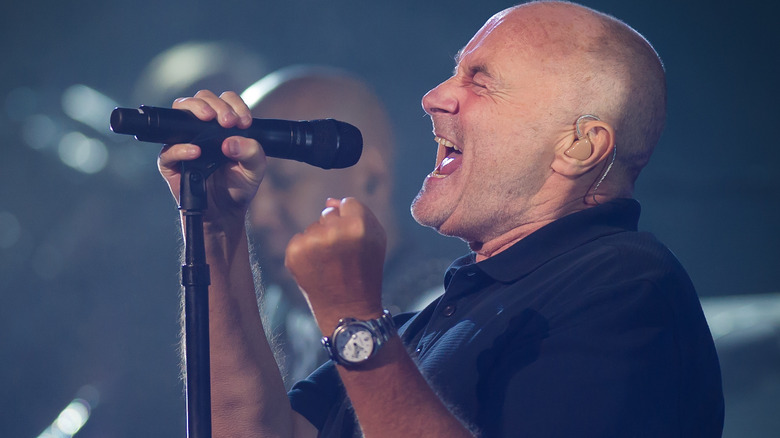 Jimmie48 Photography/Shutterstock
Phil Collins' health problems began around 2007 when he dislocated several vertebrae in his upper neck, leaving him with nerve damage that left him unable to play the drums, per The Sun. At the time of the injury, Collins gave a statement on Genesis' website. "After a successful operation on my neck, my hands still can't function normally," Collins wrote in the message. "Maybe in a year or so it will change, but for now it is impossible for me to play drums or piano." Unfortunately, while his body fought to heal, the "Against All Odds" artist sunk into a deep depression that caused him to seek comfort in the bottle. His ensuing alcoholism led to the diagnosis of acute pancreatitis in 2016, which served as a harrowing wake-up call. 
Health woes were still not behind the legendary singer and drummer, though. Collins experienced another setback after back surgery in 2015 left him unable to walk properly, leading him to depend on a walking stick. If that was not enough, Collins then suffered multiple foot fractures from falls while recovering from the surgery, as reported by People. The icing on the cake, however, was the fall he took in a hotel bathroom in 2017 that led to the postponement of a tour he was doing at the time and a nasty head injury, according to CNN. The complications from his injuries and surgeries have left Collins with permanent mobility issues.
Phil Collins says he can barely hold a drumstick these days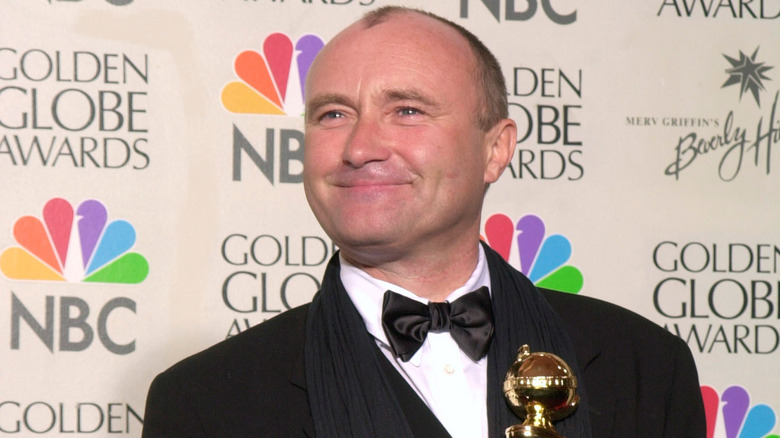 Featureflash Photo Agency/Shutterstock
Following all his injuries, surgeries, and recoveries, fans continue to wonder how Phil Collins is managing these days. During an appearance on BBC Breakfast on Thursday, September 9, fans were able to get a good look at his current state, which led to immediate concern (via the Daily Mail). Worries peaked when Collins admitted, "No [I can't still play the drums]. I'd love to. But I mean, I can barely hold a stick with this hand. There are certain physical things that get in the way." 
Collins' fall in the hotel bathroom spawned mobility problems ever since and he is frequently spotted using a wheelchair to get around. Furthermore, the escalating health woes have forced the "Another Day In Paradise" singer to rethink going on tour. "We're all men of our age, and I think to some extent, I think it probably is putting it to bed," Collins said during his appearance on BBC Breakfast. "I think just generally for me, I don't know if I want to go out on the road any more." Messages from adoring fans rolled in on Twitter following the release of the interview. One user tweeted, "Gosh Phil Collins isn't looking too good (sorry) , bless him , I hope they aren't just using him for another tour ... Please take care Phil. Sending my love to you."