The Real Reason Tyra Banks Left America's Got Talent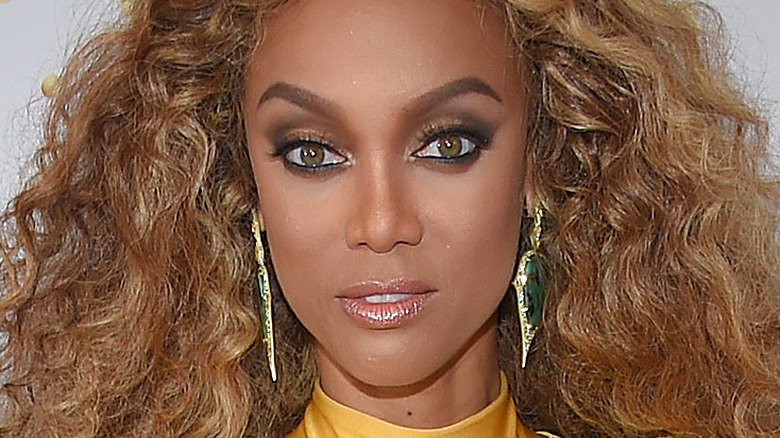 DFree/Shutterstock
"America's Got Talent" is known for its casting shake-ups almost as much as it is for its talented contestants. In the past years, the series has rotated through many different judges, including Gabrielle Union, Julianne Hough, Heidi Klum, and Howard Stern. But the show has also gone through multiple hosts, including Nick Cannon, Jerry Springer, and smize queen Tyra Banks.
Tyra joined the competition show in Season 12 following Nick Cannon's exit. She announced her new hosting gig on Twitter in 2017, saying, "Surprise! TyTy is the new host of #AGT @nbcagt. Can't wait 2work w/ new fam," she continued before tagging her fellow judges Simon Cowell, Mel B, Heidi Klum, and Howie Mandel. And she received a lot of fanfare from her announcement. Fans tweeted back to her saying just how excited they were. But despite everyone rooting for her ("ANTM" reference, anyone?), Tyra was not the permanent "AGT" host we all hoped for.
After two seasons, Tyra ended her time hosting the show. But why did she leave?
Tyra Banks left AGT to further her career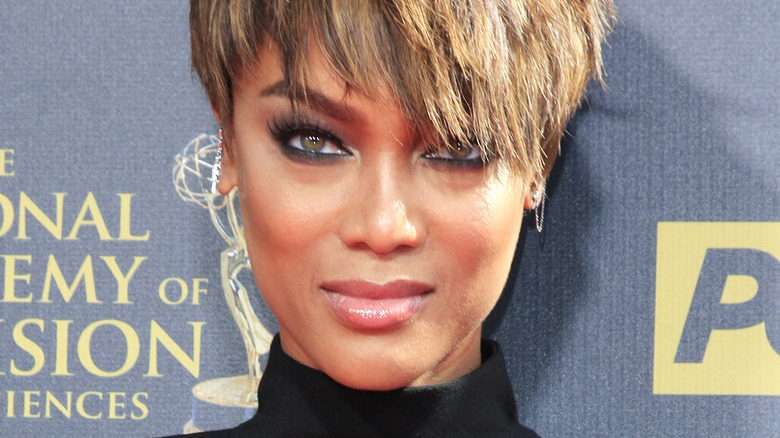 Joe Seer/Shutterstock
Speculation about an "America's Got Talent" season with no Tyra Banks began when Tyra interviewed with Access Hollywood in November 2018. When asked if she would be returning, Tyra didn't give the most straightforward answer, saying, "I don't know. I think I had a really nice run with 'AGT,' I had a lot, a lot of fun. I'm really focusing on 'Life Size,'" she said before continuing, "But if I don't come back, I had a lot of fun."
From there, "AGT" fans were pretty convinced that Tyra would not be returning. And they were correct. Tyra did end up leaving the show, but according to a source close to Tyra, it was her decision. "Tyra's leaving on her own volition and because she wants to produce and act more," the source told Us Magazine in December 2018. "She likes to produce and create."
At the time of her departure, Tyra was working on "America's Next Top Model," while starring in "Life Size" at the same time, per Us Magazine. While fans of "AGT" certainly miss Tyra, it seems she was just doing what was best for her career.
The AGT host lineup has undergone more shakeups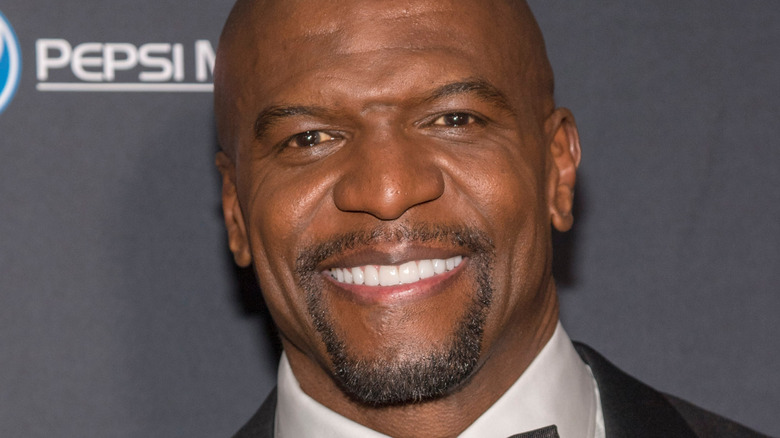 Eugene Powers/Shutterstock
Following Tyra Banks' departure from "America's Got Talent," "Brooklyn Nine-Nine" star Terry Crews became the new host for the reality show. Not only did the host change for Season 14, but there were new judges, too. Gabrielle Union and Julianne Hough joined the judges' panel, though they both are no longer judges on the show.
In fact, "AGT" found itself in hot water in 2019. Union was reportedly let go from the show in 2019, per Entertainment Weekly. She went on to claim that "AGT" was a toxic workplace, filled with racism and health violations, per Variety. While Union and "AGT" settled in September 2020, per Deadline, Tyra also spoke out in support of Union.
"What I love about what she did is she was very vulnerable," Tyra said in a January 2020 interview with Yahoo! Entertainment, before continuing, "I thought it was maybe beautiful... how she wasn't speaking in anger, she's speaking in pain like 'I'm trying to get through this... and I'm crying.'"