Inside Lisa Rinna And Harry Hamlin's Beverly Hills Home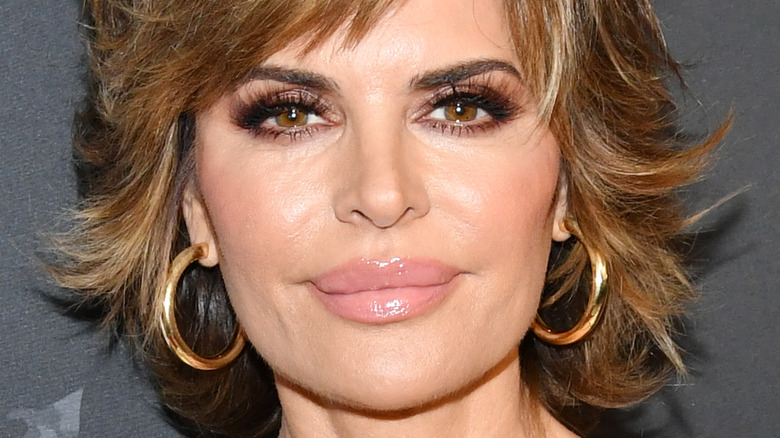 Amy Sussman/Getty Images
Soap opera star turned Real Housewife Lisa Rinna has made a lot of headlines recently for both her dancing videos and the apparent disdain she has for her daughter's famous (ex?) boyfriend Scott Disick, but there's another facet of her life that fans are also enamored with — the Beverly Hills home she shares with her husband of more than 20 years, Harry Hamlin. "I wanted to build a house that got better as it got older. The idea is that the chips and cracks that accumulated over time would add to the effect so it matured like a fine wine. I didn't want it to look new all the time," the famous thespian and house husband explained to LA Home.
So, what's the scoop on the couple's LA French Provincial home, one that has withstood the test of time, a 20-plus-year marriage, and two daughters? Keep reading after the jump to find out!
Harry Hamlin built the home with his first wife
Though the house isn't exactly brand new, it definitely still packs a punch, as it's valued at a whopping $4 million. As reported by The Sun, the five-bedroom, four-bathroom home boasts more than 4,000 square feet and stunning views. 
As reported by Bravo TV, the story goes that, prior to meeting and marrying Lisa "own it" Rinna, Harry Hamlin was married twice before. During an episode of Bravo's "Watch What Happens Live with Andy Cohen," Lisa got really candid when she revealed that the home they share was actually one Hamlin built with his first wife. "He built it with his first wife," Lisa confessed to host Andy Cohen. "Then they got divorced, and then his second wife would not live in this house. She refused to live in this house. So he moved out and lived with her and then when they broke up, he moved back in and I was like, 'F**k it. I don't care. I'll live in your house!'"
Fortunately, it appears that the third time was indeed the charm, as the couple has lived happily ever after in the beautiful abode ever since.
Lisa Rinna is not a fan of the pool Harry Hamlin installed
Like many, however, once the COVID-19 pandemic hit the United States, Harry Hamlin and Lisa Rinna opted to give their house a few updates... well, at least Harry, anyway.
As reported by Hello!, along with the vegetable gardens that Harry lovingly tended to during the height of quarantine, he also chose to upgrade the posh residence with its very own pool — but we assure you, it's not what you think. Instead of a beautifully maintained underground pool, possibly with an infinity style edge that overlooks the long range views, Harry went with an above ground pool, one that Lisa later referred to as "tacky." Still, she allowed it. In one of her famous Instagram posts she posted a clip from the show wherein fans were given an up close and personal peek into the new home addition along with a caption that read, "Here's how to keep your marriage ladies... 'Let him have his garden, let him have his tacky-a** pool.' Let them be right."
Pool or no pool, the home is still [chef's kiss] beautiful!