The Truth About Harrison Ford's Relationship With Lara Flynn Boyle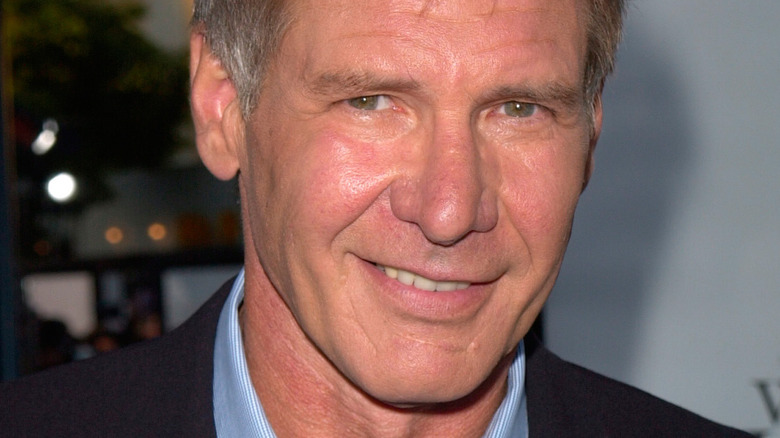 Featureflash Photo Agency/Shutterstock
Harrison Ford met Calista Flockhart at the 2002 Golden Globes. The duo hit it off, and were dating for eight years before tying the knot in 2010, per People. This was the third time the actor said "I do." His first marriage was to Mary Marquardt, and the two were together for 15 years before calling it quits in 1979. Decades later, Ford's split from his first wife became shrouded in controversy when it was revealed by Carrie Fisher that the two had an affair while filming "Star Wars" in 1976, per Los Angeles Times. "Any reports claiming I said Harrison was bad in bed are utterly false," Fisher told People at the time. Okay! 
After Ford's divorce from Marquardt, he started dating screenwriter Melissa Mathison, whom he met while filming "Apocalypse Now." Ford and Mathison were married in 1983, and had two children together — Malcolm and George — during their 15 years of marriage. By the early 2000s, their marriage hit a rough patch, and the couple did a trial separation before Mathison officially filed for separation in 2001, but they reportedly remained on good terms. "The couple is very friendly and everything is very amicable," a spokesperson for Ford said, per ABC. 
Around the time of Ford's split from Mathison, rumors circulated that he was romantically involved with yet another industry figure. Photos surfaced of "The Fugitive" star cozying up to Lara Flynn Boyle, per ABC. Was this the reason for Ford's separation? Keep reading.
They both cleared the air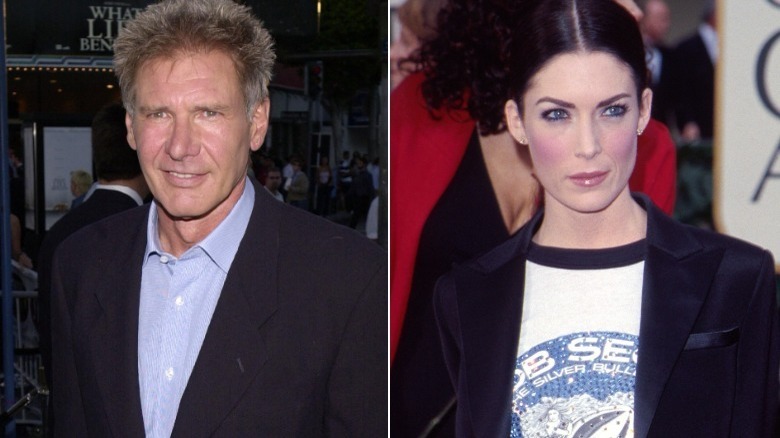 Chris Weeks, Frank Micelotta Archive/Getty Images
Photos were snapped of Harrison Ford and Lara Flynn Boyle getting cozy at a club in New York in November 2000 by The National Enquirer, per ABC News. The outlet reported that not only had Ford and Boyle spent time together at the club, but reportedly "shared a romantic carriage ride in Central Park." There was speculation that the "Twin Peaks" star had come between Ford and his recently-separated wife, but he was quick to vehemently deny those claims. 
The "Blade Runner" actor's publicist, Patricia McQueeney, spoke on behalf of Ford and his soon-to-be ex-wife to debunk the theory that Boyle was involved in their split. "[The Fords' separation] had nothing to do with that. They separated before that," McQueeney said, via ABC News. The publicist called the notion of Ford having a tryst with Boyle as "false and inaccurate." "That's silly. He met her at that event that they were at, and he never saw her again," McQueeney stated (via ABC News). "This whole thing with Lara Flynn Boyle is ludicrous," she said.
Boyle echoed those sentiments, telling Us Weekly in November 2000 (via ABC News), "I'm terribly sorry I sat next to him for a few minutes." She described the notion of the rumored carriage ride as "pure poppycock." Seems like a whole lot of noise! But Boyle was involved with another A-lister ...
Her relationship with Jack Nicholson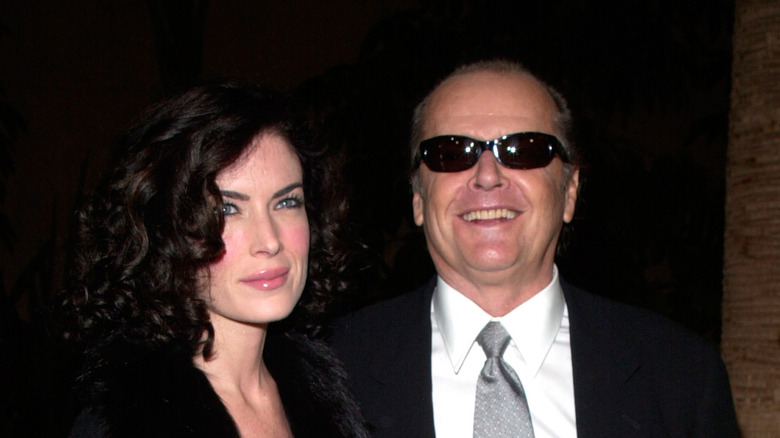 Featureflash Photo Agency/Shutterstock
Lara Flynn Boyle resented a reputation she developed in Hollywood, and during an interview with Vanity Fair in early 2001 (via the New York Post) she pointed out the double standard within the entertainment industry. "Women are judged differently," she told the outlet. "If a guy is young, somewhat successful and going out and being seen with women, it's no big deal. I mean, I'm not married," the actor added. Boyle was asked directly about the rumors involving her and Harrison Ford, and once again denied them. "That was so blown out of proportion. I sat down in a booth with Harrison Ford at a party and talked to him for five minutes ... well, maybe six," Boyle responded. "People really think I'm a home wrecker. That I'm difficult. That I'm crazy," she added. 
At the time, Boyle was romantically linked to Jack Nicholson, although the duo kept their relationship mostly casual. The "Twin Peaks" actor told Vanity Fair, "Jack is solo, solo, solo," (via the New York Post). Years later, it was revealed that Boyle had been dating David Spade when she was first approached by the "Chinatown" star. "Nicholson asked Lara Flynn Boyle out in front of me," Spade revealed to Details in 2015 (via Page Six). "I said, 'I've been in this town long enough to know when I'm outranked," he added. Ouch.
Eventually, Boyle grew tired of her arrangement with Nicholson and broke things off in April 2001.