Inside Billy Porter's Marriage To Adam Smith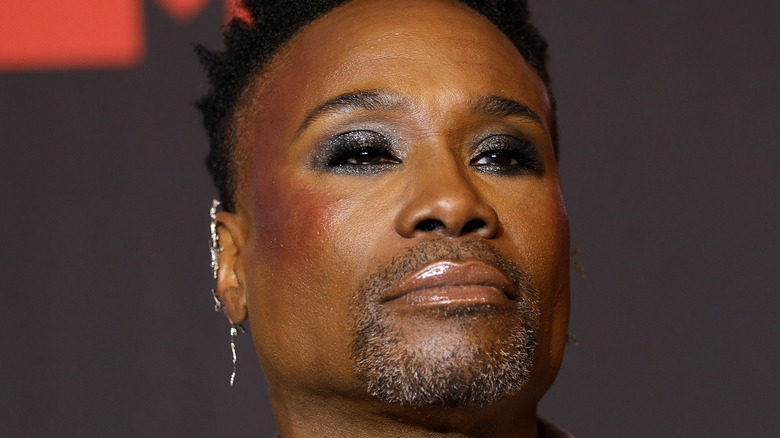 Jason Kempin/Getty Images
While the "Pose" character Prey Tell may have had a rocky love life, the same cannot be said of the actor who played him, Billy Porter. The Broadway and television star is happily married to his husband of four years, Adam Smith.
Porter now appears as the Fabulous Godmother in Amazon's retelling of "Cinderella," co-starring Camila Cabello and Idina Menzel. A consummate performer, Porter graduated from Carnegie Mellon's musical theatre program in 1991 and made his Broadway debut in "Miss Saigon" that same year. He shone in the 1994 revival of "Grease," opposite Rosie O'Donnell, but his star really rose in 2013 when he originated the role of Lola in "Kinky Boots," which also won him a Tony and a Grammy award. Now just short of an EGOT, Porter won an Emmy for "Pose" in 2019.
Though they grew up on opposite coasts, Smith also began as a performer, graduating in 2003 with a theatre degree from California Institute of the Arts, according to PopSugar. Smith's career took a different path after college, however, and he went into sales, working for Marchon Eyewear. He continued as a specialist in eyewear after moving to New York in 2008, moving up the ranks at Chanel, Jil Sander, and Dita Eyewear. In 2016, he co-owned the luxury eyewear brand Native Ken.
Smith and Porter actually got hitched quickly, but their relationship was a long time in the making. Read on for all the details!
Billy Porter and Adam Smith were kind of a modern-day 'When Harry Met Sally'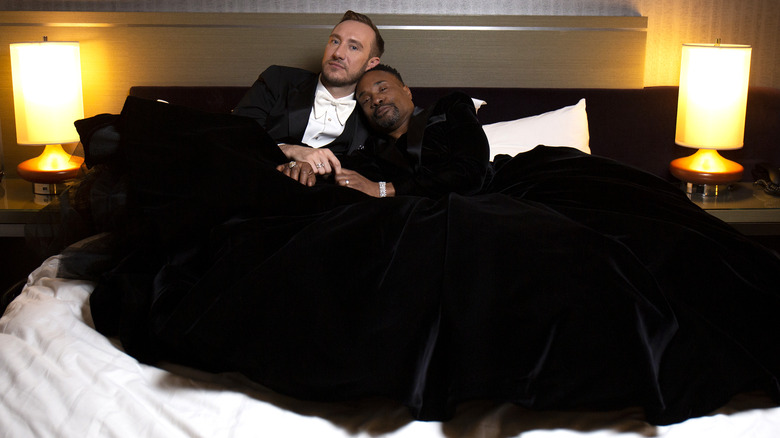 Santiago Felipe/Getty Images
Like a classic rom-com, it only took Billy Porter and Adam Smith 16 days to get married after they became engaged... well, 16 days and nine years.
The pair had traveled a long road to the altar, and Porter told People that Smith "was the one that got away." They first met in 2009, shortly after Smith moved to New York City, at a mutual friend's dinner party. Smith met Porter when he sat next to him at dinner, but Porter had seen Smith outside on the street beforehand, and made a point of sitting with him. "I was cruisin' him as he walked up the street, and he stopped, and he was with us!" Porter said. Smith added, "We kind of were enamored with each other from the beginning."
They began dating, but only for a year before Smith broke it off. "We were both sorting things out," Porter said. But they remained friends in the following years, and their love for each other kindled. Having both had time to realize what they missed, the two friends went to see "Hamilton" at the Public Theatre in 2015 (before it went to Broadway!) for Smith's birthday, and they renewed their relationship that night. When Porter took Smith's hand, Smith confessed. "He said, 'I love you, and I've always loved you, and if there's any chance, I would like another shot — I would like us to have another shot at this,'" Porter said. Porter said yes immediately.
Billy Porter and Adam Smith held a small but star-studded wedding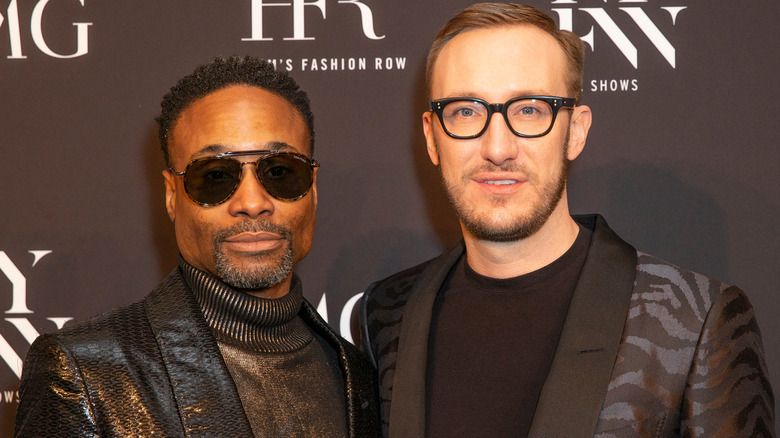 lev radin/Shutterstock
As lengthy as their relationship was to the altar, the proposal and wedding came very quickly. Billy Porter proposed to Adam Smith on December 29, 2016, with a Cartier ring (per People), and by January 14, 2017, they were married. Smith, the party planner in the family, planned the wedding in ten days. Why the rush? The two men felt they wanted to marry before Donald Trump's approaching inauguration, while Barack Obama was still in office.
"It was about making sure that that statement was made, because as gay men, we still have to be visible," Porter told Playbill. "We still have to show the world that this is what our love looks like; it's just like yours." He continued, "I really feel like we're here to teach. We're here to teach our families who are homophobic; we're here to teach the world who doesn't understand. ... My mother is a different kind of Christian as a result of me holding fast to my truth." Just like Prey Tell.
Their small wedding, held at a friend's Chelsea apartment with 45 guests, was star-studded and filled with music. Porter and Smith both sang to each other during their vows, and the post-ceremony song, which Smith thought was going to be recorded, was sung live by none other than Renée Elise Goldsberry and Patina Miller, among other guests. "To have that kind of blessing with their gift on our wedding day was just extraordinary," Smith said.