Donald Trump Is Forever Banned From The Met Gala. Here's What We Know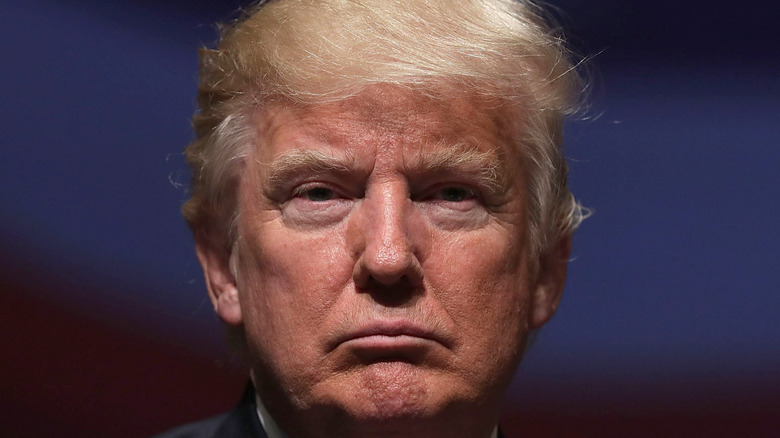 Alex Wong/Getty Images
In the famous words of singer-songwriter Taylor Swift, "We are never, ever getting back together," and by "we," we mean the Met Gala and former President Donald Trump.
During an appearance on "The Late Late James Show with James Corden" in 2017, Anna Wintour revealed during a playful game of "Spill Your Guts or Fill Your Guts" that she would never again extend a highly coveted invitation to Trump. "Celebrities from all walks of life are desperate to get a ticket," host James Corden began. "Everyone from Beyonce to George Clooney attends, so my question is: who would you never invite back to the Met Gala?" he asked. While Wintour appeared to ponder the question for a brief moment, she quickly came back with a firm, resounding answer: "Donald Trump." The aloof editor-in-chief made the declaration before letting out a slight chuckle. YIKES.
But what's the reason Wintour has suddenly cooled on the former Prez and vowed to keep him far, far away from her red carpet? Keep reading after the jump to find out!
The Met Gala used to be Donald Trump's stomping grounds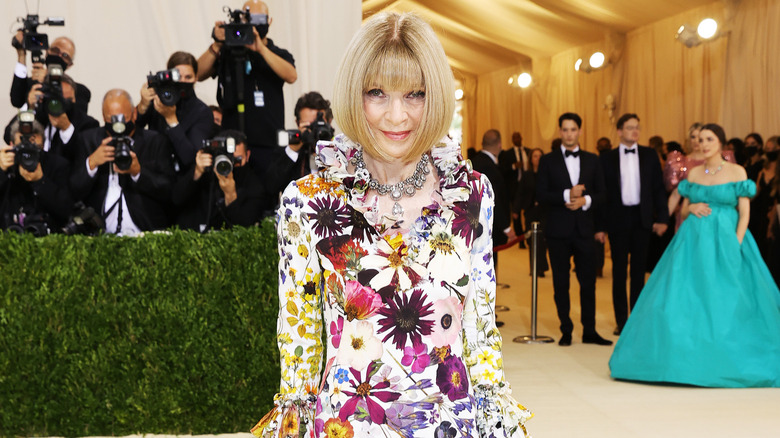 Mike Coppola/Getty Images
The story goes that until recently Donald and Melania Trump frequently attended The Metropolitan Museum of Art's biggest fundraiser — but that's not all. The Donald even proposed to Melania the night of the extravaganza in 2004! 
Per People, Trump popped the question with a massive 15-karat sparkler purportedly worth a staggering $1.5 million — though it's rumored that Trump often bragged about getting the ring at a discount. Alas, we digress... Now whether or not Anna Wintour gave Trump her blessing to pop the question the same night as her star-studded event remains to be seen, but if she did feel some type of way about it, it appears she quickly got over it. As reported by Newsweek, Anna Wintour attended the couple's 2005 lavish nuptials at Mar-A-Lago and the married couple continued to attend the MET Gala from 2005 until 2012, per SCMP.
While we may never know exactly what incident put Trump's name squarely on the Met Gala's no-fly list, Wintour did host fundraisers for the campaigns of both Barack Obama and Hillary Clinton, so it's safe to assume that by the time Wintour appeared on "The Late Late James Show with James Corden", the tastemaker found herself no longer a fan of the celebrity business tycoon turned president.