How Michael K. Williams Really Got His Scar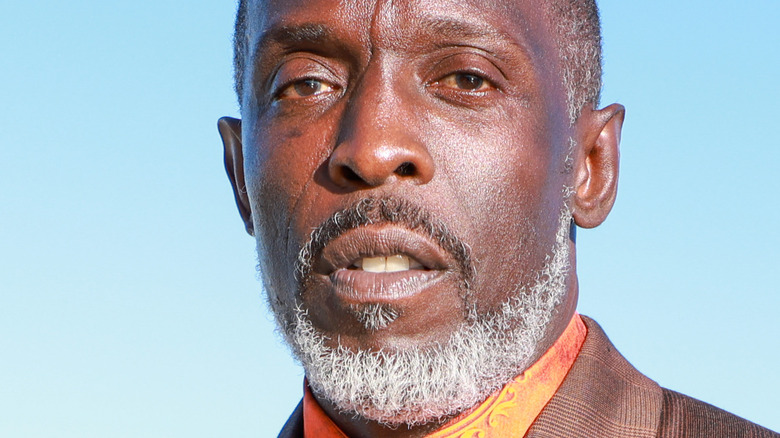 Arturo Holmes/Getty Images
The late actor Michael K. Williams — who was tragically found dead in his apartment on September 6 — was known for his gritty roles in HBO's "The Wire," "Lovecraft Country," and "Boardwalk Empire." In particular, Williams' portrayal of troubled, drug-dealing character Omar Little (of "The Wire") endeared him to fans around the globe. One of those fans includes former President Barack Obama, who called the show "one of the greatest, not just television shows, but pieces of art in the last couple of decades," per Medium. In particular, Obama praised Williams' Omar Little as his "favorite character."
Obama certainly wasn't alone in his thinking, and following the actor's death, Omar received more tributes than possibly any other role Williams had taken on. The Washington Post's Michael Lee wrote, "RIP to the man who made Omar Little one of the greatest characters in television history. Anyone who watched Michael K. Williams act was better for the experience." On Twitter, journalist J.A. Adande also paid his respects by quoting William's most famous line, "A man got to have a code." On-screen, Omar was openly gay and privately tortured, perhaps most recognizable by his dramatic facial scar. It turns out that it was Williams' most distinctive facial feature, too. Keep reading to learn how he earned his stripe.
Michael K. Williams' scar launched his career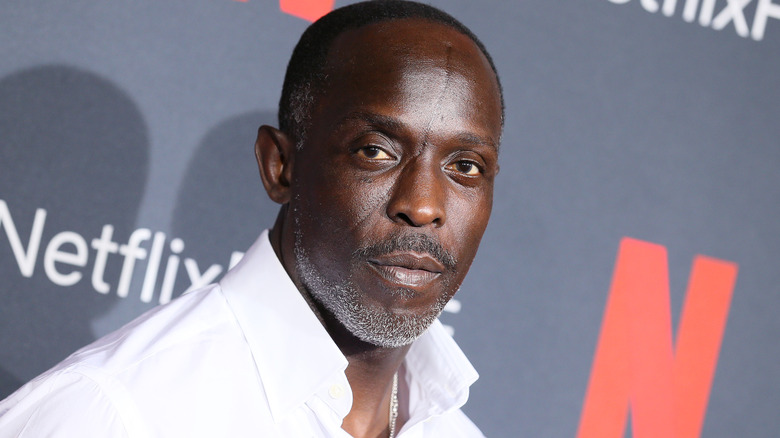 David Livingston/Getty Images
Michael K. Williams' acting career kicked off later in life, and it was partly thanks to his scar, which gave him the boost he needed. In an interview with NPR, Williams explained how he was injured in a bar fight when he was 25 years old. "On my birthday — my 25th birthday — I got cut in my face in a barroom brawl. ... I saw that two of my friends were being surrounded by some dudes who I didn't know. And it looked like they were about to get jumped," the actor recalled. "This one dude kept pacing behind me. ... And the dude wiped his hand across his mouth and ... smacked me, but what he did was he spit a razor."
The blade would bisect William's forehead, resulting in a scar that opened the door to tough, edgy roles, including his breakout role in "Bullet" with late rapper Tupac Shakur. "Tupac Shakur was filming a movie in New York called 'Bullet,' opposite Mickey Rourke," Williams said to NPR. "And the production office ... happened to have a Polaroid picture of me, from me going to audition from some various music videos. So [Tupac] happened to see a Polaroid picture of me and was like, 'Yo, this dude looks thugged out enough that he could play my little brother.' I think he saw my pain and my struggle, my heart." The rest, as we know, is history.
Michael K. Williams saw the beauty in his scar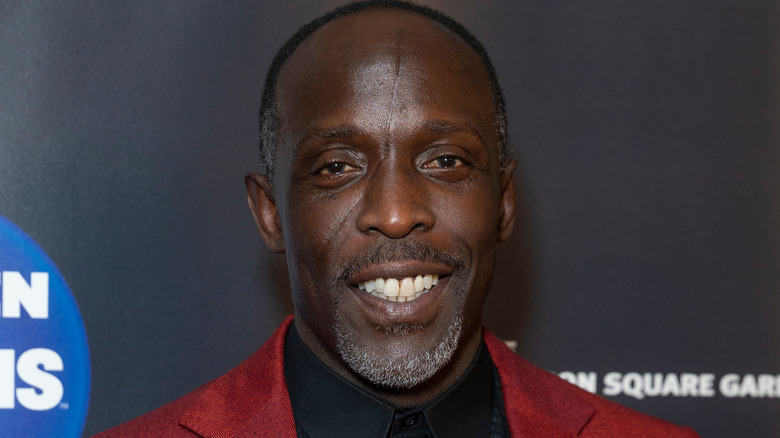 lev radin/Shutterstock
Prior to his NPR interview, Michael K. Williams took a philosophical approach when speaking with The Hollywood Reporter about his distinctive scar. This thinking stemmed from the fact he hadn't retaliated after the bar fight, and he believes that taking the higher road worked out for him in the long run. "I knew that I did not want blood on my hands," he told the outlet. "And I honestly believe that because I let it go, I didn't harbor any ill feelings, I didn't react in a negative way in revenge, I believe that something happened inside, spiritually. It's why people look at this and see a thing of beauty. Had I taken the other route, I think it would have made me ugly — from the inside."
And in many ways, Williams' scar became an outward representation of the characters he played: flawed and tough, yet still beautiful. The actor — who grew up in East Flatbush, Brooklyn — was passionate about portraying diverse characters and telling the stories of powerful and nuanced people from his own community. "Vanderveer [Brooklyn] is 59 buildings, six floors high, with seven apartments on each level," he told The New York Times in 2017. "There are so many people here — beautiful and beautifully flawed people — and I want all of their stories to be told." As with the enduring character of Omar Little, Williams leaves behind a beautifully flawed legacy.