Who Is Anthony Anderson's Wife, Alvina Stewart?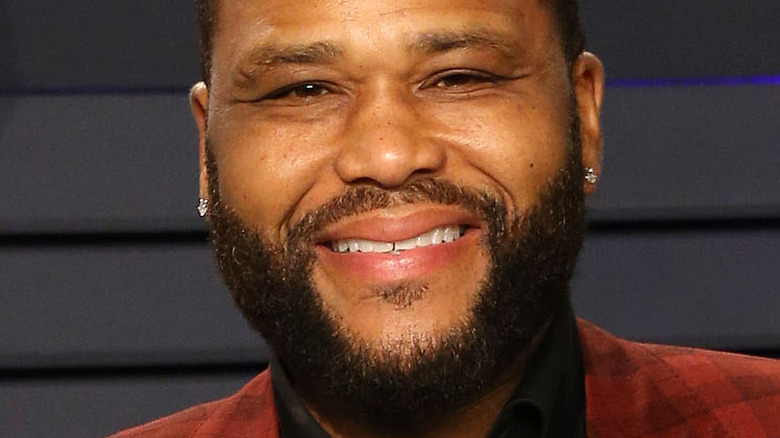 Joe Seer/Shutterstock
Anthony Anderson has enjoyed a prolific television and film career that was highlighted by his turn as Andre "Dre" Johnson on the beloved family sitcom "Black-ish." There has been one woman by Anderson's side throughout his decades in the entertainment industry: his wife Alvina Stewart. The two were high school sweethearts who tied the knot in 1995, and went on to have two children, Kyra Anderson and Nathan Anderson, per Us Weekly. 
Unfortunately, after 20 years of marriage, Anderson and his wife hit a rough patch in their relationship. In 2015, Stewart filed for divorce from the "Hustle and Flow" actor after being separated for over a year, per E! News. The couple was able to work through their troubles, though, and by January 2017, Stewart moved to dismiss the divorce papers and she reconciled with Anderson.
Later that month, Anderson and his wife made their first public appearance since reuniting. "They're totally back together," a source confirmed to Us Weekly after the couple walked the red carpet at the 2017 SAG Awards. "It's been a while since we've been on a red carpet together, but we're here tonight so we're excited about it," Anderson told Entertainment Tonight at the time. So who exactly is Anthony Anderson's better half? Keep reading to learn more about her. 
Alvina Stewart has killer red carpet looks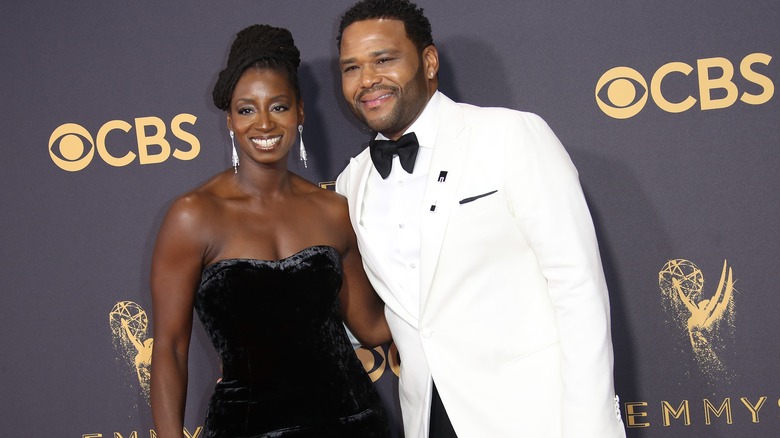 Dan Macmedan/Getty Images
Alvina Stewart is comfortable with letting Anthony Anderson enjoy the limelight, as she prefers to stay out of the public eye. Anderson's wife keeps a low profile and has a private Instagram account, but she is not bashful about shining on the red carpet alongside her husband at star-studded events. At the 2017 Emmys, Anderson wore a white tuxedo blazer and shirt combo with black slacks, and Stewart complemented his ensemble with a black gown, as shown above. She accentuated the look by accessorizing with platinum jewelry. 
A year later, the duo made Elle's "The Cutest Couples at the 2018 Emmys" list. Anderson shared a screenshot of the couple's photo in the article on his Instagram page. "You were right mama, we are cute! I don't need a trophy to win, I have a QUEEN!" he wrote in the caption. Stewart continued her sartorial hot streak at the 2019 Emmys when she sported "a Marc Bouwer dress, Tom Ford shoes, and Neil Lane jewelry while carrying a Roger Vivier bag," per Just Jared.
Anderson's wife prefers to keep a low profile online, but the actor occasionally posts touching tributes to her on Instagram. In December 2019, Anderson celebrated Stewart's birthday by posting a photo of the two in formal wear to Instagram. For Mother's Day 2020, Anderson posted a rare selfie with Stewart, in which she gave him a kiss while on the beach.
Alvina Stewart improved Anthony Anderson's health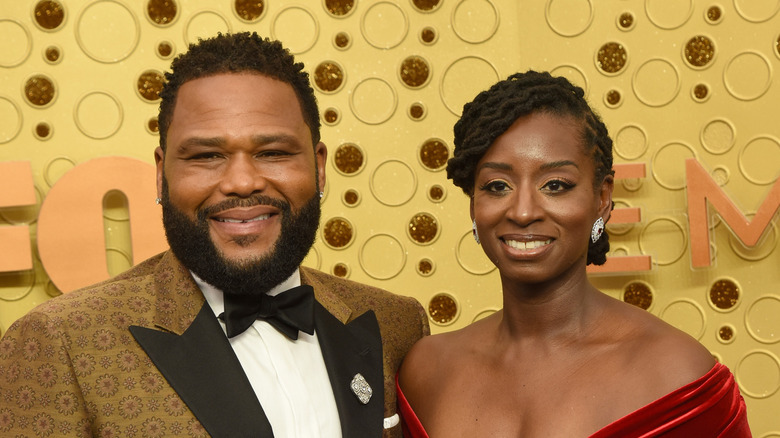 Kathy Hutchins/Shutterstock
During a 2013 interview with the Los Angeles Times, Anthony Anderson revealed he had been diagnosed with Type II diabetes after putting on a lot of weight. That diagnosis made the actor get serious about weight loss, and he dropped 46 pounds. He told the publication that Alvina Stewart was a major factor in helping him stick to healthy lifestyle choices. "My wife's become an avid gym rat, and she inspires me," Anderson said. "My children are fit too and also help me keep going." 
Stewart doesn't just keep him motivated at the gym, but keeps him grounded in day-to-day life. The "Transformers" actor told Yahoo! Parenting in 2015 that his plan after his initial success was to spoil his children due to his own difficult upbringing in Compton. "I wanted to give [my children] everything I didn't have," he told the outlet. "But I can't spoil my kids ... I can't keep freely giving you things," he added.
On top of seeing eye-to-eye in life, Anderson and his wife have been able to maintain passion in their relationship, even after 20 years of marriage. Speaking to Elle in 2016, he offered rare insight into his love life. "But I will admit the best sex I've ever had has been with my wife," Anderson said. Perhaps that is the secret to the couple's longevity.