Inside Mj Rodriguez's Relationship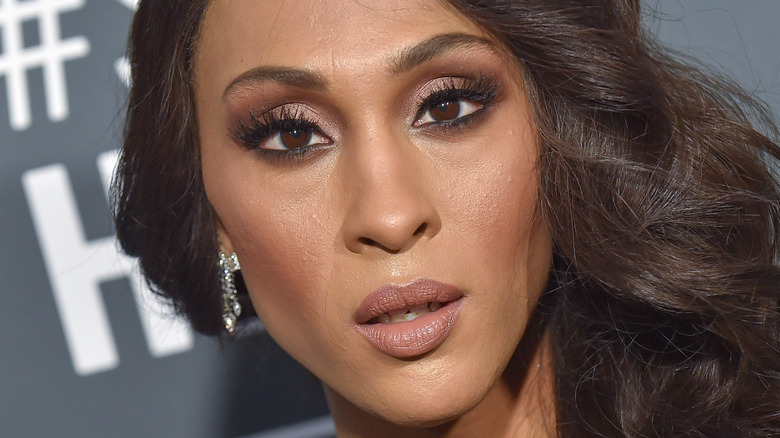 DFree/Shutterstock
Mj Rodriguez is a television star, best known for her role as Blanca Rodriguez-Evangelista on FX's "Pose." In July, Rodriguez received an Emmy nomination for Outstanding Lead Actress as Blanca, making her the first trans performer to do so, per Rolling Stone. Although she is on her way to becoming a household name, with an Apple TV+ comedy role on the horizon alongside "Saturday Night Live" comedian Maya Rudolph, Rodriguez is relatively reserved about her personal life off-screen.
Rodriguez has opened up briefly about her relationship, but only through Instagram captions dedicated to her boyfriend, Stephen. According to The U.S. Sun, the couple first revealed their dating status on Valentine's Day 2020, although it's unclear how long they were together prior. Due to their private romance, it's also hard to keep track of their relationship outside of standard media updates mentioning encounters. However, there is one thing we know: They have a lot of love for each other. Here is a look inside Mj Rodriguez's relationship with Stephen.
Mj Rodriguez gave her boyfriend a sweet tribute
When "Pose" star Mj Rodriguez revealed her boyfriend, Stephen, to the world on Valentine's Day 2020, many fans and co-stars alike were surprised. Rodriguez, who is private about life outside of the screen, shared cute photos and a sweet caption on Instagram. 
"They'll try to hold you back. They will say your wrong, but they will NEVER UNDERSTAND, the journey that your on. Baby I wouldn't choose it any other way. I love you. I feel like I can be my truest self when I am around you. You have shown me what love truly looks like when it's balanced and easy. I'm so proud to call you my Valentine but most importantly my boyfriend," Rodriguez wrote in the since-deleted post, according to Gay Times. "You are always rooting me on, you always make sure my physical, my spiritual and and my mental state is okay. I'm so appreciative of you. #happyvalentinesday I LOVE YOU Stephen."
While the 2020 Valentine's Day post was deleted, Rodriguez's most recent February 14 tribute to Stephen is still up for all to see. In the post, which was paired with the above selfie, she gushed about how great of a boyfriend he is. "You have set the highest standard for how any human should treat another human being," she wrote. 
Mj Rodriguez celebrates with her boyfriend
After Mj Rodriguez learned of her Emmy nomination for Outstanding Lead Actress as Blanca in FX's "Pose," she celebrated alongside her family and boyfriend, Stephen.
"My mom and my godmother [were] sitting at the dining table," Rodriguez told the Associated Press about the sweet moment. "And the moment my name was announced, I just screamed and I broke. And my mom grabbed me. She kind of like flung me around. I gave her a hug. She swung me around a little bit. And I just remember falling into my boyfriend's arms and just crying."
According to an interview with Entertainment Weekly in May, Stephen also helped Rodriguez through the pandemic and the process of returning to the "Pose" set.  "He was there with me through all of the process of Corona. It was a lot of preparation before I had even gone back on set. Being back after the first day, I was right back to where I used to be. I was at my second home," she said. Here's to a bright and happy future for the sweet couple.