Demi Lovato Refutes Claims That She Copied Her New Tattoo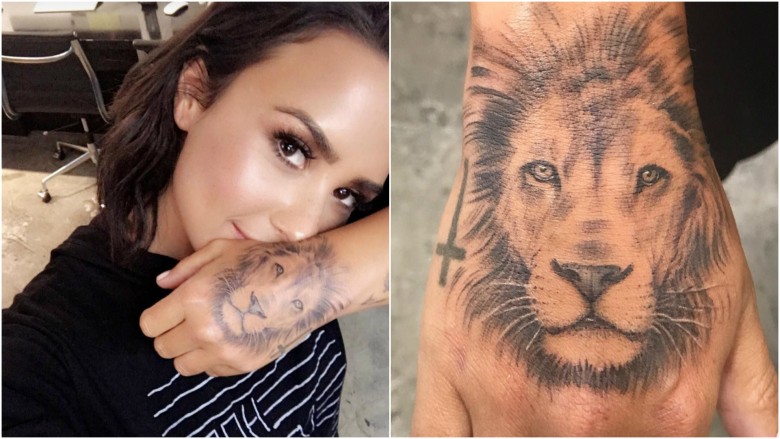 Instagram
Demi Lovato visited celebrity tattoo artist Bang Bang for some fresh ink—but, she wants you to know, she didn't copy her tattoo from anyone.
On Instagram stories, the "Cool for the Summer" singer shared a few photos of her brand new tattoo on April 25, 2017. The tattoo in question? A finely-detailed, black ink depiction of a lion on her left hand. And when we say on her left hand, we mean all over her left hand. The tattoo is huge.
But, while Lovato, 24, seems happy with her new tattoo, others have apparently found a problem with it—namely, that it's been done before by another big-name celeb, supermodel and up-and-coming actress Cara Delevingne. Like Lovato, Delevingne, 24, sports a black ink lion tattoo (also done by Bang Bang)—but, unlike Lovato, her's is on her index finger, not covering her entire hand.
In response to the reported backlash, on April 26, 2017, Lovato tweeted out, "You can't get a tattoo these days without someone saying you've copied someone or you're 'matching' someone. That's not the case folks."
We'll just have to take her word for it. Still, we wonder what Delevingne thinks about the former Disney Channel star's tattoo.
Before Lovato got inked, she attended the Time 100 Gala. At the event, she opened up to E! News about where her self-confidence comes from—and how to she hangs onto it. "I guess I get my confidence just from within," Lovato explained. "I do self-affirmations every day, telling myself that I'm beautiful even when I don't feel like it, telling myself I'm a rockstar even when I don't feel like it—just things that everybody can do. It's self love."
She continued, "I'm definitely my happiest [right now]. I'm so excited about what's to come. I have music and big things to announce, so it will be exciting."
We can't wait to see what's next for Lovato.