Inside Chris Evans And Aly Raisman's Relationship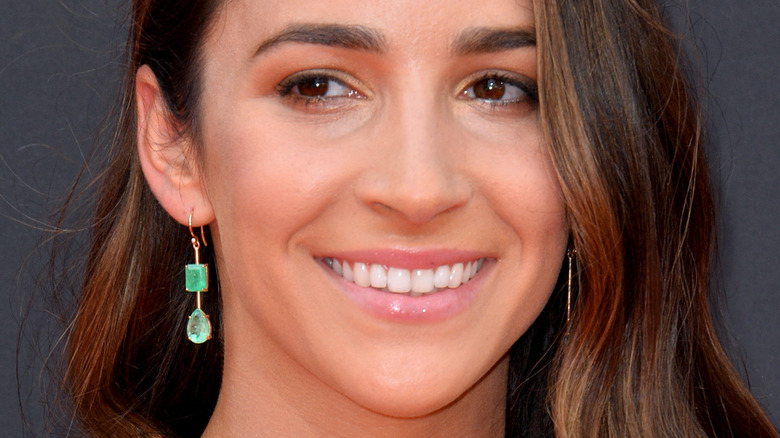 Featureflash Photo Agency/Shutterstock
Chris Evans might play a superhero in Marvel movies like "Captain America: Civil War," but the man behind the patriotic mask cannot perform feats of strength and agility like Olympian Aly Raisman can. The actor and the gymnast are two symbols of American pride and effective leadership, so maybe this is what brought them together. Raisman was a real-life captain who led the USA women's gymnastics team to victory at the 2012 Olympic Games in London. Four years later, she captained another gold medal-winning team in Rio. She also scored an individual gold medal, two silver medals, and a bronze during her two trips to the Olympics.
Raisman's bravery goes beyond her willingness to subject her body to the grueling world of competitive gymnastics. In September, she testified before the Senate to demand accountability from the FBI for its failures in investigating Larry Nassar, the former USA Gymnastics team doctor who was convicted of sexually abusing Raisman and more than one hundred other girls and women (via CNN). While he serves out an effective life sentence in prison, Raisman will continue using her own horrific experiences to advocate for other victims of abuse by appearing in the documentary "Aly Raisman: Darkness To Light," which airs September 24 on Lifetime.
Raisman's courage has earned her a lot of admiration, so fans were thrilled when they saw her hanging out with Evans, another beloved human. But just how close is she with the "Knives Out" star?
Aly Raisman and Chris Evans arranged an adorable playdate
Aly Raisman and "Avengers: Endgame" star Chris Evans have more in common than past jobs that called for them to rock red, white, and blue. The athlete and the actor both adore their fur babies and, in November 2020, they shocked their social media followers by revealing their pet pups had met up for a playdate. Evans' dog Dodger is a rescue who stole his heart in 2017 when he was filming scenes for the movie "Gifted" inside a kennel. "I was walking up and down the aisles and saw this one dude and he didn't belong there," Evans told People. "I snagged him and he's such a good dog." As for Raisman's cute, blue-eyed pooch Mylo, she adopted him from the Heart of RI shelter in October 2020.
Mylo had spent a little more than two weeks at his new home when he met Dodger. Evans shared a video of the dogs playing on his Instagram Stories, and he could be heard telling Dodger to "be gentle" with the smaller pup (via People). He also posted a photo of himself cuddling Mylo while rocking a fisherman sweater that looked an awful lot like the one he famously wore in "Knives Out." "Too bad his charm didn't work on me," read Evans' clearly sarcastic caption. Raisman shared the video of Mylo and Dodger playing on her Twitter page, along with another clip of Evans giving Mylo a kiss.
How Chris Evans supported Aly Raisman when Mylo went missing
Unfortunately for fans who immediately decided that Chris Evans and Aly Raisman were their new favorite celebrity couple, there was no puppy love between the pet owners. In May, Raisman told Us Weekly that they were just good pals. "We've been friends for a couple of years," she said. "He's great. He's super nice." She also mentioned their fur babies' friendship, adding, "Our dogs have fun together, so it's nice." Since the pooches and their people all share such a close bond, Evans was naturally concerned when Mylo went missing in July.
On July 3, Raisman took to Instagram to let her followers know that poor Mylo hadn't appreciated the loud way some people celebrate Independence Day. "To my followers in the seaport/Boston area...my dog Mylo was terrified of fireworks and ran off," she wrote, per Just Jared. Evans later shared a photo of his lost furry friend on his Instagram Stories and asked his own followers "to be on the lookout." Luckily, Mylo was found a few days later. Two heroes Captain America himself would surely be proud of spotted him while they were out walking. He was trapped in a fenced area and they freed him before contacting Raisman. "I'm just so happy he's back, and I'm just trying to make sure he gets a lot of rest," she told The Boston Herald. We're hoping he and Dodger also got to celebrate his safe return.