Ian Somerhalder Celebrates 2-Year Anniversary With Nikki Reed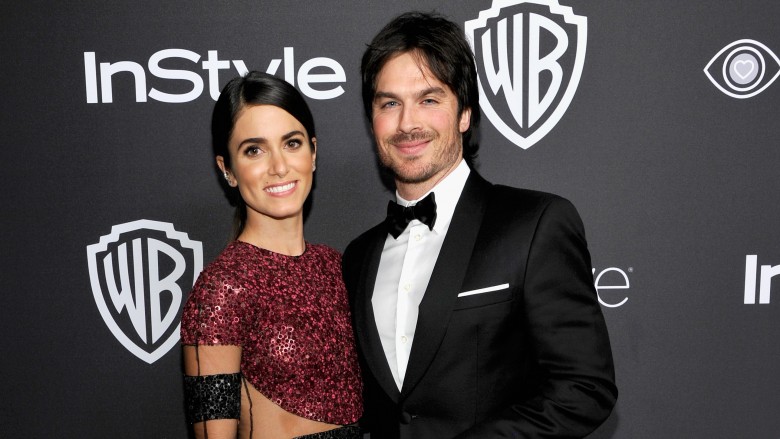 Getty Images
They may have both made careers out of playing the undead, but their real life passion is alive and well.
Ian Somerhalder of The Vampire Diaries (2009-17) and Nikki Reed of The Twilight Saga (2008-12) took to social media yesterday and wrote touching tributes to one another on their second wedding anniversary.
Somerhalder posted this tearjerker to his bride on Instagram:
"To the most amazing human in the world. Thank you for 2 incredible years of marriage. Today, two years ago to the minute, we said 'I do' and I couldn't be happier or more grateful to you for this life. Thank you for being my best friend the hardest-working, kindest, most patient and most talented woman I've ever known. To you my love, I say that I know we will have so many of these we can't even count them. Partly because I'll be so old... I love you"
Reed also inspired the waterworks with her own Instagram message:
"My guy, my man, my honey, my partner in this life, my better half in every way. At exactly this time two years ago today we walked hand in hand into the next chapter, our chapter, together. Every day gets better, every moment calling for even more. Navigating the waters of life with you is the greatest and most rewarding adventure I've ever known. We climb, we grow, and we laugh at all of it. Thank you for being exactly who you are, and for loving all of me. Thank you for your willingness to go even deeper. Until you, I had no idea what could be. Until you...Happy Anniversary."
The gorgeous thespian couple were married in a surprise ceremony in Topanga Canyon, Calif., which Reed described to Brides (via Glamour) as having "a low-key vibe that incorporated their combined love of music festivals."
"We wanted a Louisiana backyard-barbecue feel, with food stations and a dance floor for our closest friends and family. It really was all about the food, the dancing, and the love," she said.
After returning from their honeymoon, Somerhalder was just as joyous. "[It was] the most incredible week of my life. Well, the most incredible two weeks and six days of my life," he told ET. "There's something to be said for happiness," he continued.
The lovebirds also plan on starting a family one day. Speaking with Modern Luxury, Somerhalder said, "The second we were around each other, and not [dating] other people, we just knew. ... Oh, I will one day have amazing children with my beautiful wife. Absolutely, definitely."
With that kind of real world romance, who needs Hollywood?