Could Brad Pitt And Angelina Jolie Reunite?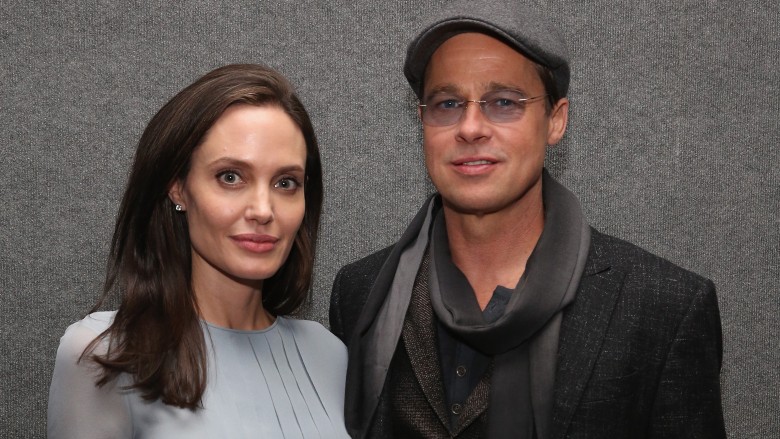 Getty Images
Seven months after Angelina Jolie filed for divorce from Brad Pitt, the Allied (2016) star had his first overnight visit with their six children—and though there's still a long way to go, he and the Oscar winner are getting along pretty well again.
Entertainment Tonight reported on April 26, 2017 that Pitt, 53, hosted Maddox, 15, Shiloh, 10, Pax, 13, Zahara, 12, and 8-year-old twins, Vivienne and Knox, at his home in Malibu, Calif., with the kids' nannies in tow. A source claimed that the nannies' presence was recommended by the children's therapist and added that Jolie, 41, employs nannies because she "is the one with sole physical custody of the children," adding, "Brad has no need to have his own nannies right now."
An insider dished to In Touch Weekly, "The kids were in the company of two nannies employed by Angie, and the nannies also spent the night at Brad's house. Initially, Brad was resisting having them there, but Angie insisted it was being recommended by the therapists, so he agreed." The source continued, "[Pitt and the children] had a family dinner around the table, which Brad truly enjoyed. It was total chaos, as the kids all wanted to eat different things, and Brad was grateful to have a chef who accommodated all of their requests."
The move comes not long after Jolie and Pitt began communicating directly with one another, instead of through their attorneys, about the children.
"It's still in the process of being resolved," a source told Entertainment Tonight. "Brad knows Angelina is a really good mom."
Pitt also recently spent time with the family in Cambodia, where the kids joined Jolie for the premiere of First They Killed My Father (2017).
As Nicki Swift previously reported, Jolie filed for divorce from Pitt in Sept. 2016 following an alleged in-flight altercation between the actor and son Maddox. Investigations from both the FBI and the Department of Children's Services cleared Pitt of abuse allegations.
A source told E! News that Jolie and Pitt are working towards a much more cordial co-parenting relationship. "They have made some progress and are taking small steps in the right direction. Both are in agreement on putting the kids first. So that part of the equation is better ... The kids have always adored Brad and have a very solid relationship with him. He is a fun dad and extremely loving and affectionate but definitely the disciplinarian and stricter of the two parents. They have occasional moments, like any parents and kids do, but at the end of the day there is nothing but love, role modeling and guidance at the core."
The source added, "Angelina regrets the way she handled certain things and wants to be at peace with Brad. [Pitt] will continue to put the kids first and not say anything negative about their mother."
Still, that doesn't mean Pitt is in a hurry to be BFFs with his estranged wife. "He feels like his life fell apart in one day. His kids are everything to him and their happiness and success is what's most important. He would never ever put them through what they went through if he could have prevented it," the source said.
Another insider explained, "Brad is way too upset still. He blames Angie for how public everything became. He knows that eventually it is best to forgive her and be on good terms for the sake of the children but he feels let down in a way he never thought was possible. He saw a different side of her and he can't forget. The way everything went down has been beyond comprehension."
Still, they'll likely come around, the source said. "It all comes down to what's best for the kids, and Brad hopes that somehow, some way, they will come out of this stronger and better off. He is going to devote his life to being the best dad he can be." The source added that, in terms of a reconciliation, it's unlikely, but "never say never."