Obama Takes A Small Jab At President Trump's Twitter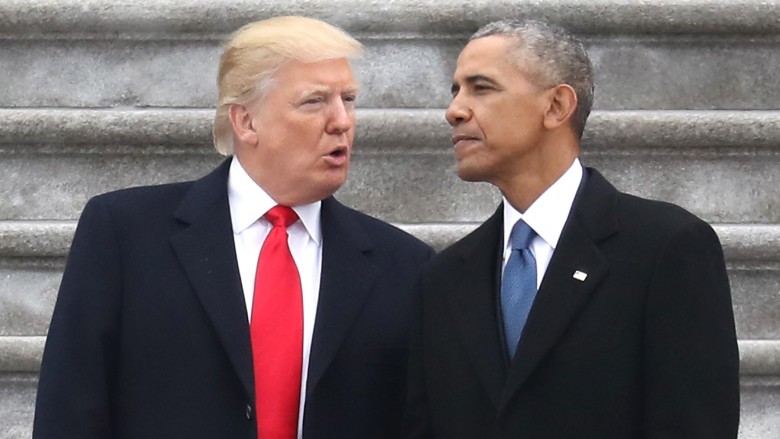 Getty Images
Shots. Fired.
Former President Barack Obama has resurfaced after his extended vacation since leaving the White House, and he's already making headlines.
He recently came under attack over a reported $400,000 speaking fee he is set to receive for delivering the keynote speech at investment bank Cantor Fitzgerald's annual healthcare conference in Sept. 2017, according to CNBC.
But The New York Post reports that Obama has already pocketed that same amount for an interview yesterday at the A&E Networks advertising upfront, in which he sat down with presidential historian Doris Kearns Goodwin for 90 minutes "in front of the cable network's advertisers."
From the long interview, one quip quickly made the rounds in the media, because it was the first time Obama has been publicly critical of his successor to the presidency.
When asked by Kearns Goodwin how he "handled frustrating moments," Obama replied, "For starters, by not having a Twitter account," an obvious reference to President Trump's preferred social media platform.
The small dig comes just one week after insiders told The New York Times that Democratic supporters shouldn't expect Obama to publicly confront Trump on "immigration, health care, foreign policy or the environment during any of his events."
Aides of the former commander-in-chief also said, "He will also not criticize Mr. Trump in his private paid speeches."
"Aides have rejected the idea that Mr. Obama should actively wage a public feud against Mr. Trump, with whom he has not spoken since the inauguration. They believe that such a fight would give the current president the high-profile political foil he wants to further energize his conservative supporters," the Times also reported.
President Trump has yet to reply, but we can't imagine he can hold himself back for too long. Is there even enough popcorn in the world for this one?