How Are Meryl Streep And Anna Wintour Related?
Frazer Harrison/Getty Images
Meryl Streep and Anna Wintour surprisingly have a lot in common. One is a multi-Oscar-winning actor who has proven she can play just about any part. The other is one of fashion's biggest influences and quite possibly the reason Vogue is the ubiquitous and culture-defining magazine it is today. But aside from a shared love of Prada and Paris, the pair actually share the same gene pool. Yes, Streep and Wintour are (somewhat) biologically bound. But it's likely the Hollywood star was unaware of it when she put her hand up to star in the cult fashion hit "The Devil Wears Prada."
The film was a smash, completely exceeding its $41 million budget and racking up $326 million globally, per Variety. Celebrating the movie's 15th anniversary in June, the cast and crew virtually caught up with Entertainment Weekly to discuss "The Devil Wears Prada" and its lasting impact on pop culture. "I think the reason why it has stayed with us and it landed was because it hit at a particular moment in time — the discomfort with women being boss," Streep said. The specific "boss" being Wintour, of course. Streep portrayed a version of her when she played the fictitious Runway magazine editor Miranda Priestly, whose short, white hair almost mimicked her supposed ice-cold personality. Streep surprisingly had not chatted much with Wintour until 2017, but the pair hit it off right away. Maybe because it runs in the family?
Meryl Streep and Anna Wintour are distantly related cousins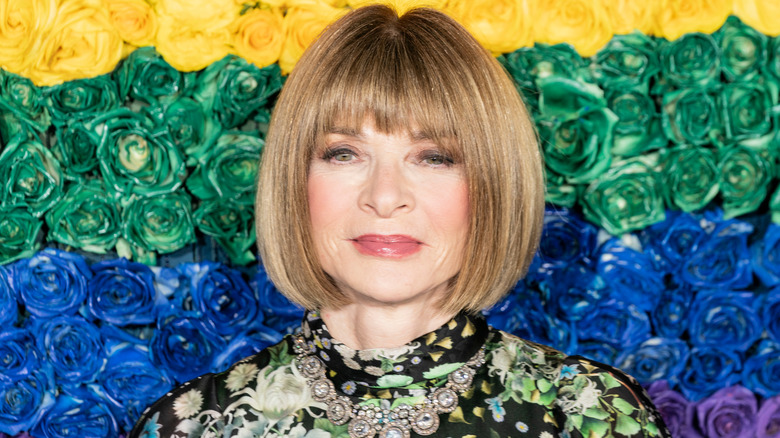 lev radin/Shutterstock
Some people have too much time on their hands it seems — though "The Devil Wears Prada" fans will certainly love this ancestry information. OK! Magazine reported Meryl Streep and Anna Wintour share maternal ancestors and are eighth cousins, a discovery the outlet notes got made by ancestry website MyHeritage. To boil it down further, Streep and Wintour share a 7th great-grandfather, who was born in 1669. Wild news, right? While Streep and Wintour did not chat about their genetically blessed glowy skin and powerhouse personalities during their first meeting — it's likely they are unaware of said bond — but they did address the elephant in the room.
During their frank and far-reaching conversation in 2017, which Vogue US uploaded to YouTube, Wintour ironically asked Streep who the most challenging woman she ever played was. Streep responded, "Oh, I should say..." before the Vogue icon jokingly cut her off and said, "No, no! We're not going there!" And they say Wintour is hard work and "hostile." While there are quite a few celebs who have spoken out against the fashion icon — Streep previously clarified that the coat-throwing Miranda Priestly was actually inspired by men, per British Vogue.
Meryl Streep and Anna Wintour have more in common than you think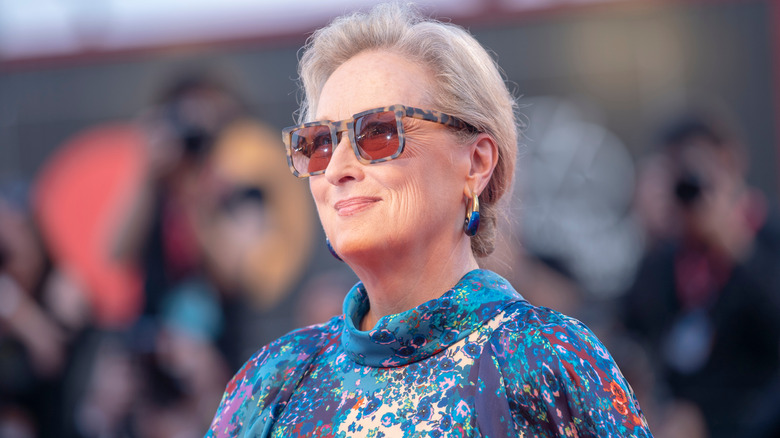 Denis Makarenko/Shutterstock
Although Meryl Streep and Anna Wintour had their first filmed chat in 2017, Streep's connection to Vogue goes years back. The accomplished actor first appeared on the magazine's cover in 2011, when she was 62. Streep quipped at the time, according to ABC News, that she was "probably the oldest person ever to be on the cover of Vogue." Streep secured the honor again in 2017 when promoting "The Post," and it's safe to say she looked stunning — and oh-so-fashionable — on both covers. So Streep and Wintour definitely have fashion in common.
Another similar thread? The ladies both share an incredible work ethic. Streep's "Devil Wears Prada" co-star, Anne Hathaway, touched on the star's serious approach to acting during an appearance on The Graham Norton Show, jokingly recalling how she was an "ice queen" on set, according to Vanity Fair. She recalled, "When I met her she gave me a huge hug. And I'm like, 'Oh my god, we are going to have the best time on this movie.' And then she's like, 'Ah sweetie, that's the last time I'm nice to you.'" Of course, that was all in preparation for the movie, as the two played adversaries.
As for Wintour? She knows what she wants, and she doesn't mince words. "Just say, 'No. It isn't gonna work. Let's move on,'" she said of her boss philosophy to Masterclass.com (via CNBC). "And they know where they are and they're not gonna waste their time or anyone else's time." Getting the job done is in the genes, we suppose!