How Tall Is Shaq?
Rich Fury/Getty Images
Shaquille O'Neal — or simply Shaq — is one of the greatest professional basketball players ever. CBS Sports ranked him as the ninth-best player of all time. And Bleacher Report said Shaq was the second-best center ever in the NBA, behind the legendary Kareem Abdul-Jabbar. O'Neal's "impact was immediate, earning Rookie of the Year honors in 1993 and later leading the Magic to the 1995 NBA Finals," according to the NBA Hall of Fame. In 1996, Shaq won Olympic Gold following the success of the "Dream Team" in the previous Olympics. Throughout his illustrious career with six different teams, Shaq won four NBA titles. His first three titles came as a member of the Los Angeles Lakers alongside teammate Kobe Bryant. The pair, under coach Phil Jackson, won three times in three consecutive years. And "O'Neal was named Finals MVP in each series," per the NBA Hall of Fame. Shaq earned his last finals trophy in 2006 as part of the Miami Heat. The only negative aspect of his Hall of Fame career was his awful free-throw abilities. He joked, "I would have been arrogant" if he was also amazing at the free-throw line, he said to USA Today in 2017.
In 2011, Shaq tweeted he was retiring from basketball; he found his next career in broadcasting. A month after his retirement, Shaq signed on to join TNT's "Inside the NBA," via Twitter.
With a career surrounding his larger-than-life personality and gigantic stature, it leads us to wonder: How tall is Shaq?
Shaq towered over the competition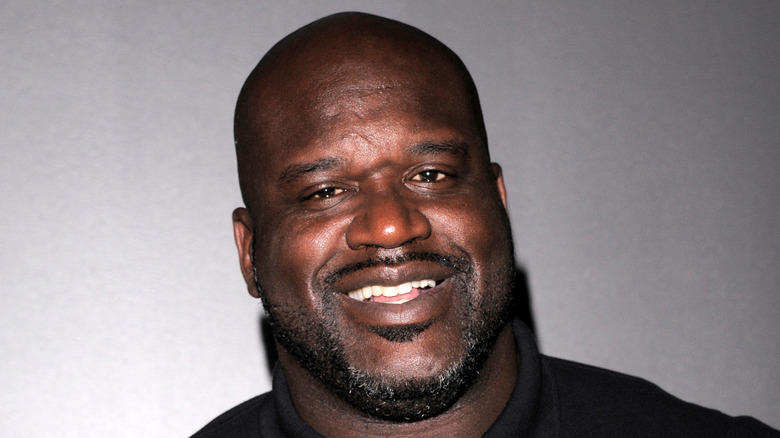 Ron Adar/Shutterstock
As far as his size goes, Shaq lived up to his nickname, "Diesel." According to Slate, Shaq is 7 feet tall with an even bigger wingspan of 7 feet, 7 inches. However, Business Insider reports that Shaq is 7'1". He may be taller than most people, but he's still shorter than Yao Ming, who "says he's 7 feet 4," Shaq posted on Instagram. He also admitted on "NBA on TNT" that his playing weight was 345 pounds for his first championship with the Los Angeles Lakers. By his third championship, Shaq claimed he weighed 395 pounds.
In 1992, Shaq entered the NBA draft, and the Orlando Magic selected him with the first overall pick. "When Shaq came into the league, he had such a great passion and enthusiasm for the game," Hall of Famer David Robinson said. "With his size and strength and mobility, it was something we really hadn't seen," Robinson added. "He's huge. He's menacing," fellow player Alonzo Mourning remembered about Shaq. The big man was so powerful that he broke backboards with his monster slam dunks.
Shaq was also huge in entertainment, starring in two 1990s films, "Kazaam" and "Steel." Though both were "critically reviled," according to ScreenRant, his performances left a long-lasting imprint on pop culture. And he was a rapper, releasing four albums, "in addition to a pair of compilation albums, two soundtracks, one unreleased album, and nine singles. His debut record, 1993's 'Shaq Diesel,' went platinum," Sports Illustrated reported.
Shaq successfully used his height off the court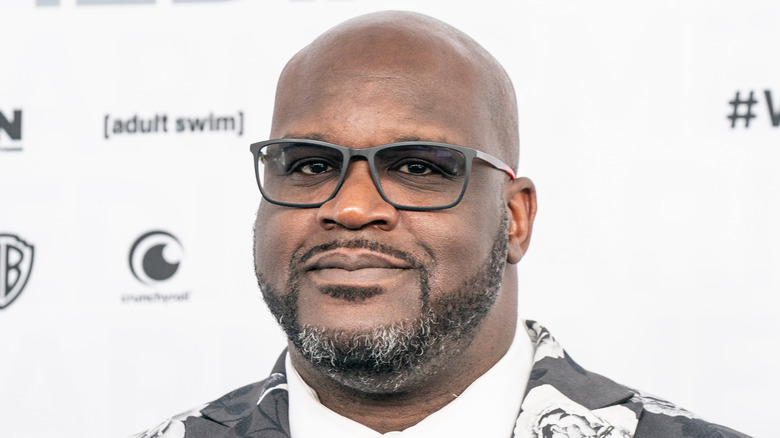 lev radin/Shutterstock
Shaq first dominated in high school and was on the 1989 McDonald's All American High School team, per Basketball Reference. Then, he excelled at Louisiana State University. While a student, he was twice named First Team All-American, and in 1992, he was the National Player of the Year, per the NBA Hall of Fame. 
During college, he was confident in his abilities on the court as well as in how to market himself. But on an episode of "Real Sports with Bryant Gumbel," Shaq explained how his marketing professor felt differently. In an assignment to bring in items that could be sold, the basketball player brought in "Shaq shoes, Shaq socks, Shaq shirt, Shaq everything." But the professor gave him an F and "actually embarrassed me in front of the class." He told Shaq, "If you look at the climate of the NBA, big guys are not selling. This'll never work." But Shaq went on to be an expert in selling his likeness. Two marketers who worked with the big man explained he "Shaq-ifies" every product he advertises.
In the '90s, Shaq released two shoes: the Shaq Attaq and the Shaqnosis, both with Reebok. "I was involved in the design and the execution of the shoe, and they are bringing them back," Shaq said about the reboot of the designs in 2013, ESPN reported. The basketball star famously had big feet; per The New York Times, Shaq wore a size 22 sneaker.