What Is Dog The Bounty Hunter's Connection To Brian Laundrie?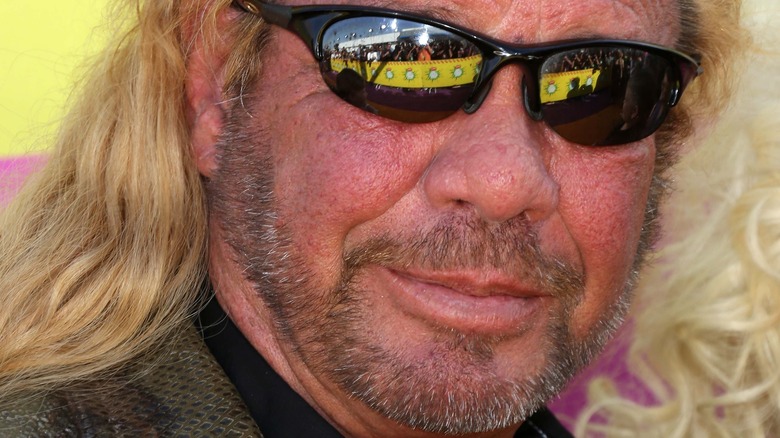 S. Bukley/Shutterstock
You may know Duane Chapman, a.k.a. Dog the Bounty Hunter, as a reality television star. His show, "Dog the Bounty Hunter" aired on A&E for several seasons, before it was canceled in 2012, according to The Hollywood Reporter. The series followed Chapman and his family as they worked as "fugitive-recovery agents" — that is, they chased leads and pieced together evidence in an effort to find some of the most wanted criminals in the country. Chapman's job is nothing less than intriguing, which is why he and his now-deceased wife, Beth Chapman, landed another show on CMT called "Dog and Beth: On the Hunt," which debuted in 2013, according to IMDb. The show went off the air in 2015, however, and Chapman wouldn't get another reality show deal until 2019, when "Dogs Most Wanted" premiered. 
Over the years, Chapman has been credited with locating several fugitives. In July 2020, Chapman sat down for a chat with Domenick Nati. In the interview, which was posted on Instagram, Chapman revealed that he had arrested more than 8,000 men. He also shared that he's never "used a real gun" to capture any fugitives. "Right now we're concentrating on pepperball guns, and they are air with a little marble. That thing will bring a mule to its knees," he shared. 
In 2021, Chapman has been connected to the Gabby Petito case. Keep reading to find out what Chapman's connection to "person of interest" Brian Laundrie is.
Dog the Bounty Hunter has joined the search for Brian Laundrie
Dog the Bounty Hunter has decided to join the hunt for Brian Laundrie, the 23-year-old boyfriend of Gabby Petito. According to CBS News, Laundrie and Petito ventured out on a road trip across the United States in a white van back in July. On September 1, Laundrie returned to his home in Florida in the white van — without Petito. On September 11, her parents reported her missing. Laundrie refused to talk with police, and, a few days later, his family reported him as missing. On September 19, police located Petito's body near Grand Teton National Park in Wyoming. Laundrie is described as a "person of interest" in the case. A warrant for his arrest was issued after he used an "unauthorized" debit card to withdraw more than $1,000, according to The Sun. Laundrie has not been named as a suspect in the Petito case.
On September 25, the Daily Mail reported that Duane Chapman had joined the search for Laundrie. "I will find him," Chapman told the outlet. "I'm chasing several leads. We've got a lot of leads. I can't tell you more but we are getting leads every ten minutes," he told the outlet. The case is said to be extremely personal to Chapman — and for good reason; Fox News reports that Chapman lost his own daughter when she was Petito's age.
Dog the Bounty Hunter said he's received several tips about Brian Laundrie's whereabouts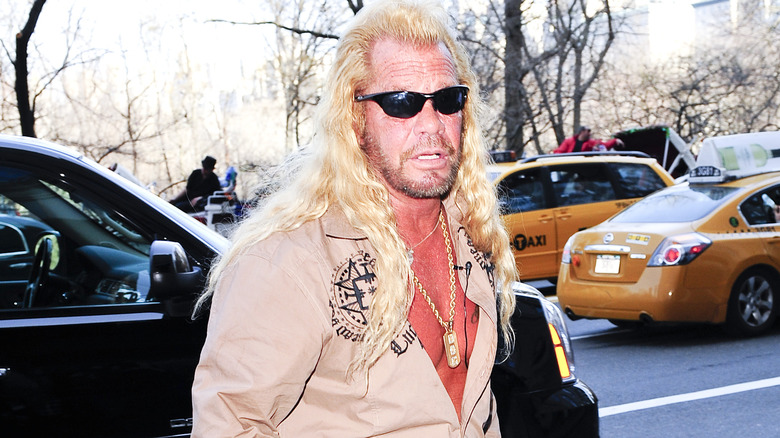 Ray Tamarra/Getty Images
One of the first stops that Dog the Bounty Hunter made once he decided to join the search for Brian Laundrie was at the Laundrie family home in Florida. "I know what the victims feel like," he told Fox News. Duane Chapman's daughter, Barbara Katy, died in a car accident back in 2006, according to The Sun. At the time, she was just 23-years-old. "We had a lot of requests that I get in on this. This is what I do for a living, for 45 years," Chapman told Fox News. And he seems to have a good grasp on what Laundrie might be doing — and where. Chapman revealed that most of the tips that he's received thus far suggest that Laundrie is out in the wilderness along the Appalachian Trail, according to Fox News.
"I think he's young enough, not an experienced criminal, but what is his greatest experience? Outdoorsman. — that's what he does the best. I don't think he can shoplift, live on the run, live in cheap hotels. On a one-to-10 he's probably a six, compared to the outdoorsmen and some of the guys I've captured," Chapman told Fox News. And Dog the Bounty Hunter thinks that he might get the tip that leads him straight to Laundrie. Why? "We're not the police. This is anonymous," he said.