The Truth About R. Kelly's Negative Net Worth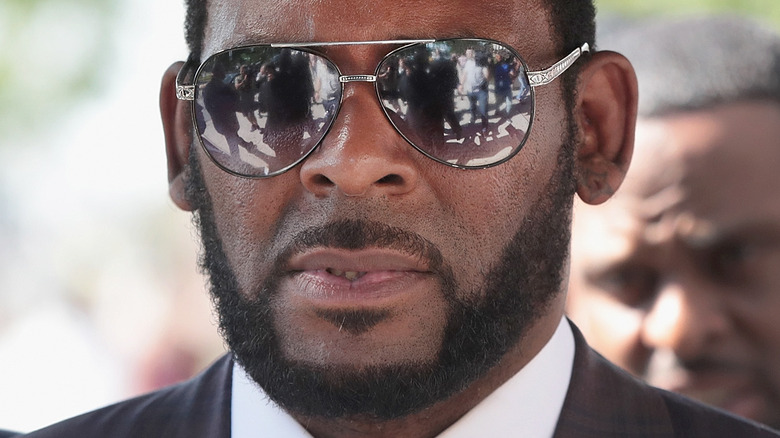 Scott Olson/Getty Images
The following article includes allegations of sexual harassment and sexual assault.
Singer R. Kelly's career has surely gone down the drain over the past several years, but that's not the only pitfall he's experienced in recent memory. The "Bump N' Grind" singer, who was once known as the King of R&B (per Jet), has slowly had his bank account depleted amidst the rise of sexual abuse claims against him. But as the disgraced musician's finances truly began dwindling, Kelly experienced something that few celebrities ever see in their lifetime — a negative net worth.
Over the course of nearly three decades, Kelly has been the subject of a plethora of allegations regarding sexual abuse, misconduct, and child pornography, amongst other heinous acts (per BBC). Though the singer faced numerous allegations throughout his career, his downfall truly began with the #MuteRKelly hashtag in 2018, which essentially forced RCA Records (Kelly's record label at the time) to sever its relationship with him, prefacing his financial undoing. And before we dive deeper into Kelly's negative net worth, it's imperative to take a look at how much he was worth at the height of his career.
Per Celebrity Net Worth, Kelly was possibly worth north of $100 million at his peak. From lucrative record deals to a bustling tour schedule, Kelly's bank account saw an exponential increase during his time on top, until meeting his inevitable ruin. But now, one has to wonder: What's the truth behind Kelly's negative net worth? Read on to find out!
Unpaid debts spelled doom for R. Kelly's net worth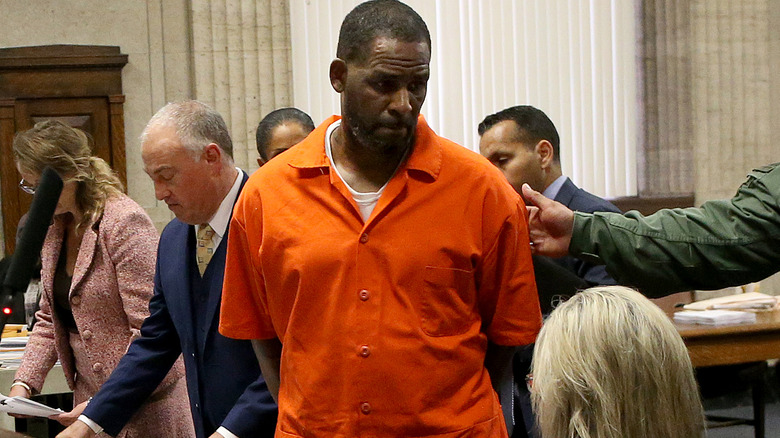 Pool/Getty Images
If you are ever feeling down about your finances, just remember that R. Kelly has a net worth of negative $2 million. Yep, you read that right — negative. In fact, the disgraced R&B singer made headlines in September after rapper 42 Dugg shared a video clowning on Kelly's financial ruin. "I ain't ever seen a n**** net worth negative," Dugg said in the video, while fellow cohort EST Gee proclaimed Kelly to be "one of the brokest n***** of all time" (via Twitter).
According to TMZ, Kelly's negative net worth stems from owing the IRS $2 million in unpaid taxes. In July, Radar revealed that the tax lien was imposed after the singer "refused to pay $1,935,034.88 for the year 2008" on his Illinois mansion, which "he hasn't owned in years." It was noted that, should Kelly not pay the outstanding balance, the IRS will seize his property and assets. Furthermore, the singer was "accused of owing $648,998.25 for 2013 and another $1,229,739.18 for 2016" for a grand total of $1,878,737.43, though the "lien has yet to be released" regarding these debts, per the outlet.
R. Kelly's looming legal troubles did not help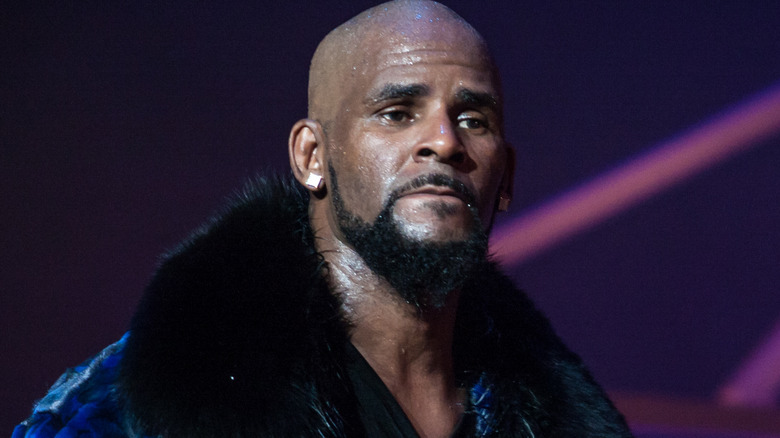 Jamie Lamor Thompson/Shutterstock
On top of R. Kelly's unpaid debts (especially a mansion he no longer owns), the former singer also has been pummeled financially by a plethora of legal troubles. Per Celebrity Net Worth, Kelly reportedly spent "tens of millions of dollars" in an effort to settle numerous abuse cases waged toward him. He further lost a fat chunk of money after divorcing ex-wife Andrea Lee, whom he was married to from 1996 to 2009 (which the outlet dubs "the most lucrative years of his career"). In 2019, Lee "filed a suit seeking $160,000 worth of unpaid child support."
Kelly's legal woes also stem from career moves gone south. The outlet further noted that, in 2019, Chicago building inspectors began investigating the recording studio he frequented. Though Kelly was renting (and not owning) the studio, it was revealed that the studio went up for sale for $4 million at the time. During this period, Kelly was also slapped with a lawsuit from the studio's landlord, who claimed that the singer's rent was $23,000 per month and that he had not paid in seven months, leaving him in debt for a total of $167,000. On top of that, Kelly's relationship with RCA Records was terminated around the same time following the #MuteRKelly movement, ultimately cutting off his main source of financial income.
If you or anyone you know has been a victim of sexual assault, help is available. Visit the Rape, Abuse & Incest National Network website or contact RAINN's National Helpline at 1-800-656-HOPE (4673).