The Truth About Meghan King And Cuffe Biden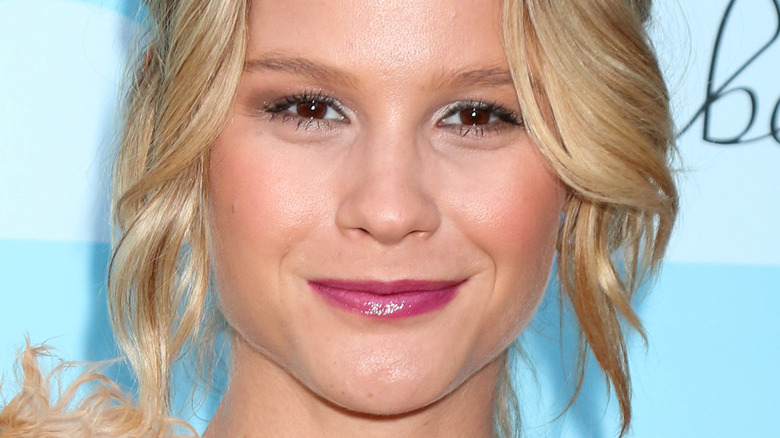 Kathy Hutchins/Shutterstock
Meghan King's life has changed a lot since her days on the "Real Housewives of Orange County." Meghan first introduced herself to the world as former pro-baseball player Jim Edmonds' third wife. Barely 30 at the time she appeared on the show, Meghan was significantly younger than her husband and most of the cast. It's never easy being the new girl on "RHOC," but she earned her spot in Season 10 when she outed Vicki Gunvalson's deeply problematic boyfriend, Brooks Ayers, as faking cancer. A defensive Vicki famously prophesied that Meghan and Jim's marriage wouldn't last more than five years, per Us Weekly. It turns out she was right.
Almost as soon as Meghan's time on "RHOC" came to an end, she and Edmonds filed for divorce, and it was um, messy, to say the least. Since then, Meghan has become a bonafide influencer with nearly 1 million followers on Instagram. Unfortunately, she's also found herself in the headlines more than a few times for the fallout of her divorce from Edmonds.
These days though, Meghan is back on the front page for something new; her rumored connection with President Joe Biden's nephew Cuffe Biden Owens. Here's what we know.
Meghan King is moving on ... with a Biden
Meghan King introduced the world to her new lover, Joe Biden's nephew, Cuffe Biden Owens, via Instagram in September. "Trying my best to avoid any cheesy introductions like 'my main squeeze' ... so just meet my man," she captioned a photo of herself and Biden Owens hugging at a restaurant or bar-type establishment. She also shared a series of photos to her Instagram Stories of herself and Biden Owens enjoying a date at a winery, per People.
Not too much is known about the relationship at this time, as Biden Owens appears to a be a pretty private guy. He stayed quiet during his uncle's presidential campaign and has yet to publicly comment on his presidency. We do know that he's been active behind the scenes, though. His mother, Valerie Biden, has led all of Biden's campaigns, and son Biden Owens, a Los Angeles-based attorney, acts as her pseudo-manager, booking her public appearances and speaking events, per Delaware Online.
As far as we can tell, Biden Owens seems like a pretty chill guy, which is exactly what Meghan needs after all the turmoil she went through with her ex.
Meghan is coming off an extremely messy divorce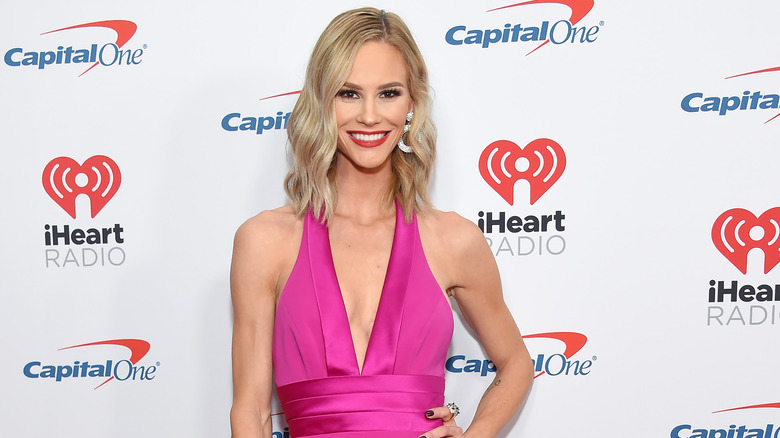 DFree/Shutterstock
Vicki Gunvalson has been wrong about a lot of things in her life, but one thing she got right was the length of Meghan King's marriage to Jim Edmonds. After just a few years together and three kids, the pair split in 2019, per Us Weekly.
Edmonds and Meghan broke up amid rumors that Edmonds was cheating on Meghan with their nanny and the scandalous revelation that he'd been sending lewd messages to another woman. "Regrettably, I had a lapse in judgment. I engaged in an inappropriate conversation with this person," Edmonds told Us Weekly at the time, but added that nothing physical happened.
They divorced, and Edmonds started seeing a woman named Kortnie O'Connor. Meghan came out swinging and claimed that she, Edmonds, and O'Connor got physical together while she was married to Edmonds. Edmonds claimed that while a "threesome" happened, per Us Weekly, it was all Meghan's idea. "As far as threesomes go, there were more than a few initiated by Meghan and only Meghan," he said in a statement. Edmonds further added that any implication that he or O'Connor had betrayed Meghan by getting together after his divorce was ridiculous as she and Meghan were no longer friends, and any anger Meghan felt was completely fake and cooked up for fame, per People.
Long story short, the whole thing sounds super messy, and we're happy Meghan is with someone more chill these days.