Shannen Doherty Is In Remission After Fighting Breast Cancer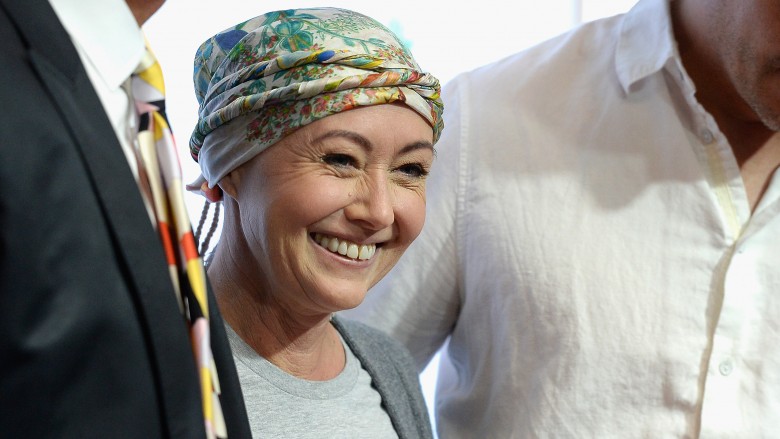 Getty Images
Shannen Doherty's battle with cancer is over.
The 46-year-old Charmed (1998-2006) actress announced on April 28, 2017 on Instagram that she is in remission.
"Moments. They happen. Today was and is a moment. What does remission mean? I heard that word and have no idea how to react. Good news? YES. Overwhelming. YES. Now more waiting," she wrote.
For now, Doherty is cautiously optimistic. She wrote that despite the good news, she knows there's still a long road ahead.
"As every single one of my fellow cancer family knows, the next five years is crucial. Reoccurrences happen all the time. Many of you have shared that very story with me. So with a heart that is certainly lighter, I wait. In the meantime, decisions. Reconstruction which is several surgeries. Decision on taking a pill for the next five years that comes with its own set of problems and side effects. I am blessed, I know that. But for now.... remission. I'm going to just breathe. #cancerslayer," she continued.
The Beverly Hills, 90210 (1990-2000) star has been very open with the public since her March 2015 diagnosis, including her decision to shave her head and to undergo a single mastectomy.
"We did stages. We did a pixie. And then we did a mohawk, which was my favorite look. And then finally, we had to get the shaver thing and just buzz it off," she told ET.
She's also tried to remain positive despite the toll the disease and the treatment took on her body. At a Stand Up To Cancer event in 2016, she thanked her fans for their love and support: "I hope they take away the fact that you have to be strong and put yourself out there and have courage and be a warrior. And for me, one of the most important things is for them, their messages, their stories, their love, their support has given me courage. And I thank them for that wholeheartedly."
Throughout her treatment, Doherty has also received support from her former castmates.
Jennie Garth posted a photo of a sign that read "Fight Like A Brenda" on her Instagram and referred to Doherty as her "soul sister."
Luke Perry even went so far as to bury an old feud at a 90210 reunion that Doherty was unable to attend, acccording to Hello. "None of us are up here today without Shannen," he said. "She's been through a lot. She's not doing well right now, but sometimes her contributions are minimised[sic]. She's been thrown under the bus. I've been accused of driving it. But she's a very big part of the success of this show. She taught me a lot. I'm glad she was my scene partner. She was great at what she did in the character with me."
Though her fight continues, Doherty is hopeful, and she's promised to update her fans and supporters throughout her recovery. In another Instagram message, she wrote, "Live life to the fullest. Cherish every second. Love fiercely. And thank God for every second. I'll keep you all posted and thank you for your positive energy and prayers."