Ryan Seacrest Named As Kelly Ripa's New Live Co-Host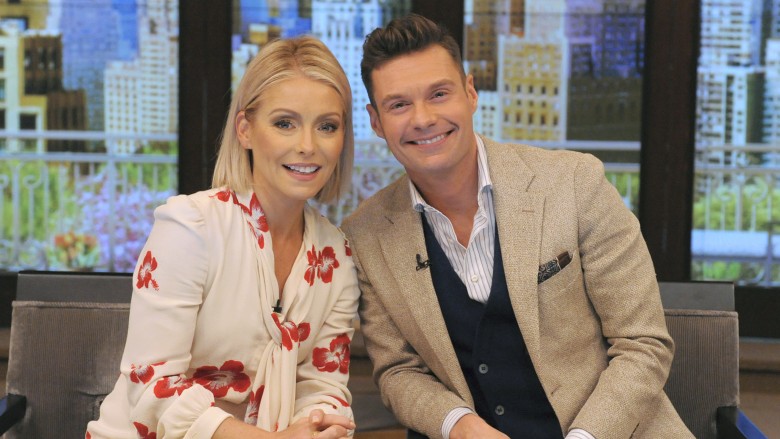 Pawel Kaminski/Disney
Ryan Seacrest has officially been announced as Kelly Ripa's new Live co-host. "Today, the next chapter of the Live story is about to be written," Ripa told viewers (via The Hollywood Reporter) on May 1, 2017. "Today, my new co-host will officially be joining me on Live and today is a very good day."
After thanking the guest co-hosts that have filled in over the past few months, Ripa brought Seacrest out onto the stage, debuting their new Live with Kelly & Ryan sign.
Taking their seats in front of the audience, Seacrest explained that he's been friends with Ripa for years—and he found it extremely difficult to keep the good news of his gig on Live! secret. He explained, "Kelly and I have known each other for a long time and when this happened we were told to keep it a secret and we're not great at that." But, now that the news is finally public, the two seemed ecstatic to be sharing the stage together—immediately falling into sync with one another as they chatted about Ripa's wedding anniversary, which just so happened to be that day.
The team behind Live with Kelly have been looking for a replacement co-host ever since Michael Strahan left the show in April 2016 for a spot on Good Morning America. Due to a botched announcement, Ripa didn't find out about Strahan's exit until moments before a statement was released to the press. Ripa, feeling blindsided, reportedly took the news hard and took some time off from the talk show.
Since then, Ripa's welcomed a number of guest co-hosts, including Joel McHale, Anderson Cooper, Keegan-Michael Key, Jim Parsons, Andy Cohen, and even Pennsylvania high school teacher Richard Curtis. Seacrest also guest co-hosted, joining Ripa five times before the show's producers must have finally realized that he was perfect for the permanent co-hosting position.
"Ryan is a quintessential broadcaster and at the top of his game. I am thrilled to start my mornings with him every day, and we are so fortunate at Live to have him join the family," Ripa said in a statement obtained by Variety. "Ryan is a close friend and his star shines as brightly off camera as it does on. His tremendous success is only matched by his impeccable reputation. Plainly said, everyone loves him, and so will our daily viewers."
Likewise, Seacrest released a statement regarding his move to Live. "Not only is Kelly Ripa one of the most talented live hosts in broadcast TV; she's also become a very dear friend to me over the years. It's consistently been my privilege and pleasure to work alongside Kelly with all her incredible talents, charm and humor," the former American Idol (2002-16) host said. "I've been so fortunate in my career to be a part of some incredible TV programs, and I'm excited to join daytime's top entertainment talk show, and most important, I couldn't think of anyone I'd rather share this new chapter with than Kelly Ripa – she's a dream broadcast partner, and I can't wait to start."
Get ready for a whole new show, everyone. Live with Kelly & Ryan is officially happening.