Nick Jonas Presented With Hero Award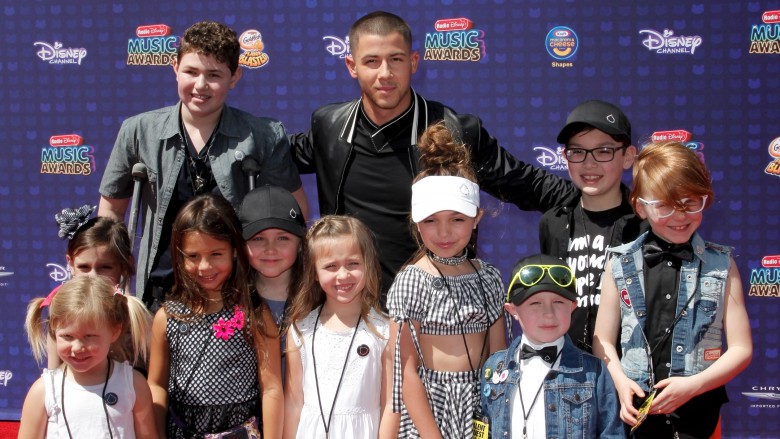 Getty Images
Nick Jonas doesn't need a cape and tights, but he's a hero all the same.
As the recipient of the Radio Disney Music Awards 2017 Hero Award, Nick Jonas took the stage with a crew of fellow Type 1 Diabetes sufferers, all young children who courageously battle the same life-changing disease.
Most of the kids wore clothing from Beyond Type 1, an organization co-founded by Jonas that seeks to "support the most promising global efforts and programs working to educate, advocate and cure Type 1 diabetes."
Jonas' Jumanji co-star, Jack Black, who presented the award, said that Jonas is deserving because his mission is "to teach the world about the disease, and make life better for people who have it."
In his acceptance speech, Jonas thanked his family. He also talked about his fears when he was diagnosed at the beginning of his career.
"This is a disease I was diagnosed with when I was 13. It was a moment in my life when I was just getting ready to start making music with my brothers, and touring, and it was something I thought would slow me down before I even got started. Thankfully it didn't, and I'm in the healthiest place I've been since my diagnosis," he said.
When Jonas revealed his diagnosis to the world in 2015, he admitted that he was initially scared, and thought he was going to die, but through educating himself about the disease, he gradually learned how to manage it.
"But when I found out I would be receiving this award, I started thinking about who some of my heroes are. Not the kind of heroes who wear capes and save cities from evil villains, but real people who are heroes because they've changed the world in some way and made it a better place, or people who directly impacted my life," he continued during his acceptance speech.
Jonas also encouraged people to find their own cause and get involved, according to ET.
"We all have the power to change the world and make it a better place. Every day can be an opportunity to be a hero. [If] you're kind to someone who needs it, or you find a cause you're passionate about. You get involved with something and raise your voice in some way. It does make a difference and I would encourage all of you to do that," he said.