Why Did Donald Trump Explode On Melania Trump Over A Controversial Fashion Choice?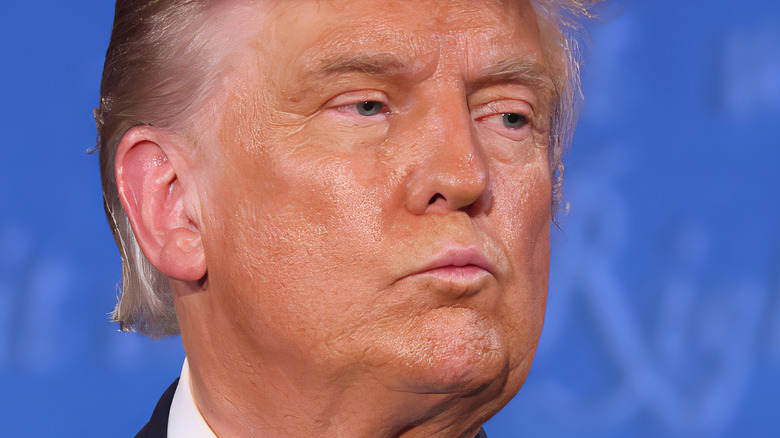 Devi Bones/Shutterstock
We may receive a commission on purchases made from links.
Another day, another tell-all book about former President Donald Trump. Former Trump press secretary Stephanie Grisham's book, "I'll Take Your Questions Now: What I Saw at the Trump White House," comes out October 5, and previews of the book are making headlines. There are many juicy Trump anecdotes in Grisham's book, with one especially salacious story circulating about the former president exploding at his wife, Melania Trump, for one of her fashion choices.
The former first lady is known for wearing head-turning fashion. In May 2017, early in Donald's presidency, Ivanka wore a Dolce & Gabbana jacket that cost $51,500 on an international trip. According to The Washington Post, many people criticized the first lady for wearing the high-dollar coat at a time when her husband's proposed healthcare reform measures, if passed, were "estimated to strip 23 million people of their medical insurance by 2026." Another fashion choice that caused the press and social media to call out Melania occurred in August 2017. The Trumps took off to visit Texas after Hurricane Harvey, and the first lady wore black stilettos on the plane. But the criticism of Melania's shoes was old news once The Washington Examiner reported the first lady had another pair of shoes on the plane to change into once they landed in Texas.
But what is the one fashion choice that allegedly caused Trump to explode at his wife? We really don't think you know. Do you?
Donald Trump exploded at Melania Trump for wearing an infamous jacket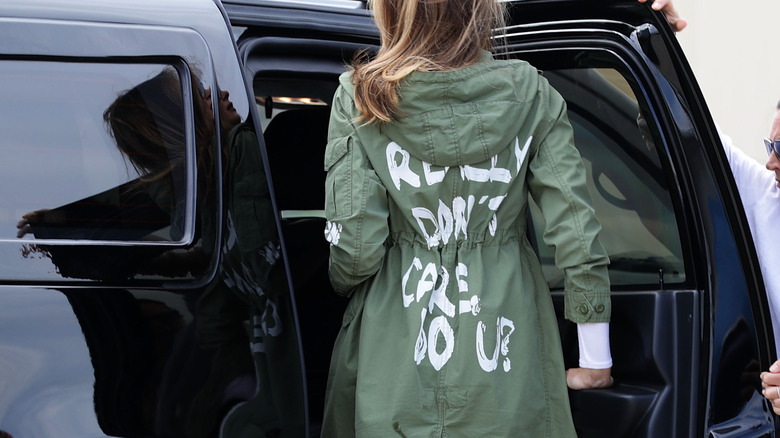 Chip Somodevilla/Getty Images
Former Trump press secretary Stephanie Grisham says that Donald Trump "exploded" at Melania Trump for wearing the infamous green army jacket with the message, "I really don't care, do u?" written across the back to visit a migrant children's shelter in 2018. The Washington Post recounted the controversial jacket story from Grisham's upcoming book, "I'll Take Your Questions Now: What I Saw at the Trump White House."
According to the book, the first lady wore the infamous $39 Zara jacket on a trip to Upbring New Hope Children's Shelter in McAllen, Texas, to visit migrant children who had been separated from their parents. When Melania and Grisham (who worked for the first lady at the time) returned to the White House, Trump supposedly yelled, "What the hell were you thinking?" After the media created a firestorm around the first lady's jacket, Melania's then-advisor, Grisham, tweeted: "If media would spend their time & energy on her actions & efforts to help kids – rather than speculate & focus on her wardrobe – we could get so much accomplished on behalf of children. #SheCares #ItsJustAJacket."
A few months after the jacket controversy, Melania changed her story. Melania told ABC News' Tom Llamas that she wore the jacket "for the people and for the left-wing media who are criticizing me. And I want to show them that I don't care." Interestingly enough, Grisham claims Trump is the one who came up with that spin.