Garth Brooks Has Known Trisha Yearwood Longer Than You Think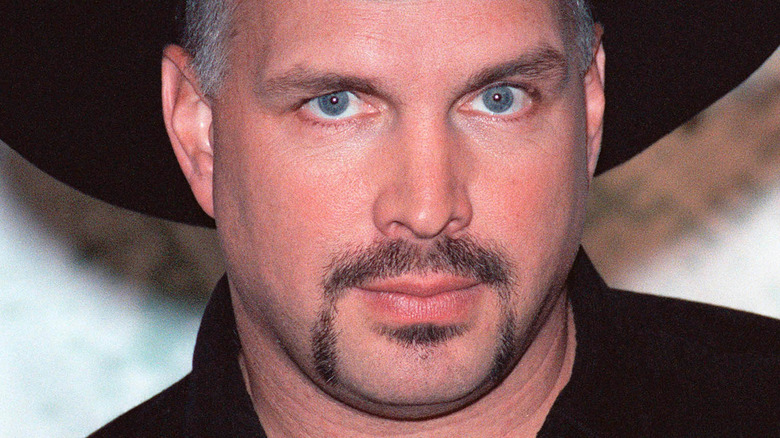 Featureflash Photo Agency/Shutterstock
Marriage is hard work, but it's even harder when you mix in the pressures of fame and fortune. Yet for every bombshell breakup that 2021 has served up, it's also birthed surprise couples (hi Bennifer 2.0!) And while it's far more common for A-listers to date around before meeting "the one," there are also the rare unicorns who have been together since they were teenagers. In particular, the country music industry is home to some of the cutest love stories around.
Along with iconic couples of prior generations — like Johnny Cash and June Carter — there are also modern-day powerhouse pairings. Per People, Thomas Rhett and his wife, Lauren Akins, have known each other since their grade school days, and even dated as high schoolers, later breaking up and reconnecting as adults. In an interview with The Boot, country crooner Luke Bryan revealed that he first met his future wife, Caroline Boyer, while they were students at Georgia Southern University. Though it was love at first sight for the "Country Girl" singer, he needed to have a few drinks in order to work up the courage to talk to Caroline! But that's all ancient history for the pair now, who have been married since 2007.
Another couple you might not realize have been together for decades is Trisha Yearwood and Garth Brooks. Keep reading for more on the duo's sweet love story.
Garth Brooks and Trisha Yearwood met in their 20s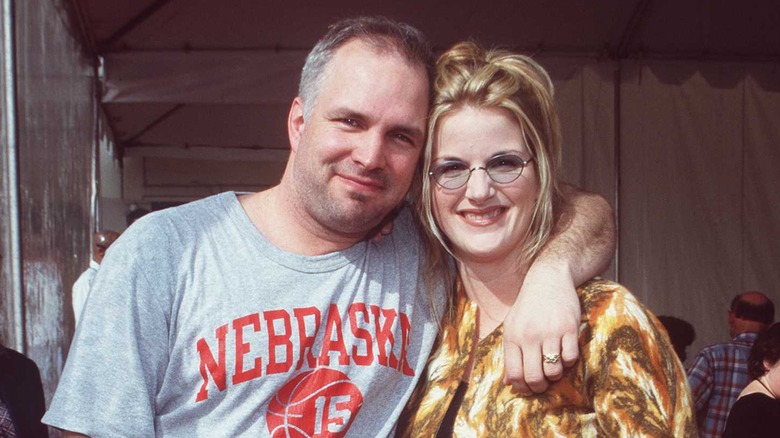 Ron Wolfson/Getty Images
Since falling in love in the 2000s, country superstars Garth Brooks and Trisha Yearwood have gone on to become household names, but their initial relationship wasn't a romantic one. In fact, the two were both married to other people when they first met as songwriters in 1987, according to Closer Weekly. "It's strange, because I felt that feeling like when you just meet your wife, but I'd been married for 13 months," Brooks would later divulge during a 2013 appearance on "The Ellen DeGeneres Show," proving that sometimes when you know, you know.
But at the time, the "Thunder Rolls" singer was committed to making his marriage to then-wife Sandy Mahl work. "Being married, it's gotta be right. This is who you went to college with and you were married in front of God and your family and everybody," he said on "The Ellen DeGeneres Show."
For Yearwood — who was married to Christopher Latham from 1986-1991 and Robert Reynolds from 1994-1999 — it was more of a realization that things with her current partners weren't working out because she'd never grounded a relationship in friendship ... until Brooks. "This is what was meant to be," Yearwood told Closer Weekly after marrying Brooks, adding, "We hike, we cook, we just like to be together, and I was never that girl. I was always, 'Hmmm, no offense, but I don't need to hang with anybody.'"
Garth Brooks is a devoted husband to Trisha Yearwood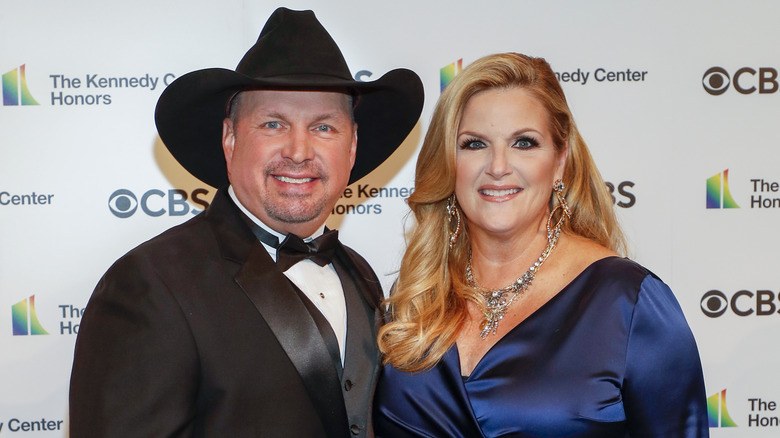 Paul Morigi/Getty Images
Despite knowing each other for years, it still took a while for Garth Brooks and Trisha Yearwood to come together. But eventually, life on the road, coupled with Brooks' feelings for Yearwood, led to the deterioration of his marriage. Brooks and ex-wife Sandy Mahl divorced in 2001, and he and Yearwood tied the knot in 2005, per Closer Weekly. And these days, their marriage of over 15 years is stronger than ever!
"I'm madly in love with him" Yearwood gushed about her hubby to Closer Weekly in 2019, and Brooks returned the favor. In February 2021, the ACM winner took to Facebook to tell fans that Yearwood had contracted COVID-19, and that she remained his top priority. "The Queen and I have now tested twice," he shared. "Anyone who knows me knows my world begins and ends with Miss Yearwood, so she and I will ride through this together." Yearwood later joked about the experience to People, telling the outlet that her husband "would not stay away" from her as she battled with the illness. "I'm like, 'Dude, I cannot be responsible for giving Garth Brooks COVID," she said. "You have to go quarantine on the other side of the house. [But] he would not do it. He was really worried about me."
In short, the secret to a years-long successful marriage might just be rooted in friendship — and it doesn't hurt to be two internationally acclaimed singers, either!