Serena Williams And Alexis Ohanian Are 'Waiting' To Find Out Their Baby's Sex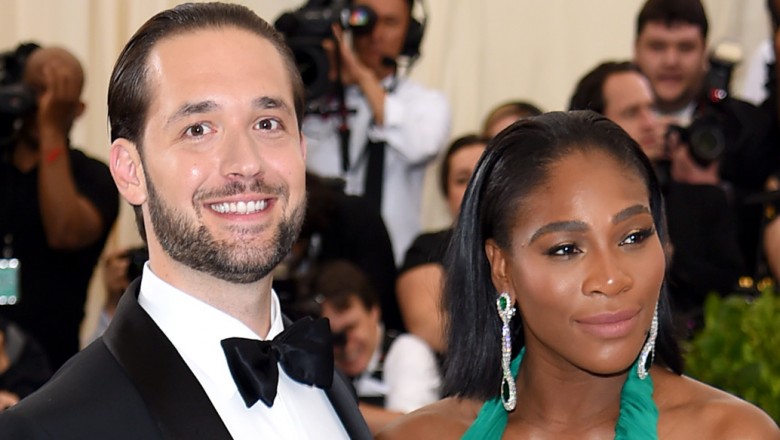 Getty Images
Don't plan on finding out the sex of Serena Williams and fiancé Alexis Ohanian's baby any time soon—the expecting couple intend on keeping it a surprise!
Two weeks after accidentally announcing her pregnancy on Snapchat, Williams' baby bump was on full display at the 2017 Met Gala on May 1, 2017. E! News called it the "best accessory" of the night.
After her baby bump photo went viral on April 19, 2017, the world has simply been chomping at the bit for some baby news. But the couple, who made their red carpet debut at the event, told Vogue: mum's the word!
When prompted with, "Do you know what it is? Do you know if it's a boy or a girl yet?" the athlete, donned in a gorgeous green Versace grown, simply replied, "We're waiting. [It's] a surprise." She then coyly added with a laugh, "We call it 'baby.'"
However, the 35-year-old, who won the Australian Open in January 2017, did hint at where their new family will most likely settle down once the baby is born—San Francisco, where Ohanian, 34, is currently based. Williams replied, "That's the question of the hour, right?" when asked, while her partner positively beamed. "I couldn't be stuck in a more beautiful place," she admitted.
The happy couple, who sweetly announced their engagement on Reddit in December 2016, did not have much more baby news to share. However, Ohanian, the co-founder of Reddit, did disclose that as they get ready for their first child, who is due to arrive this fall, they're feeling "really good." To which, Williams added, "We have time."
This zen outlook echoes Williams' beautiful note to her baby, which was shared on Instagram last week. "My Dearest Baby," she wrote. "You gave me the strength I didn't know I had. You taught me the true meaning of serenity and peace. I can't wait to meet you."