Why Kathy Griffin And Anderson Cooper Aren't Friends Anymore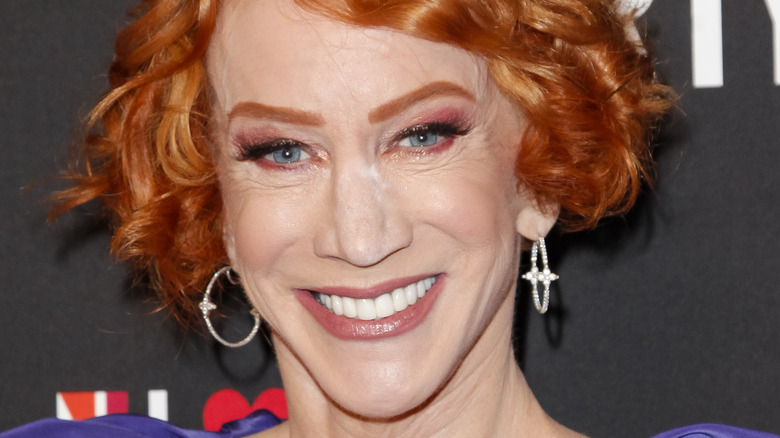 Tibrina Hobson/Getty Images
Kathy Griffin and Anderson Cooper had one of the closest and maybe even most sincere friendships in the entertainment industry. Millions of viewers would tune in to see them drop the ball together for their CNN New Year's Eve special each year. It was an opportunity for fans to see a different side of Cooper, who had always been nothing less than professional in front of the cameras for CNN. During an interview with Seven Days Vermont, Griffin even jokingly called Cooper her "boyfriend" when she teased that he supposedly dumped her for Madonna for his birthday party date.  "I'm sure he invited Madonna and not me. I've been texting him, like, 'Way to dump me for Madonna, you shallow Hollywood sellout!'" Griffin said, adding, "She's probably one of the only women I'd allow myself to be dumped for. Anderson was probably giving Madonna a lap dance while I was at home in my pajamas crying and looking at his early catalog modeling." Ha! 
Seeing how comfortable Griffin and Anderson always were together, it came as a shock to both fans and critics alike when their friendship abruptly ended in 2017. Here's what happened.
Kathy Griffin and Anderson Cooper's photo fall-out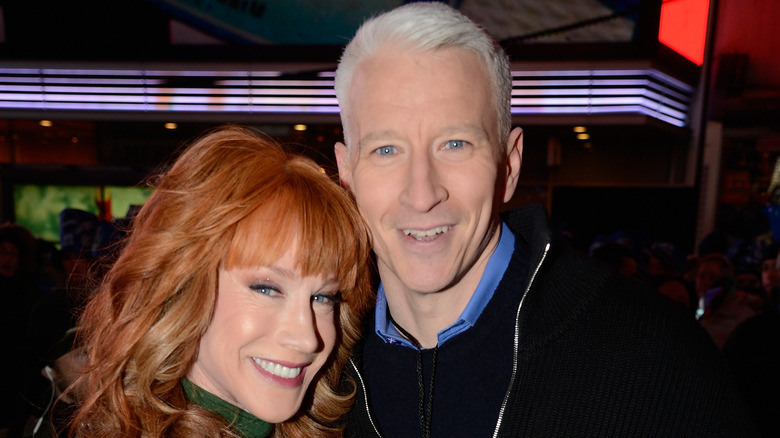 Kevin Mazur/dcnyre2013/Getty Images
Kathy Griffin and Anderson Cooper were the best of television friends up until the comedian's decision to pose for a photo of herself holding what looked like then-President Donald Trump's head. It was a controversy that even made some of Trump's biggest critics and detractors distance themselves from Griffin. The fallout was so bad, in fact, that Griffin even considered ending her life over it. According to journalist Yashar Ali of The Cut, Cooper supposedly ghosted Griffin without telling her why. "The fact that Cooper was telling people publicly they were friends, while not checking in with her, hurt Griffin deeply. When he finally reached out to her in a series of text messages, she told him their friendship was over," he wrote.
And while Griffin was hoping for a phone call or at least a text from her best friend of over two decades, Cooper instead took to his Twitter account to denounce the photo of her with the Trump mask. "For the record, I am appalled by the photo shoot Kathy Griffin took part in. It is clearly disgusting and completely inappropriate." 
The comedian said that while she understood that Cooper did say that in a professional capacity, she was still very much hurt that he didn't at least try to have her back or support her behind closed doors. This led her to make one of the most difficult decisions of her life. 
Kathy Griffin learned the hard way that she couldn't trust even her best friends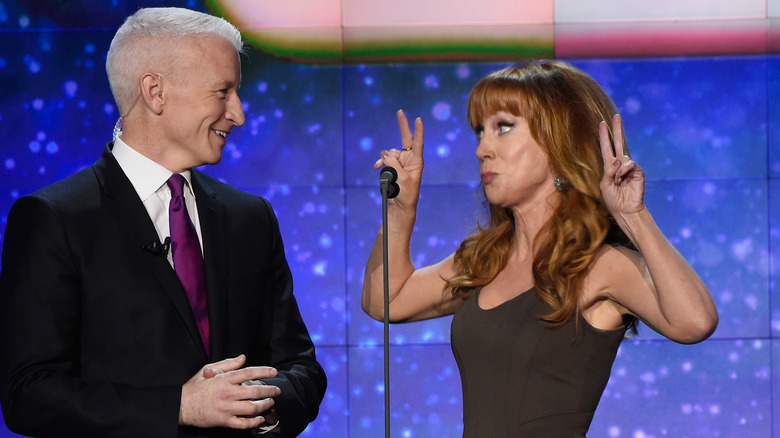 Kevin Mazur/Getty Images
To make matters worse, Anderson Cooper told Andy Cohen on "Watch What Happens Live" in 2017 that he and Kathy Griffin were still friends, even though he failed to reach out to her after her photo scandal. "Yeah, we're still friends, and look I said what I said about — I didn't think what she did was appropriate, but I wish her the best and I hope she bounces back," he told Cohen.
That's when Griffin decided to cut the cord on their friendship altogether. Not only was she "blacklisted" by Hollywood for her controversy, per Variety, but she also lost some people that she considered being very good, close friends with. 
In 2019, Griffin admitted to Variety that she was still hurt over the loss of her friendship with Anderson two years after her scandal. "I was devastated. It still hurts. I mean, I really loved him. I don't have a punchline for that one," she said. Since then, Cooper has kept relatively quiet about his fallout with Griffin. And while Griffin is used to all of the attacks she's gotten from her critics over the years, including the tweets from Donald Trump Jr., she clearly never had imagined that one of her closest friends would have cut ties so easily.