The Truth About Bobby Flay And January Jones' Relationship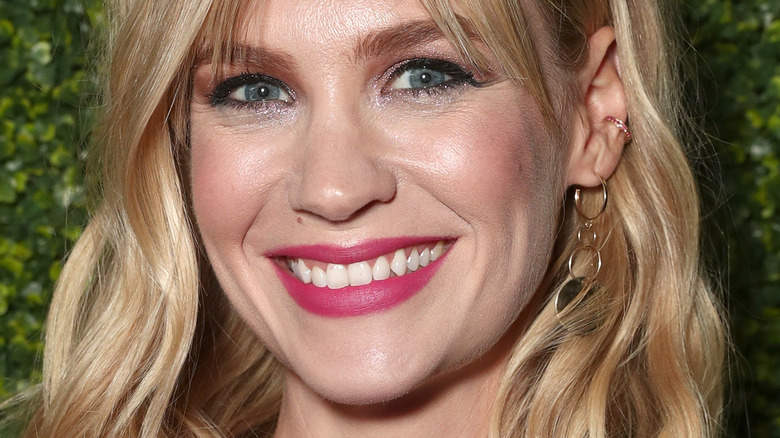 Todd Williamson/Getty Images
January Jones is notoriously protective of the privacy around her personal life, which, of course, makes people even more interested in it. The identity of the father of Jones' son is one of Hollywood's best kept secrets and a mystery that fans of the "Mad Men" alum have not stopped trying to crack since she gave birth in September 2011. The fact that Jones has had a series of short-lived relationships and that she wasn't linked to anyone at the time has certainly made their mission that much harder. 
A decade later, Jones remains as tight-lipped as ever. In 2020, speaking with Dax Shepard on the "Armchair Expert" podcast (via The Sun), Jones joked that Xander might actually be Bradley Cooper's child when the host asked if her son was handsome. "My son? Yes. Bradley Cooper-type! Hey, you don't know, he may be Bradley's!"
Fans weren't the only ones speculating about the baby daddy's identity. In 2011, ABC News listed the "top 5 prime suspects," a list that included Matthew Vaughn, Jason Sudeikis, Michael Fassbender, Xander Berkeley, and Bobby Flay. The first four are understandable contenders. For starters, Jones broke up with Sudeikis around the time she got pregnant, People reported in January 2011. And around that time, she was working with both Vaughn and Fassbender on "X-Men: First Class," ABC detailed. Similarly, Jones had recently worked with Berkeley and her child shares his name. But Flay? Keep reading to learn the truth about what happened between Jones and Flay.
January Jones and Bobby Flay reportedly had an affair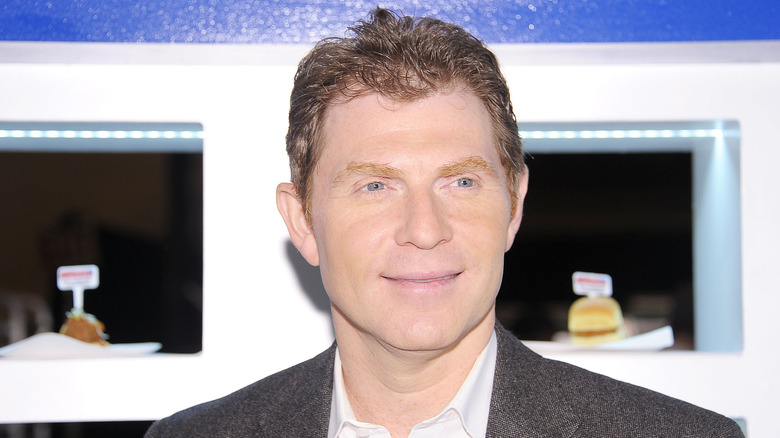 Michael Loccisano/Getty Images
Out of the blue one fine evening in June 2010, January Jones called Bobby Flay after she crashed her Range Rover in Los Angeles, per Gawker. According to Flay, the two had reportedly just met while watching a basketball game at The London West Hollywood Hotel and exchanged numbers because Jones wanted Flay to help her designer with a new kitchen project, the report detailed. Why Jones opted to call someone she had just met looked like another of Jones' many mysteries. But Flay, who was then married to actor Stephanie March, came to the rescue anyway, Gawker noted.
March herself may have given us the answer a few years later when she challenged the terms of their prenuptial agreement during their bitter divorce. As InTouch Weekly reported in June 2015, March contended that Flay cheated on her with Jones in early 2010 — before the incident that linked the two publicly for the first time. Per the court papers, "[March] says they had sex many times and in different places, including the London hotel in Los Angeles," where the two had been right before Jones crashed her car.
As InStyle noted, Jones began dating Jason Sudeikis around July 2010, shortly after being linked to Flay. The couple announced their split in January 2011, right around the time Jones likely got pregnant. It remains unclear how Flay fits into the pregnancy picture, but fans will surely continue to speculate anyway.
January Jones is happy to raise Xander alone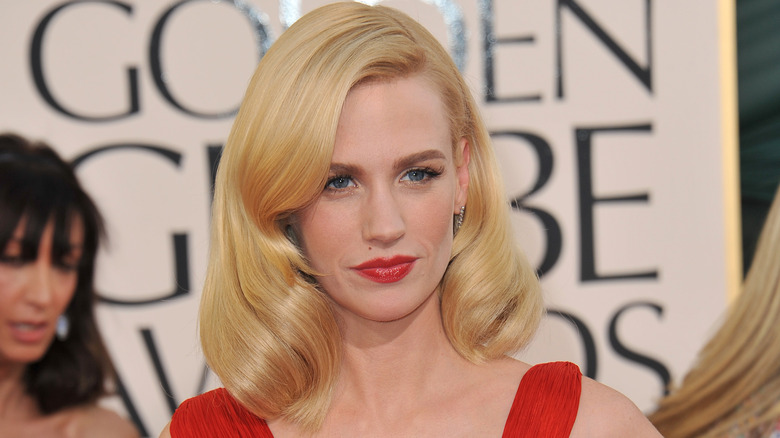 Featureflash Photo Agency/Shutterstock
We'll likely only known who Xander's father is when January Jones decides to share that information, which could be never. Jones appears to be a woman in charge of her decisions. Citing an unnamed source, Us Weekly reported in 2011 that Jones wanted to get pregnant and that her wish could even have had something to do with her split from Jason Sudeikis. "She told him she wanted kids and it turned him off. Jason was bummed out she was on the mommy track. If Jason were the dad, he'd step it up," the source told the magazine of the "Saturday Night Live" alum. 
Jones feels she didn't need a man to raise a child. In 2017, Jones told Red magazine that her son has male figures in his life, but joked she might consider hiring a "manny" to counterbalance the myriad strong women he has around him. "Xander has a lot of bro time with the neighbor dads and my dad, who is super young," she said, adding that, "It's good to have strong women around a man. To teach him to respect women. He doesn't have a male person in his life saying 'don't cry' or 'you throw like a girl'. All those sh*tty things dads accidentally do."
That doesn't mean, however, that she isn't open to being in a relationship — she just doesn't want to force it. "I just don't feel I need a partner," she told the magazine.