Who Is Aaron Sorkin's Ex-Wife?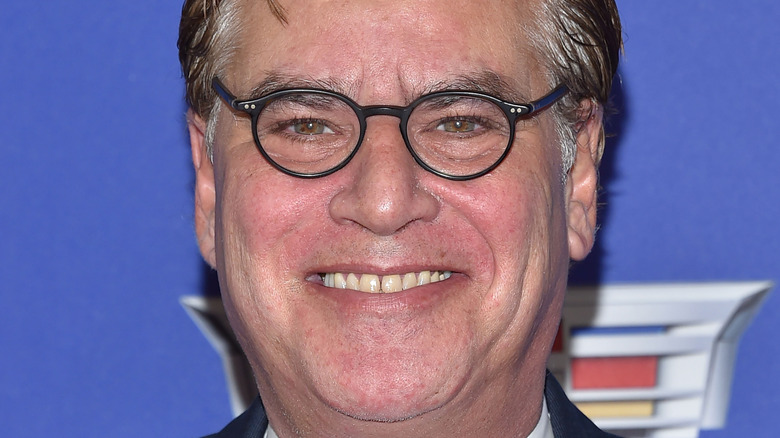 DFree/Shutterstock
In Hollywood, it's not usually the screenwriters who make it to superstar status — unless you're Aaron Sorkin, obviously. Unlike many other Hollywood A-listers, Sorkin doesn't make a lot of tabloid news for his love life. The "West Wing" and "The Newsroom" writer has been married once, and we confess we're pretty curious about the marriage and why it ended. Who is Aaron Sorkin's ex-wife anyway?
Sorkin shares one daughter, Roxy Sorkin, with his ex-wife Julia Sorkin (née Bingham). The couple was married for nine years, marrying in 1996 and divorcing in 2005. Since then, Sorkin has been linked to Kristins Chenoweth and Davis, and even reportedly dated New York Times columnist Maureen Dowd, according to the Los Angeles Times. But none of these relationships turned out to be serious enough for the award-winning writer to try tying the knot once again. So here's what we were able to learn about Sorkin's one and only ex-wife and their relationship.
Julia Sorkin helped Aaron Sorkin into rehab once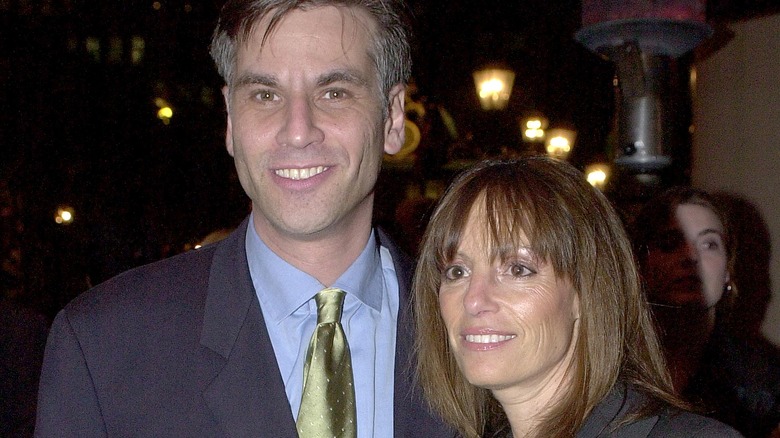 Getty Images/Getty Images
Unlike her famous ex, Julia Sorkin is not a public figure, and it's hard to find out much about her life either before or after her marriage to Aaron Sorkin. What we do know, per a profile on Aaron in The Independent, is that she is an entertainment lawyer — or she was when she and Aaron were first dating — who helped him with his drug addiction in the 1990s. 
The paper reported that when Aaron first started writing the script for "The American President" (which would later evolve into "The West Wing") he would smoke crack regularly. Julia apparently "cleaned him up" and got him into rehab. Eventually, Aaron had a relapse, which led to their divorce in 2005. At the time, it was widely rumored that when Aaron was writing scripts for "The West Wing," he would spend days in a hotel room in L.A. while mainlining crack and banging out pages at a rapid pace. While The Guardian reported those rumors were exaggerated, his addiction was true, and this drug dependency at least partially contributed to his breakup.
Aaron Sorkin's "Sorkin Girls" include his ex-wife
Since the divorce, Julia Sorkin hasn't been much in the news, and Aaron Sorkin hasn't spoken publicly about her much at all. We couldn't find active social media accounts for the entertainment lawyer either, except for one Instagram account that appears to be private. Aaron did acknowledge his ex-wife relatively recently once, however, in an open letter addressed to "Sorkin girls," published in Vanity Fair following the 2016 presidential election of Donald Trump.
In the letter (which, to be fair, seems mostly aimed at his daughter Roxy), Aaron laments that he wasn't able to protect them from Trump, and promises not to give up the fight. "The Trumpsters want to see people like us (Jewish, 'coastal elites,' educated, socially progressive, Hollywood...) sobbing and wailing and talking about moving to Canada. I won't give them that and neither will you," he wrote.
But while Aaron may not be close with Julia anymore, it's clear his daughter is still a big fan of her mom. In one happy birthday Instagram post, Roxy wrote, "happy birthday to my fairy angel majestical legend icon mother. You've been my hero my whole life and absolutely the best friend and mother I ever could have pictured." Divorce or no divorce, at least we know that there's still plenty of love in this fam.