Did Tony Curtis Leave Jamie Lee Curtis Anything In His Will?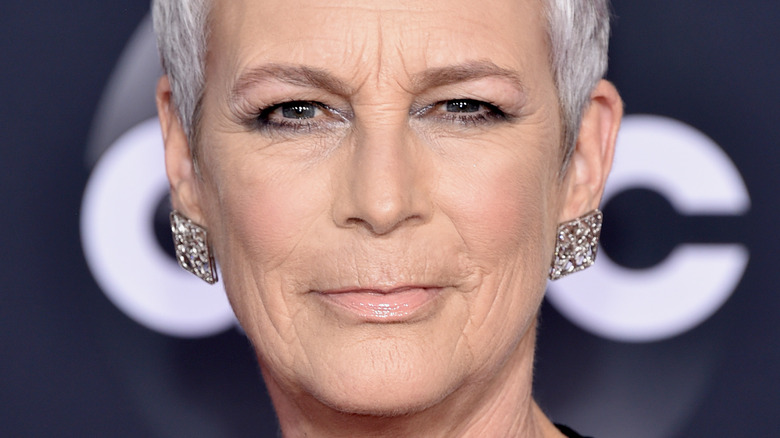 John Shearer/Getty Images
Tony Curtis was famous for his striking good looks, acting skills, and whirlwind, turbulent marriages. The late actor married six different women in his life, fathering six children with the first three. His marriage to Janet Leigh, whose face and scream were immortalized in the shower scene in Alfred Hitchcock's "Psycho," received plenty of attention in the 1950s — as did their 1962 divorce. Born four years earlier, Jamie Lee Curtis and her sister Kelly watched the breakdown of their life during their formative years. "My parents' bond had deteriorated precipitously as their stardom grew. And like any other save-the-marriage baby, I failed," Jamie told More magazine in 2010 (via HuffPost).
A year later, Tony married 18-year-old German actor Christine Kaufmann, with whom he had co-starred in "Taras Bulba." As The Hollywood Reporter noted, the couple had two daughters, Alexandra and Allegra. Once again, the marriage didn't last and the couple divorced in 1968, the report detailed. That same year, Tony tied the knot a third time, this time to Leslie Allen. The union produced two sons, Nicholas and Benjamin. 
Tony married three more times, including his widow Jill, who was 45 years his junior, though he didn't have any more children. In 1994, Nicholas died at 23 from a heroin overdose, as the San Francisco Chronicle reported. That means that when Tony died from cardiac arrest on September 29, 2010, he left behind five children and seven grandchildren — all of whom he surprised with the contents of his final will.
Tony Curtis left all of his children out of his will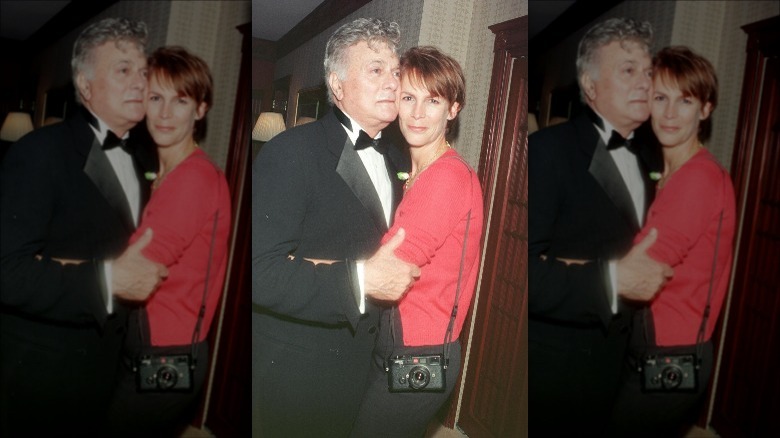 Denny Keeler/Getty Images
Tony Curtis left his famous daughter Jamie Lee Curtis nothing in his will. In fact, he excluded all of his five living children. According to Forbes, Tony revised his testament in May 2010, just four months before his death. The prior document reportedly listed his children and the final version stated he "intentionally" left them out, according to Inside Edition. "I acknowledge the existence of my children, and have intentionally and with full knowledge chosen not to provide for them," Tony wrote, stating no reason for disinheriting them. 
To make matters worse, the actor's estate, worth about $60 million, according to Celebrity Net Worth, held an auction of Tony's possessions, including works of art by the likes of Andy Warhol and Balthus, which also excluded his children as beneficiaries, as The Hollywood Reporter noted. The approximately $1 million raised went all to Tony's widow, Jill, according to Forbes.
"Jill Curtis is the only beneficiary of this auction. She did not consult us. This is not what my dad would have wanted ... He deserves better," Tony's daughter Allegra told THR. Speaking with Inside Edition in March 2011, Jill said Tony left money for his grandchildren's education, something he saw as a form of inheritance to his children. "Tony was very specific in his wishes. I'm a younger woman and we were together 16 years so he wanted to make sure I had a good life as well," Jill said. 
Jamie Lee Curtis wasn't always close with Tony Curtis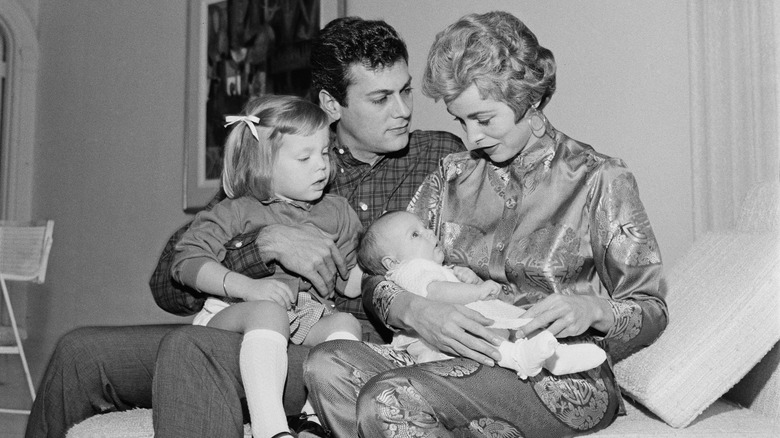 Michael Ochs Archives/Getty Images
Jamie Lee Curtis had a distant relationship with his father, though she respected him for being honest about his feelings. "He was not a father and he was not interested in being a father. It's not a slant against him, he was very clear. He did what he was supposed to do from a financial standpoint, which was honorable of him but he was not an involved father," she said on "The Talk," according to the Daily Mail. 
But as an adult, Jamie became closer with Tony. Still, theirs was not a father-daughter relationship and they developed more of a friendly bond. In a 2019 interview with Variety, Jamie opened up about doing drugs with Tony. She recognized her father had a problem because she herself had a substance use problem. "There was a period of time where I was the only child that was talking to him ... I did cocaine and freebased once with my dad. But that was the only time I did that, and I did that with him," Jamie said.
Jamie accepted that, whether Tony raised her or not, he was her father nonetheless. "We are the evidence of him. We walk the walk led by him. All of us got something from him. I, of course, got his desperate need for attention," she laughed, per the Daily Mail. She often celebrates his enduring legacy on Instagram. "He is missed today by his family and fans." she wrote.