Who Is Walker Hayes' Wife?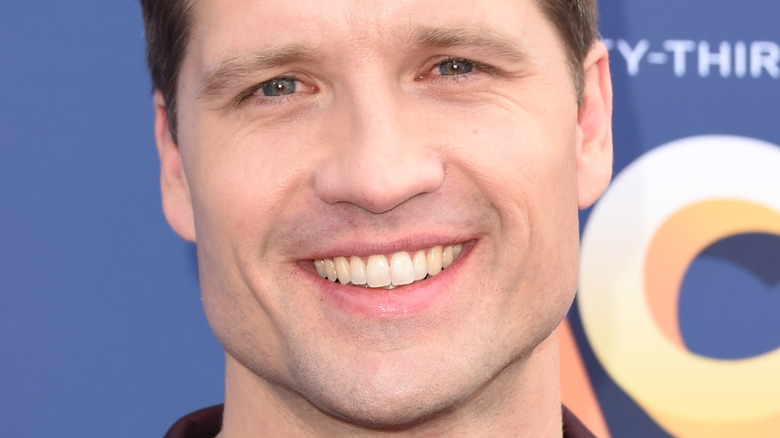 Michael Loccisano/acma2018/Getty Images
American country pop music star Walker Hayes is a major success thanks to his viral hit "Fancy Like." The song caught momentum on TikTok and shot Hayes into the spotlight. The song is likable for its humble, relatable lyrics like, "Yeah, we fancy like Applebee's on a date night / Got that Bourbon Street steak with the Oreo shake," per Genius.
On Instagram, Hayes called the song "silly, happy, wholesome," and speaking of the fame, Hayes said, "I don't understand it." While Hayes is on top of the world now, he did not have an easy climb. He was dropped by two different record labels and picked up a job at Costco to take care of his growing family, according to People.
But Hayes continued to work at his music and, following the release of "Fancy Like," his then-15 year old daughter Lela suggested to her dad that they create a TikTok video together with dance moves for the song. "We just threw it together," Hayes said, per People. "It was my job to keep it easy enough for the old folks. And it didn't take us long. I mean, we probably put it together in 30 minutes. We did two takes and just threw it up." The song worked. But in his long slog to success, Hayes' wife, Laney Beville Hayes, has stood by his side. What's her story?
Walker Hayes was too intimidated to talk to his wife in high school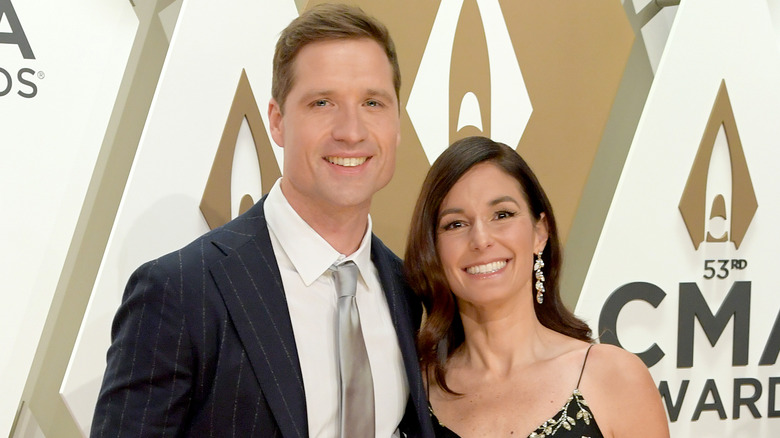 Jason Kempin/Getty Images
Walker Hayes first met his wife, Laney Beville Hayes, when they were in elementary school and the pair went on their first date when Walker was 17. Adorably, Walker was nervous to talk to his wife in high school, despite knowing her for years, he said on the Bobby Bones Show in June 2019. Laney was a cheerleader, an aspect that intimidated Walker, and it wasn't until they acted in a school play together that they got close.
Laney said of the experience, ​​"My true first memory of him is, we were doing rehearsals — this is after we'd already made the cast. He had a solo — well, he was a lead in it, so he had a lot of solos. He started singing the first part of his first solo. I remember looking down the aisle and going, 'Who is that guy? That guy can sing!' It was 'Little Shop of Horrors.'"
The couple admitted that in their early years of dating, they broke up and got back together, but they finally tied the knot in June 2004, according to Wide Open Country, and have been going strong ever since. In fact, the couple has six kids. Here's the story of their huge family.
How Laney Beville Hayes stood by Walker Hayes' side
Walker Hayes and wife Laney Beville Hayes have a big family, with three daughters and three sons: Lela, Chapel, Baylor, Beckett, Loxley, and Everly, according to People. While family life for the Hayes' looks like a big bundle of joy, things haven't always been easy for them.
Walker opened up about his alcoholism in an exclusive interview with PopCulture. The singer got sober in 2016 and he admitted that much of his drinking stemmed from the difficulties he faced while landing success in the music industry. "I leaned on it heavily, with the pressures of not being able to provide," Walker said. "Nashville kind of chewed me up, spit me out. I was embarrassed. The shame was painful, and then I would drink." Walker's unconditional source of support came from his wife, who gave him the courage to stay sober.
Tragedy hit the family in 2018, however, when their daughter Oakleigh died in childbirth, per People. The pain of it made Walker doubt the validity of his career, calling it "dumb" after the loss of their child. But the family rallied around each other, with Walker saying: "It's just hard not to be grateful for a day. If I wake up and I've got six kids that are alive, and they walk down the stairs, and my wife is alive, and she comes down the stairs, and we're together." So it's clear that for Laney and Walker, family comes first.