The Truth About Andie MacDowell's First Marriage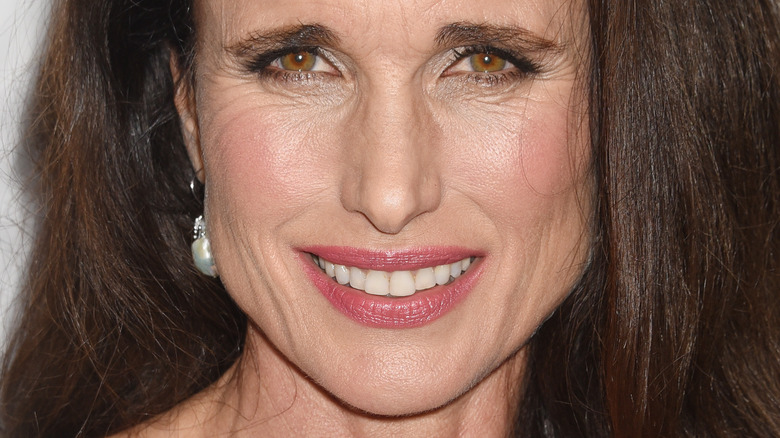 Ga Fullner/Shutterstock
Way back in math class, we learned that two positives always result in another positive. We can see this best demonstrated in real-life when two beautiful people start a family, as their kids usually tend to turn out... well, beautiful. Just look at Andie MacDowell. Her three children, who include model-turned-actor Margaret Qualley, have all inherited their famous mother's stunning good looks. But for the math to check out, surely their father must be a looker, as well?
As it turns out, yes. Paul Qualley, MacDowell's first husband and father to her children — Justin, Rainey, and Margaret — is indeed quite easy on the eyes. In fact, he actually met MacDowell while shooting a Gap ad, where he was working as (surprise, surprise) a model (via the Daily Mail). But, while falling in love on-set might sound like the plot of one of MacDowell's rom-coms, the couple did not last, divorcing in 1999 after 13 years together.
With a seemingly picture-perfect family, why did MacDowell and Paul break up? Read on to find out what drove the couple apart.
Andie MacDowell has hinted at frustration in her first marriage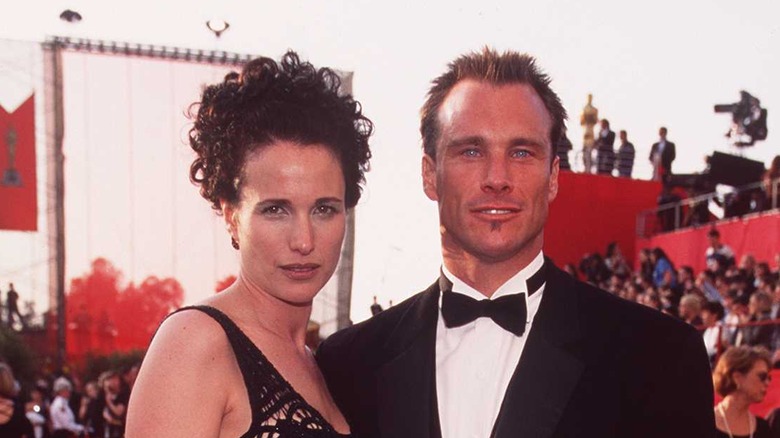 Ron Wolfson/Getty Images
As social media has taught us time and again, appearances, no matter how appealing, can be deceiving. And, from the outside, Andie MacDowell and Paul Qualley's life seemed truly idyllic. The former couple lived on a sprawling 457-acre ranch in Montana, where they spent their time renovating the house, building a barn, and raising their children (per Mansion Global). While this might sound like a rustic fantasy come to life, "The Four Weddings and a Funeral" actor eventually grew impatient with rural living.
Speaking to The Age in 2002, she admitted that she "didn't want to grow older in the middle of nowhere among people who weren't my family." She also expressed frustration at the perception of Qualley as a perfect "Mr. Mom" house husband, pointing out that they had nannies to help with childcare.
The family moved to South Carolina to be close to MacDowell's sister in 1998, but it did not save the marriage, with the pair divorcing one year later. Although the "Groundhog Day" actor didn't go into detail about why they split, simply stating it was "for the usual reasons," it seems that they faced some significant incompatibilities. Their daughter, "Maid" actor Margaret Qualley, described them as being very different, telling Metro (via Ladyfirst) that her father's house "had no TV, no computers, no wi-fi, no microwaves," while her mother preferred a more modern approach to life and technology.
What's Andie MacDowell's relationship with her first husband like now?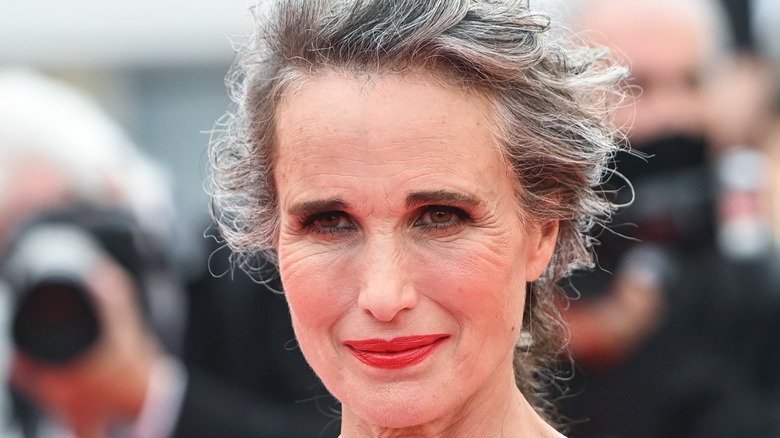 Kate Green/Getty Images
Andie MacDowell hasn't made any recent comments about her first marriage, and Paul Qualley himself has largely dropped off the radar. However, the two likely had a cordial relationship, if nothing else, while raising their kids, considering that they lived within walking distance from each other at the time. Qualley actually went to great lengths to stay near the family, with daughter Margaret telling Metro (via Ladyfirst): "I grew up with my parents living three miles away from each other. My dad built a house right behind my school and would walk and bring me lunch every day to school. It was dreamy."
Although we will never know for sure, it's unlikely that there's any bad blood between MacDowell and Qualley. The "Town and Country" actor, who's also divorced from her second husband Rhett Hartzog, told People in 2015 that, while splitting up is always difficult, "the sooner you can let go of any anger, the better off you are." She ended on a positive note, adding that "there is life after divorce." Good advice, indeed.