Stephen Colbert Defends Controversial Trump Joke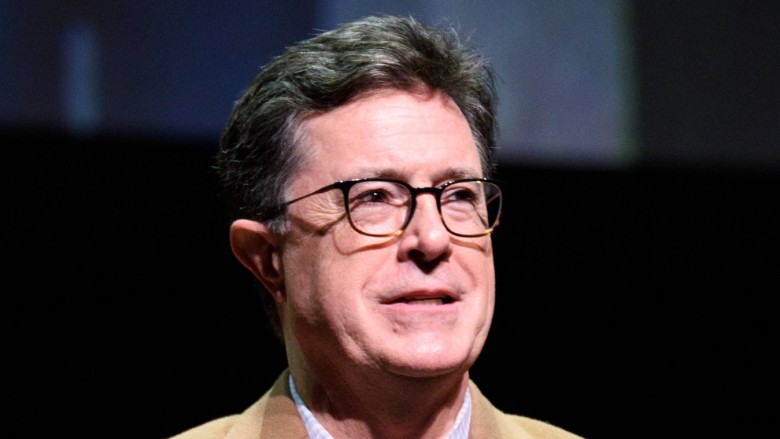 Getty Images
The late night funnyman is not backing down.
The Late Show host Stephen Colbert faced a firestorm over a controversial joke he made about President Trump during his monologue on Monday night. Colbert actually unleashed a tirade of insults in response to the president cutting short his interview with CBS reporter John Dickerson, but it was one joke in particular that sparked outrage.
"You talk like a sign language gorilla that got hit in the head. In fact, the only thing your mouth is good for is being Vladimir Putin's c**k holster," Colbert said.
The next day #FireColbert started trending on Twitter, with both liberals and conservatives voicing their disapproval of Colbert's joke, according to Business Insider.
"I am a #Democrat and i think #colbert should be fired #boycott his advertisers! @CBS #firecolbert horrible human being!" one Twitter user wrote.
Another user, an apparent Trump supporter, was even more succinct, tweeting, "#FireColbert Anti-American. Homophobic. Bigot."
Colbert was then uncharacteristically quiet on Twitter for days before finally addressing the controversy in another monologue on Wednesday night. After triumphantly declaring, "I'm still the host!" he then explained what's been going on.
"At the end of that monologue, I had a few choice insults for the president in return. I don't regret that. I believe he can take care of himself. I have jokes, he has the launch codes, so it's a fair fight. So, while I would do it again, I would change a few words that were cruder than they needed to be," he said.
He then took it a step further in an apparent attempt to address the accusations of homophobia and bigotry.
"I just want to say, for the record, life is short, and anyone who expresses their love for another person in their own way is, to me, and American hero. And I think we can all agree on that. I hope even the president and I can agree on that. Nothing else, but that," he said to laughs.
Along with his refusal to apologize for his criticism of the president, Colbert is keenly aware that his politically charged humor is largely responsible for his recent domination of the late night ratings, according an interview with The Hollywood Reporter.
So, while it looks like Colbert has no plans on lightening up on Trump, he does offer a compromise: "I would trade good ratings for a better president. How about that?"