Who Is Sutton Foster's Husband, Ted Griffin?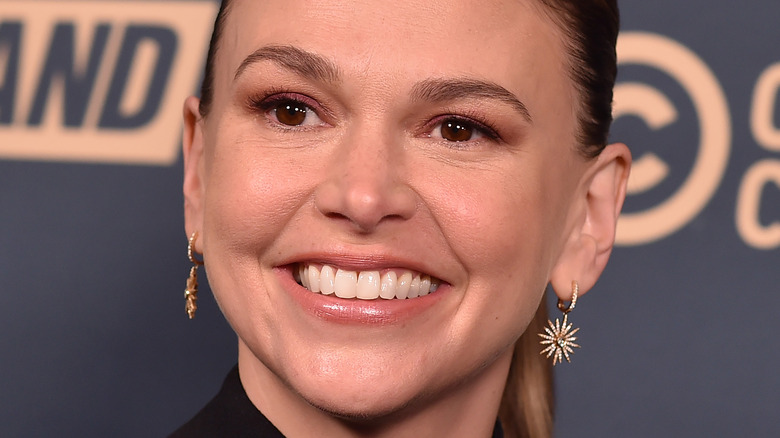 DFree/Shutterstock
Sutton Foster made a name for herself on Broadway as a Tony Award-winning performer in musicals such as "Thoroughly Modern Millie" and "Anything Goes" before striking out for on-screen work, per the Los Angeles Times. Prior to appearing on her long-running TV show "Younger," Foster was engaged to screenwriter Ted Griffin in 2013, and the two tied the knot in October 2014, per Broadway.com.
Until getting married, the famed stage performer's personal life had taken a backseat to her career aspirations. "I've really focused on career most of my life and so now I'm transitioning into where my priorities and my ambitions are more personal," she told People in 2016. After experiencing fertility issues, Foster and Griffin adopted a baby in April 2017. "They are delighted to announce the healthy arrival of their daughter Emily Dale Griffin," a source told People at the time. "Our lives are forever changed, and our hearts are exploding," a thrilled Foster told the outlet.
Prior to adopting baby Emily, Foster and Griffin's fertility issues put a strain on their marriage. "It changes a marriage, it changes a relationship, when you have these wishes and dreams and they aren't fulfilled," the actor admitted to the LA Times in 2019. Motherhood brought its own source of stress which caused Foster to turn to knitting to relieve some of those anxieties. So, who exactly is the man Foster married?
Ted Griffin wrote a sequel to Se7en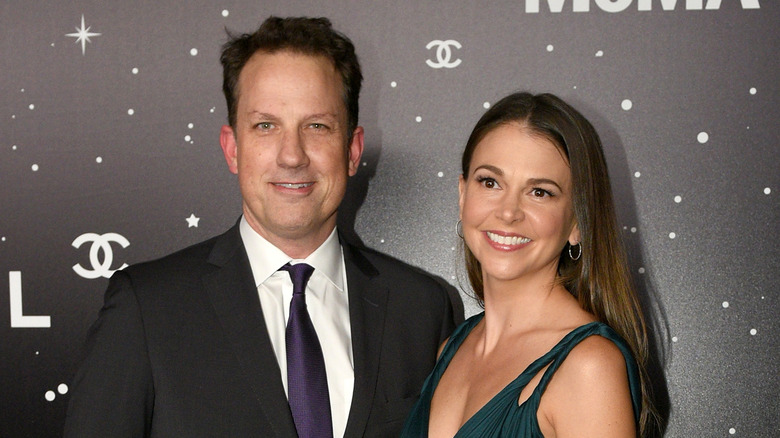 Andrew Toth/Getty Images
Ted Griffin is a screenwriter with a résumé as impressive as his wife's. He wrote the star-studded hit "Ocean's Eleven," and followed that up with other heist movies, such as "Matchstick Men" starring Nicolas Cage and Sam Rockwell, and "Tower Heist" starring Eddie Murphy and Ben Stiller, per IMDb. The writer broke onto the Hollywood scene in the late '90s when two of his films, "Best Laid Plans" and "Ravenous," were released in 1999. "After three years of writing scripts and just getting by – temp jobs, occasionally sleeping in my car – I managed to find an agent and a lawyer and within a few weeks sold three scripts I'd written," he told Free Film University.
Another noteworthy film Griffin wrote was the thriller "Solace." The script was famous as it nearly became the sequel to the grisly smash hit "Se7en." "This was way back in 1996, so 'Se7en' had just come out and was (and is) a conspicuous influence on the script," the writer told Bloody Disgusting in June. Apparently, Morgan Freeman was supposed to reprise his role as Detective Somerset, but he ultimately passed on the project. "In truth, the notion of turning 'Solace' into a 'Se7en' sequel was pretty short-lived," Griffin admitted. Nearly two decades later the script was repurposed and "Solace" was released in 2015 starring Anthony Hopkins.
Sutton Foster's rule for a healthy marriage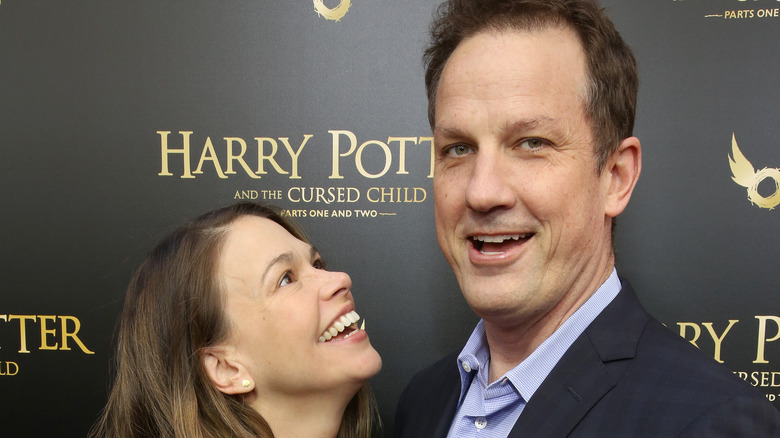 Walter Mcbride/Getty Images
Ted Griffin is best-known for writing feature films, but similar to his wife Sutton Foster, he has dabbled in television as well. He created the show "Terriers," which ran for one season on FX. According to Griffin, there is a stark contrast between writing for television and film. "It's wildly different, for better and worse," he told Free Film University. "TV does not have a captive audience the way film does; you have to grab their attention and hold it," Griffin said. While creating comedic situations for the show's characters, Griffin stuck to a golden rule. "I think our one rule is, if they're being funny or entertaining they have to [be] funny or entertaining to each other. Hopefully this show is never making a joke," he told Uproxx in 2010.
To maintain the romance in their relationship, while balancing busy work schedules, Griffin and Foster had to create rules of their own. "We plan these surprise dates for each other, and the only rule is that you can't say no," Foster told Us Weekly in 2019. "He planned a date for me once where we took a Latin jazz class at Lincoln Center," she added.