What You Didn't Know About Todd Chrisley's Country Music Career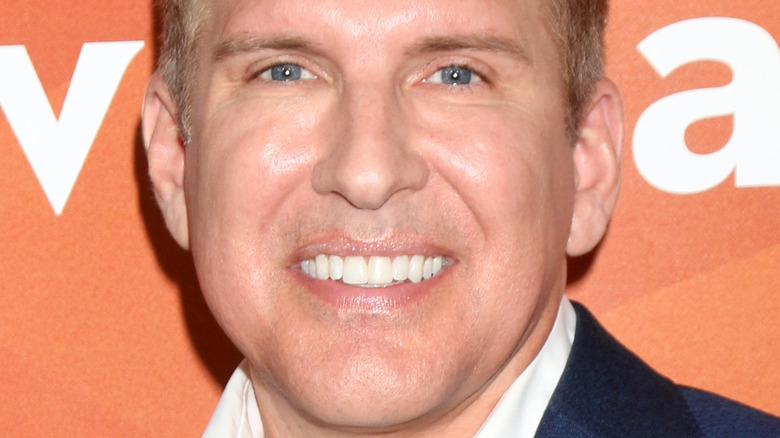 Kathy Hutchins/Shutterstock
Todd Chrisley and his family have captured the attention of reality television fans around the world with their hilarious shenanigans and entertaining everyday drama on their show, "Chrisley Knows Best." Todd is the quirky yet strict patriarch who earned his millions as a real estate tycoon in the state of Georgia, according to Country Living. He and his wife Julie share three children, Savannah, Chase, and Grayson, and Todd has an additional two kids from a previous relationship, Lindsie and Kyle.
As with most reality television families, the Chrisleys are no stranger to the controversies and criticism that have deemed them unfavorable in the public eye at times. However, while some may use the term "crazy" to describe the family, Todd prefers the expression, "full of life," which he explained to OK! Magazine. "[W]e are all very present in our day-to-day life," he told the publication, adding, "We are very invested in each other. And so I think when you put those seven different personalities, and do we always agree? No. But we agree that we love each other. Whatever the situation is, we'll work through it together. We'll end it together."
Over the years, Todd has expanded from real estate mogul to reality television star and, perhaps most unexpectedly, country music singer. He has shown off his lovely singing voice both on and off the series and even landed a coveted opportunity to share his talent with the world back in 2016. 
Todd Chrisley earned a spot on the Billboard charts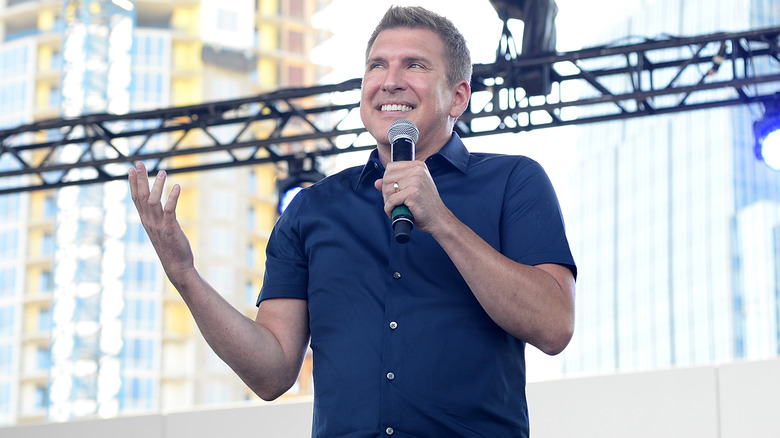 Beth Gwinn/Getty Images
In 2016, Todd Chrisley teamed up with country music star Sara Evans to record the single "Infinite Love," reported One Country. The reality television personality also enlisted the help of songwriters Shane Stevens and Nash Overstreet to pull off an epic love song that he dedicated to his wife Julie for her birthday. Todd is not one to shy away from cheesy, romantic lines, as evidenced by one lyric in particular: "You will be my infinite love / Yeah after all this time there's still no wind in sight / Because you can't separate something heaven made" (per Genius). The song undoubtedly made Julie swoon.
It was Todd's wish to partner with Evans to create this birthday gift to his wife. The partnership definitely ended up being the right choice, as "Infinite Love" landed in the Top 20 of the Billboard Country Digital Songs chart shortly after its release, according to Billboard. In an interview with Nashville Gab, both Todd and Evans discussed working on the single together. The "A Little Bit Stronger" artist told the publication that Todd's request for her to duet on "Infinite Love" came "out of the blue," but the two ended up chatting about the project for "two hours" before she agreed to record the track and give the surprise performance on Julie's birthday. Todd couldn't have been more pleased with how things turned out, not to mention the joy their performance brought Julie.
Sara Evans and Todd Chrisley maintain a close friendship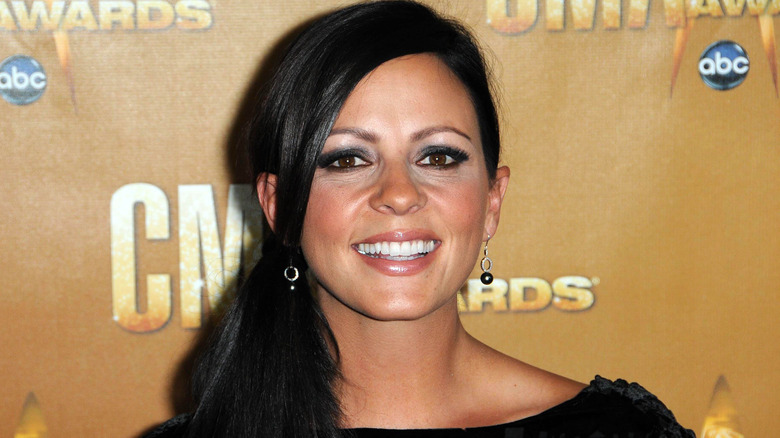 s_bukley/Shutterstock
Their collaboration on "Infinite Love" led to an endearing friendship between country music star Sara Evans and reality television personality Todd Chrisley. The "I Could Not Ask For More" singer discovered a different side to the real estate tycoon that many viewers of "Chrisley Knows Best" don't get to see. In an interview with People, she said, "He's really crazy on his show — his big, huge, like, flamboyant personality and he's always acting like he's just pissed and so mad at his kids." However, Evans was delighted to find that he has a soft side to him and is actually a "great father" who "loves his family." The singer added, "He's a lot more serious, I think, in real life when it comes to his business and again what he wants for his family and their future."
In 2016, the same year in which the duo released "Infinite Love," Evans and Todd teamed up again for some friendly competition on "Celebrity Family Feud," per The Country Note. Sara "jumped at the chance" to compete against Todd and his brood and brought along her siblings, Jay Evans, Lesley Lyons, Matt Evans, and Ashley Simpson, in the hopes of winning money to donate to a charity "near to her heart": St. Jude Children's hospital. The country singer and her family proudly raked in a whopping $25,000 for the charity after all was said and done, reported The Country Daily.