Emma Watson Receives First Genderless MTV Award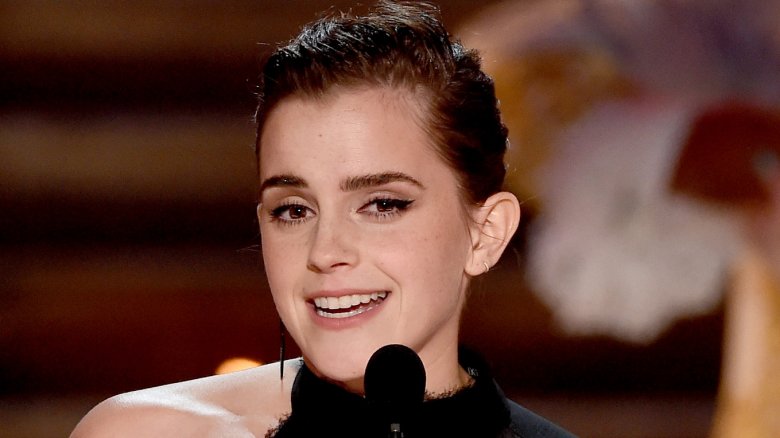 Getty Images
Congratulations to Emma Watson!
Billions (2016-) actress Asia Kate Dillon, who identifies as gender nonbinary, handed out the first MTV Movie & TV Award for Best Actor in a Movie to Watson for her portrayal of Belle in Beauty and the Beast (2017).
This was the first gender-neutral award presented at the show. MTV announced the elimination of gender-separated categories in April 2017, instead opting to adopt a more inclusive approach to nominations.
"Great acting is great acting, no matter what the gender or non-gender," MTV general manager Amy Doyle told The Hollywood Reporter, adding that the change resulted from the network's audience "uniformly rejecting obsolete labels and embracing fluidity."
"It really was a cultural statement," she added. "And it really is reflective about the audience's views and when you look at the culture as a whole, you had a man against a woman running for president [last year]. It just felt like a dated construct for a category."
Watson celebrated her big win with a powerful speech, remarking on MTV's forward-thinking decision to remove gender from their award show. "The first acting award in history that doesn't separate nominees by their sex says something about the way we perceive the human experience," she said (via People). "MTV's move to create a genderless award for acting will mean something different to everyone. But to me, it indicates that acting is about the ability to put yourself in someone else's shoes and that doesn't need to be separated into two different categories."
She also thanked Dillon, who previously made history for being the first gender nonbinary identifying actor to star in a major TV series. "Empathy and the ability to use your imagination should have no limits," Watson stated (via Entertainment Weekly). "This is very meaningful for me, both to be winning the award and to be receiving it from you, Asia. Thank you for educating me in such an inclusive, patient, and loving way."
The 27-year-old went on, "I think I'm being given this award because of who Belle is and what she represents. The villagers in our fairy tale wanted to make Belle believe that the world was smaller than the way she saw it with fewer opportunities for her, that her curiosity and passion for knowledge and her desire for more in life were grounds for alienation. I loved playing someone who didn't listen to any of that. I'm so proud to be a part of a film that celebrates diversity, literacy, inclusion, joy, and love the way that this one does."
Congratulations again to Watson and bravo to MTV for making a change that better reflects today's society.