The Truth About Robin Williams' Daughter, Zelda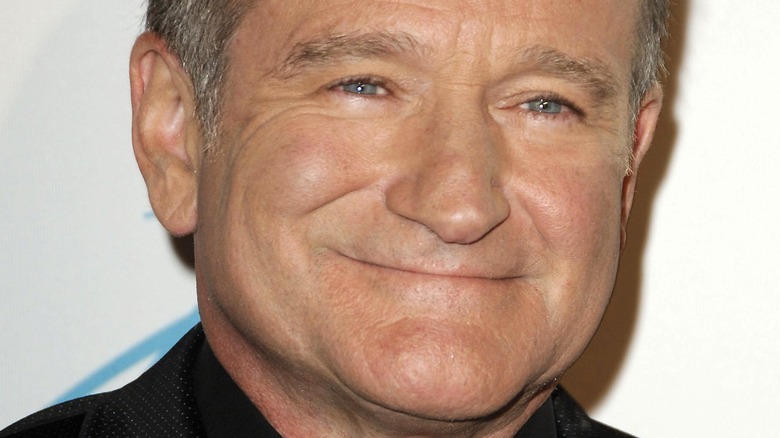 Everett Collection/Shutterstock
While so much is known about the late actor and comedian Robin Williams, perhaps a lesser known fact about him is that he was a huge fan of "The Legend of Zelda," the hit Nintendo game series. In fact, Williams was such a big fan of the franchise that he named his daughter after its title character. Furthermore, Robin and Zelda Williams both appeared in a series of commercials in the early 2010s promoting the series' latest titles at the time: "Skyward Sword," "Ocarina of Time 3D," and "Four Swords."
Aside from those appearances, Zelda has kept a relatively low profile, especially compared to her celebrity father. Her Instagram page — despite having more than 260,000 followers — is completely blank. In her bio, she voices her distaste for social media, writing, "In the beginning, the internet was created. This has made a lot of people very angry and has been widely regarded as a bad move..."
So who is the real Zelda? Here's what we know.
Zelda Williams is an actor, writer, and director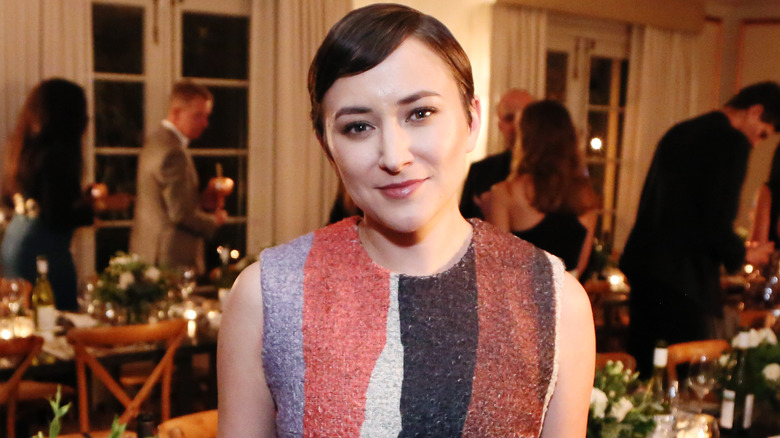 Gabriel Olsen/Getty Images
Like her father, Zelda Williams also has some acting experience under her belt. According to IMDb, her first role was in the TV movie "In Search of Dr. Seuss," in which she appeared alongside her father. She later had some recurring voice acting roles in "The Legend of Korra" and "Teenage Mutant Ninja Turtles."
In 2018, she released "Shrimp," a short film she wrote and directed, which premiered that year at the Tribeca Film Festival, according to Entertainment Weekly. Williams told the outlet that the film, which chronicles the shenanigans of a dominatrix den, was inspired by an awkward encounter at a bar during which a man approached her thinking she was a dominatrix. Fascinated, she decided to shadow dominatrixes in a Los Angeles den, which inspired her to make a project that portrays them in a softer light. "It's a different world than I think has been portrayed previous to this. I don't think it gets treated very well," Williams said. "The world there is incredibly understanding, non-judgmental. The entire foundation of it is on consent and openness."
Following the premiere at Tribeca, Gunpowder & Sky purchased the short with the intent to turn it into a TV series, per Variety. The company planned to try to sell the series to a streaming service or to a premium TV network like HBO or Starz. It's unclear how far along the series got in the development process.
Zelda wants people to stop sending her impressions of her dad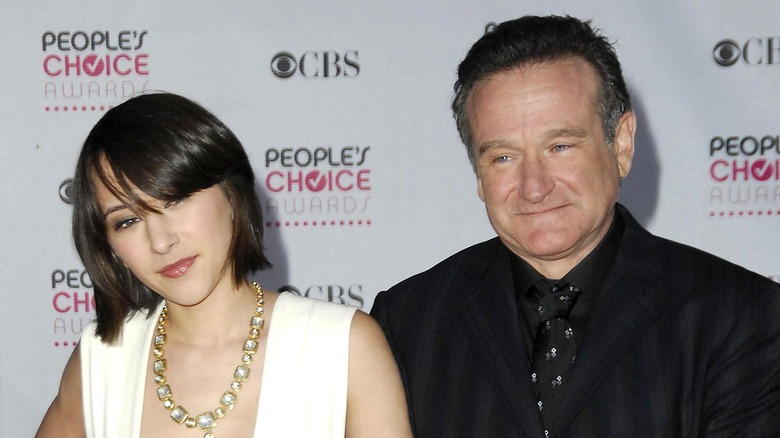 Everett Collection/Shutterstock
Robin Williams continues to remain an inspiration to comedians around the world. In October, comedian Jamie Costa uploaded a test footage scene of himself portraying Williams on the set of "Mork & Mindy" learning that his friend, John Belushi, died. The clip went viral, garnering more than 3 million views in just three days. Apparently, many people sent the video to Zelda Williams. 
Unfortunately, she was not as amused as they were. "Guys, I'm only saying this because I don't think it'll stop until I acknowledge it... please, stop sending me the 'test footage,'" she tweeted. "I've seen it. Jamie is SUPER talented, this isn't against him, but y'all spamming me an impression of my late Dad on one of his saddest days is weird." In response, some users replied to Zelda's tweet with photos of their pets, a gesture she appreciated. "It's LOVELY," she wrote in a follow-up tweet, adding, "please always send me all the pictures of your furry (or scaly/spiky) dependents, please and thank you!"
Some users in the replies dissected Zelda's initial reaction. "i think everybody just feels like they have the same entitlement because they too grew up with his movies and that he was almost like a part of everyone's lives even though they will never know what he really was off screen," wrote one tweeter. But another replied, "They don't have the same entitlement as his daughter. She asked people to stop. That should be enough."