The One Thing Harrison Ford Hated About Star Wars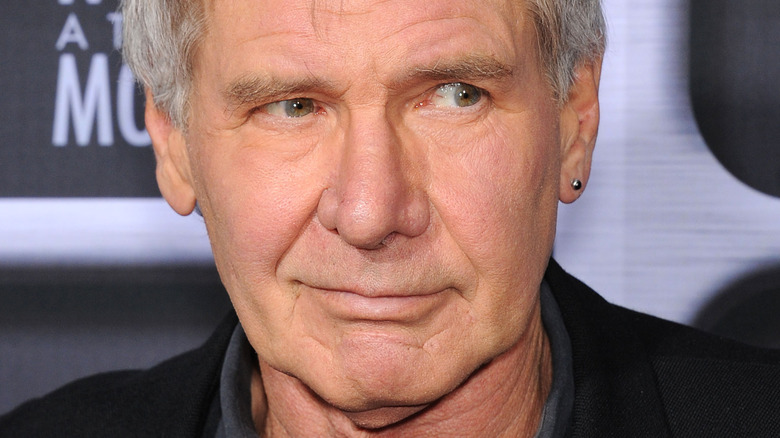 DFree/Shutterstock
If you're wondering why Harrison Ford is basically a (wildly wealthy) Hollywood legend, he's simply appeared in so many iconic films. Along with a long line of blockbuster and beloved flicks — such as 1988's "Working Girl," 1993's "The Fugitive," and 2020's "The Call of the Wild," per IMDb — he's also taken on some of the most memorable characters in super-popular franchises.
Any Ford fan will likely be able to tell you that he brought Indy to life in the action-packed, archaeologically motivated "Indiana Jones" both in the '80s as well as in 2008. The actor also played Jack Ryan in films like Tom Clancy's "Patriot Games" and "Clear and Present Danger." Of course, anyone looking back at Ford's career would have to mention the fact that he appeared in many of the "Star Wars" films as the smuggler-turned-hero Han Solo.
One of the most popular and profitable movie franchises of all time, according to Mental Floss, you might automatically think that Ford was thrilled to land the role, had a blast while filming the flicks, and had nothing but awesome things to say about the stories. But that's not the case at all. In fact, there was something very specific that he hated about "Star Wars" and while there are some secrets that other cast members tried to hide, Ford was fully willing to admit what it was.
Harrison Ford has said Han Solo isn't 'that interesting'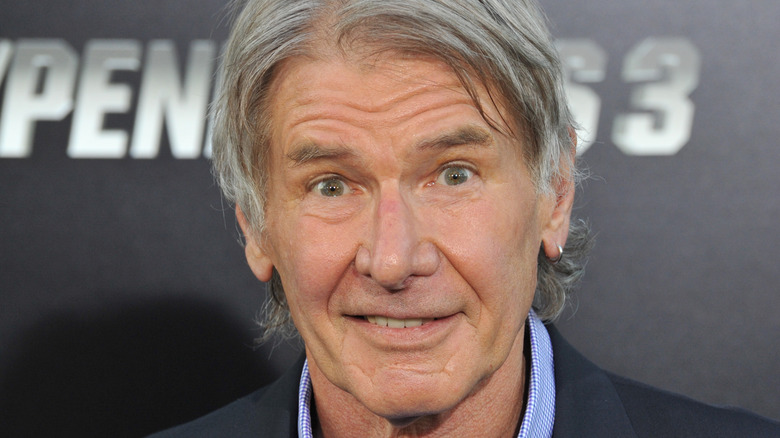 Featureflash Photo Agency/Shutterstock
You may have loved Harrison Ford as Han Solo in the "Star Wars" movies, but he has been pretty vocal about the fact that he, well, doesn't. That is when he's willing to talk about Solo at all, which isn't that often, according to Huffington Post. That's perhaps because, as he once told ABC News (via CBS News), "As a character he was not so interesting to me." He even went so far as to say, "I thought he should have died in the last [movie], just to give it some bottom." However, apparently "George [Lucas] didn't think there was any future in dead Han toys." Oof. 
Granted, not finding a role interesting isn't the same as hating it. Frankly, there was something else about "Star Wars" that Ford couldn't stand. As Huffington Post notes, he once admitted to having a talk with Lucas about the script and told him, "George, you can type this sh**, but you sure as hell can't say it." Ouch! Despite what Ford might have thought (and it's hard to argue Lucas' dialogue isn't a bit "clunky," as HuffPost put it), he said the lines.
Of course, in the end, "Star Wars" was successful. Even Ford admitted, "I was wrong. It worked," per the outlet. Yet, that doesn't mean that the celeb has grown fond of the films over the years. 
Harrison Ford still doesn't seem like a Star Wars fan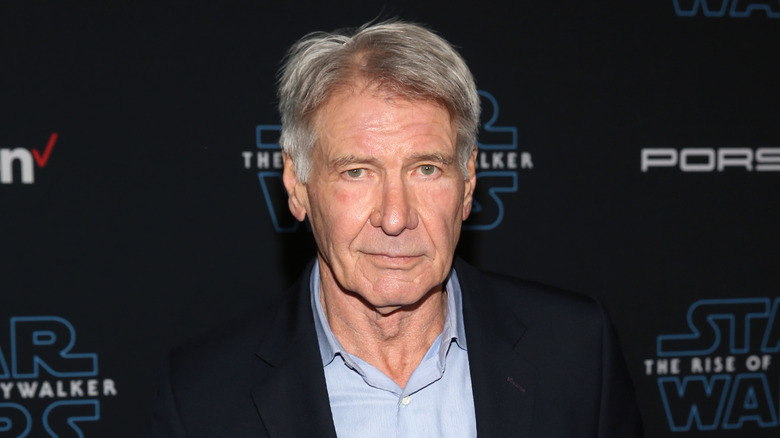 Jesse Grant/Getty Images
It would be understandable if Harrison Ford's opinion of "Star Wars" had changed due to the fact that it's become such a beloved and bankable part of Hollywood. He was also willing to revive his Han Solo role for 2015's "Star Wars: Episode VII — The Force Awakens." However, it seems like he still isn't into the franchise — at all. Reactions to that fact were stirred up in December 2020 when Far Far Away Facts & News tweeted, "When Harrison Ford was asked if Han Solo was a Force ghost in 'The Rise of Skywalker,' his answer was: 'I have no f*****g idea what a Force ghost is. And I don't care.'"
In response, one clearly unimpressed person wrote, "I love Han Solo, but I could give 2 f***s about Harrison Ford." However, not everyone was upset by the actor's stance. Someone else tweeted, "I love how much Mark Hamill [a.k.a. Luke Skywalker] cares about 'Star Wars' and the fans, and I love how much, to an approximately equal extent, Harrison Ford does NOT care. And I see no contradiction."
Another Twitter user was willing to give Ford some slack for another reason, tweeting, "Harrison Ford is the epitome of the working actor. Details are irrelevant so long as the story is told and the viewers are entertained." They also noted "... Plus, it's freaking Harrison Ford!" Fair enough!