Everything We Know About Alyssa Milano's Arrest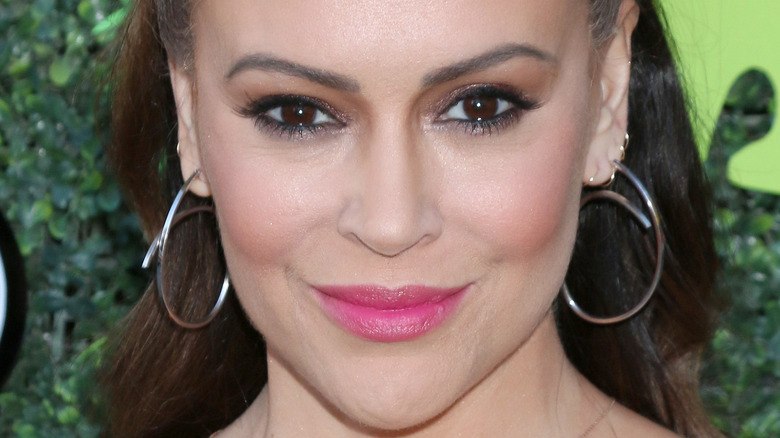 Kathy Hutchins/Shutterstock
Alyssa Milano has been in the news a lot, and it's not for a new show or film role (or the revival of "Who's The Boss?"). In recent years — and particularly, in recent months — there's been a lot of buzz around Milano's politics. Back in June, Milano announced that she was considering a run for Congress. "I'm looking at California's 4th District to potentially run against [Republican Tom] McClintock," the "Charmed" star told ITK (via The Hill). Milano added that she wanted to flip the district, which incorporates San Francisco, from red to blue.
"It's going to take someone with ... name recognition and deep pockets to be able to run against McClintock," she told the outlet. "So I'm considering it. I'm basically gathering information right now, speaking to different consultants, speaking to the community."
2024 is a long way away, but Milano isn't waiting to get involved in politics. In fact, the actor found herself very far away from Melrose Place when she was actually arrested in front of the White House.
Alyssa Milano was arrested while standing up for the Freedom to Vote Act
Alyssa Milano shocked her fans when she announced that she'd been arrested in front of the White House on October 19. "I was just arrested for demanding the Biden Administration and the Senate to use their mandate to protect voting rights," she captioned an Instagram of herself standing in front of the White House gates. "Stand with me and @peoplefor and tell the Senate and White House that voting rights shouldn't depend on where you live."
Milano and roughly 20 other protestors congregated in front of the White House to fight against Republicans' plans to filibuster the Freedom to Vote Act, per Deadline. The proposed act would protect voting rights in numerous ways — particularly in terms of voting accessibility, according to BrennanCenter.org. Some examples of that accessibility include making Election Day a holiday (so employees don't have to choose between working and voting), strengthening the mail-in ballot process, making it easier to register to vote in the first place, and ensuring that people with disabilities can still cast their votes.
Evidently, Milano went into the day prepared. "I'm going to risk arrest today because in the last year, there have been 425 bills that have been introduced to restrict voting rights," Milano said in an interview posted to Twitter. "So, I'm going to demand that our president do everything in his power to pass the Freedom to Vote Act, the John Lewis Voting Rights Act, and the DC Statehood Act."
Eventually, a total of 24 people were arrested for obstructing the sidewalk, per Deadline.