The Real Reason Bobby Flay And Stephanie March Got Divorced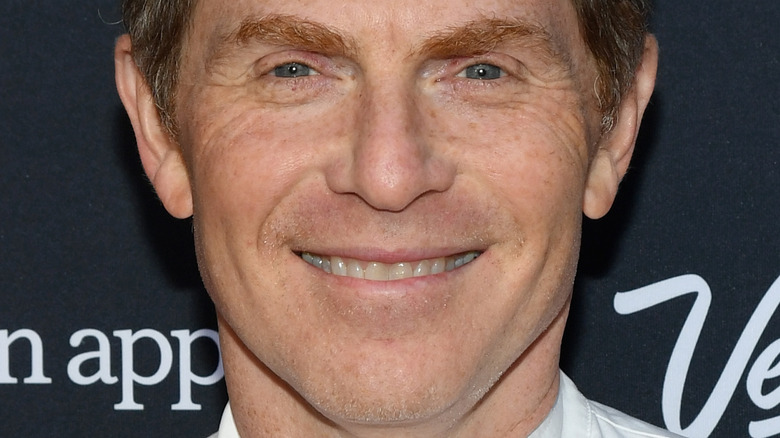 Ethan Miller/Getty Images
Bobby Flay has led a successful career both as a chef and as a Food Network fixture. Flay's love life, on the other hand, hasn't seen the same luck. When the celebrity chef met his third wife, Stephanie March, it looked like stars had finally aligned in his favor. Flay and the "Law and Order: Special Victims Unit" star first met in 2000, according to CNN. March agreed to go on a blind date — she told CNN in 2008 that it was her first and only time — and was surprised when Flay took her to the famously hard-to-book Nobu restaurant in New York. March fell for the "Iron Chef" alum right then and there. "I know it's a cliché, but I remember thinking, 'Oh my gosh, this is the rest of my life,'" she recalled.
The celebrity couple dated for three years until Flay once again impressed March by popping the question at the iconic ice-skating rink at Rockefeller Center around Christmastime, per CNN. A little over a year later, Flay and March tied the knot before a reverend at St. Peter's Episcopal Church in New York, as The New York Times reported at the time.
Then 2015 rolled in, marking 15 years of a relationship that seemed to be thriving. But things took a turn for the worst and the couple reportedly separated around March, according to People. By July, they were divorced, Page Six noted. So, what went wrong? 
Stephanie March accused Bobby Flay of cheating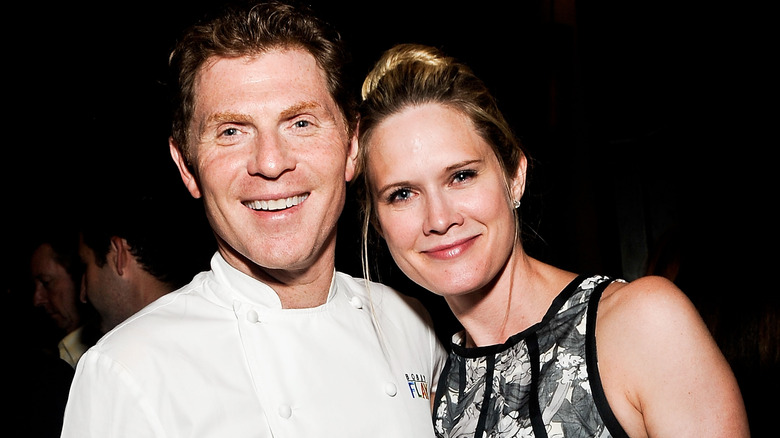 Daniel Zuchnik/Getty Images
Bobby Flay filed for divorce shortly after separating from Stephanie March in early 2015, TMZ reported. Issues around their prenuptial agreement reportedly arose as soon as divorce proceedings were kicked off, according to the outlet. However, Page Six reported that the marriage began to fall apart shortly after Thanksgiving 2014, when March allegedly discovered that Flay had been having a long-standing affair with Elyse Tirrell, a 20-something host at his Bar Americain in Midtown. "She came to my house and was sobbing uncontrollably. She said, 'I can't believe the last 10 years of my life have been a lie,'" actor Maia Madison, a friend of March's, told Page Six.
In court papers contesting the terms of their prenup, March accused Flay of being unfaithful with not one, but with three women, according to In Touch Weekly. In addition to Tirrell, March also contended Flay had cheated on her with January Jones several years earlier. The third woman was a food stylist who was not named in the In Touch Weekly report. The "Mad Men" star and Flay, who supposedly barely knew each other, raised eyebrows in July 2010 when Jones called Flay for help after crashing her car in Los Angeles, as Gawker pointed out.
In a statement sent to Page Six, Flay's attorney, Julie Halpin, implied March was motivated by money. "All of this is being done in order to renegotiate a prenuptial agreement that was agreed to over a decade ago and never amended during the marriage," she pressed. 
Bobby Flay had reportedly been distant for some time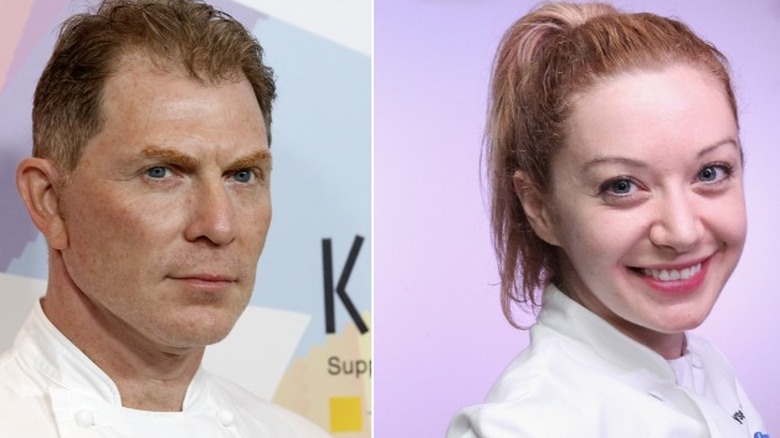 Gabe Ginsberg/Getty Images, John Parra/Getty Images
According to TMZ, Stephanie March and Bobby Flay had been having issues since early 2014, about a year and a half before they divorced. Per the report, Flay had been distant the previous year and even missed out on important events in March's life. When March suffered from a ruptured appendix, her husband reportedly failed to show up at the hospital to be by her side during her emergency appendectomy, offering to send an assistant instead, per TMZ. 
Similarly, Flay reportedly opted not to be with his wife for the occasion of their 10th wedding anniversary in February 2015, the report further detailed. Instead, Flay attended a wine festival in Florida in the company of his assistants, per TMZ — a group that included his alleged mistress at that time, Elyse Tirrell, though it is unclear whether she was in fact in Florida for the event. "Stephanie told me, 'I wasn't asking for much. I would have stayed if he had given me one date night a week and tulips on our anniversary,'" actor Maia Madison told Page Six.
Around the time of their divorce, Flay became the first chef to receive a star on the Hollywood Walk of Fame. During the ceremony, a propeller flew nearby carrying a banner with the word "cheater," CBS News reported. March denied any involvement, according to Us Weekly. March and Flay eventually settled their prenuptial dispute for an undisclosed amount, per the New York Daily News.