The Truth About Food Network Star Sunny Anderson's Health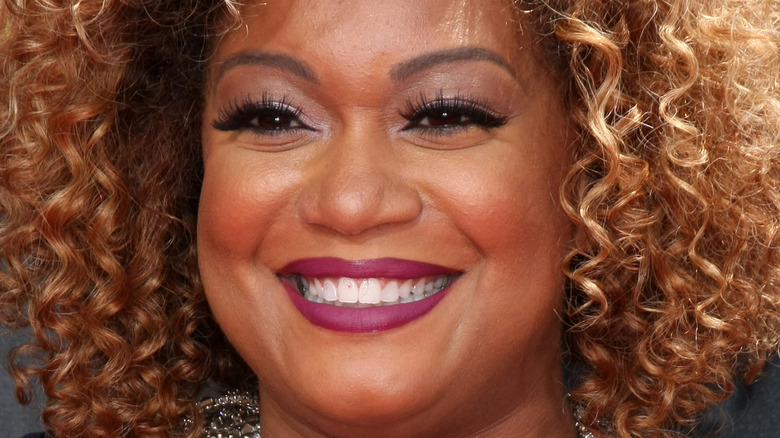 Kathy Hutchins/Shutterstock
Sunny Anderson's whole life has revolved around food. While not a trained chef, "The Kitchen" co-host was raised by foodie parents who were in the military, according to The Sporkful. Being an army brat meant that the Food Network fixture not only grew up eating flavorful foods, but she ate ethnically diverse dishes as well. "Every time we got new orders [to move to a different military base], my parents would do the research and say 'Look at how they eat there!'" Anderson raved. Those experiences increased her interest in world cuisine and gave her the tools to explore new techniques. She said, "My mom made kimchi in Germany the real way — she actually put it in the earth. I have parents who made kimchi — we are black!"
Before carving out a successful career in food entertainment with shows such as "Cooking for Real" and "Home Made in America," Anderson was a radio personality, a path that started when she joined the U.S. Air Force in 1993 and began working as a broadcaster in Texas and Seoul, South Korea, according to ABC News. As she developed her career in radio, she continued to hone her cooking skills, a passion she often talked about publicly, as she told ABC News in 2013. Eventually, both of those paths crossed when "someone from Food Network" heard one of her shows.
But a health diagnosis, which came shortly after she joined the military, could have changed her relationship with food — and her future career.
Sunny Anderson has a bowel condition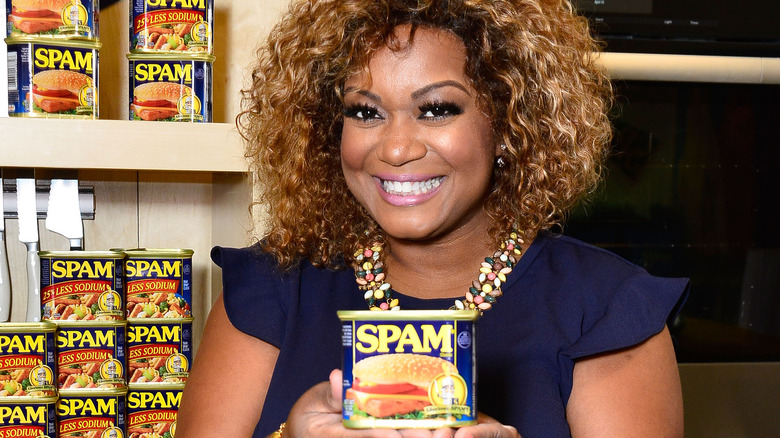 Jerod Harris/Getty Images
Sunny Anderson cemented her status as a celebrity chef with the release of her 2013 cookbook "Sunny's Kitchen: Easy Food for Real Life." Anderson is known for her meat-based recipes, which is no coincidence. At 19, while living in South Korea, Anderson was diagnosed with ulcerative colitis, per Everyday Health, a chronic condition that causes inflammation in the digestive tract and affects how the body absorbs nutrients. The news could have derailed Anderson's amateur cooking, but she was determined to keep that from happening. 
Instead of turning away from her passion, she delved deeper into it to learn the best ways to use food to manage her condition. One thing she learned is that many vegetables and raw fruits cause flare-ups in her case. "I can't just have a big salad because my body doesn't break it down," she told ABC News in 2014. That is also why her cookbook spends little time exploring veggie-based dishes. "If you get my cookbook, there are only four vegetable recipes. Everything else is meat and potatoes!"
In working closely with her doctor, Anderson also learned that flare-ups come and go. When she is not going through an episode, she is able to eat a wider range of foods. "I have many foods I love, and as soon as I feel I'm out of the woods on a flare-up, I pack my system with the nutrients that weren't being absorbed during the flare-up," she told Everyday Health.
Sunny Anderson is an advocate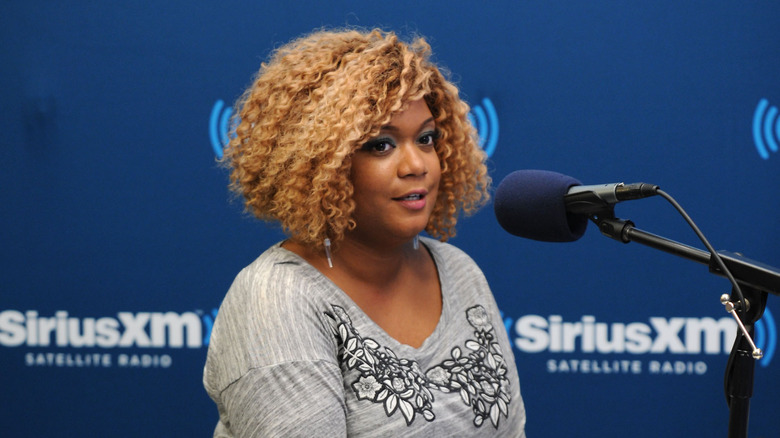 Andrew Toth/Getty Images
In 2014, Sunny Anderson decided she would use her platform and voice to raise awareness for the condition. As ABC News reported, Anderson, who has lived with ulcerative colitis for more than two decades, partnered with the Crohn's & Colitis Foundation of America to help draw attention to ulcerative colitis and other conditions that affect the digestive tract.
In her work with the foundation, she developed recipes and put together a course to teach patients how to manage their own conditions through food, the report detailed. "I recognize the importance of talking more openly about the disease and educating people with IBD [inflammatory bowel diseases] that we don't have to shy away from food because of our disease," Anderson said in a statement to announce the partnership.
In doing so, Anderson hoped to inspire others to learn to co-live with the painful disease as best they can. "There are a lot of people like me who know there's no cure, but we've been able to manage it somehow," she told Parade in 2020. Even though Anderson has found ways to live with her condition, she is also aware she is one of the lucky ones. Speaking on the "Rachael Ray Show" in 2014, Anderson emphasized that inflammatory bowel diseases can be cruel and even deadly for some. "To think that I could walk around, still chase my dreams, still eat the way I want to eat ... I feel really lucky," she told Ray.