The Real Reason Michael Moriarty Left Law And Order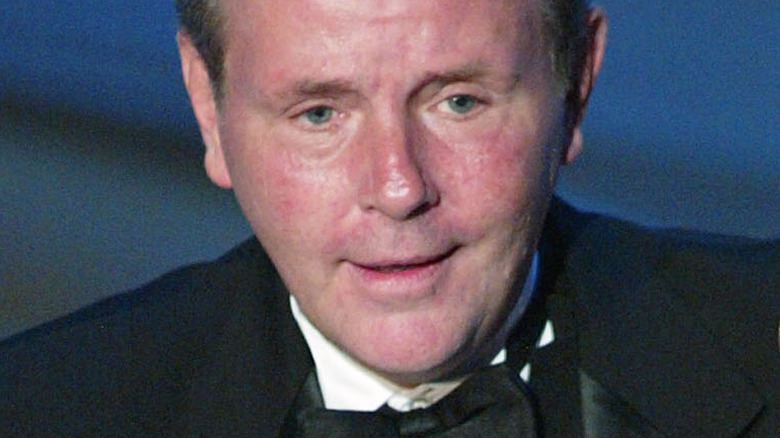 Frank Micelotta Archive/Getty Images
Michael Moriarty is known for his many years as an actor and musician. In fact, before he delved into the world of acting, music was his "first love," per an interview with The After Movie Diner. He admitted that his "whole acting technique is based upon a singer's approach more than that of an actor." His penchant for music makes sense, given his exposure to the medium from a young age. In his words, Moriarty's father owned "one of the biggest and best record collections" in Detroit, Michigan. However, the reason he went into acting instead of music was because his father did not support his "musical talents." Now, Moriarty is known for a great number of films and movies, including his stint as Assistant District Attorney Ben Stone on "Law and Order" in the '90s.
In 2015, Moriarty told Nate Watches Cool Movies that the character he most identified with over the course of his acting career was Stone, even though he only played the role for the first four seasons. Moriarty claimed that he "felt most at home in what eventually became a kind of leading man." The role also allowed him plenty of leeway to be himself instead of creating a whole new character. Moriarty added that he "never knew that earning such good money could be that easy." But, if Moriarty loved playing Stone so much, why did he leave the crime drama?
Michael Moriarty left Law & Order due to a moral outcry
Around the time that Michael Moriarty left "Law and Order," Congress was discussing legislation that would restrict the amount of violence present in television and films, according to the Los Angeles Times. Many believed this maneuver was necessary to curb the extreme violence running rampant in the United States at the time, and "Law and Order" was one of the television shows targeted for its depiction of said violence. 
When Moriarty found out about the proposed legislation, he became vehemently opposed to any attempt to censor the entertainment industry, and went public with his opposition in an attempt to garner support from the American TV industry. He believed that the legislation was completely unfounded and would go against the U.S. Constitution. Speaking to the Times, the actor expressed his opinion that, not only is there nothing wrong with television violence, but it can also be "beneficial." He said, "Violent drama has been a hallmark of every great civilization. It is not the cause of the disease — it is an immunizing factor ... Violent drama shows us where we come from. It makes us face our hypocrisy."
In an interview with The Wall Street Journal, Moriarty confirmed that he left "Law and Order" as a result of the proposed limitations on television violence. He claimed that "creeping McCarthyism" was the reason behind his departure, adding that the attempt to curb television violence was akin to censorship. 
What happened to Michael Moriarty after he quit Law and Order?
Following Michael Moriarty's very public and heated departure from "Law and Order" in 1994, he moved to Canada in an act of defiance against the United States, reported Cinema Retro. Unfortunately for the actor, the ensuing years were not kind to him. He began drinking, smoking, and getting into trouble with the law, including getting arrested for assault following a domestic spat with his then-girlfriend, Margaret Brychka, which was later dismissed in court. When he finally got his life back on track in Alcoholics Anonymous in 2003, Moriarty claimed that his newfound "faith in the power of God" brought him "to a calm and utterly sober joy in life [he] had never thought possible."
Ironically, given his previous rage towards the film and television industry, Moriarty got himself back into acting and starred in a number of movies and series over the ensuing years, including "Crime of the Century," "James Dean," and "The Arrow." In an interview with Nate Watches Cool Movies in 2015, the "Major Crime" actor revealed that his official retirement from acting came after a heart attack in 2007, after which he was given only six more months to live. Surviving the incident has gifted Moriarty a second lease on life and the inspiration to return to his original passion: composing. Ultimately, Moriarty feels "very blessed," telling Nate, "I have lived another eight years and, God willing, look forward to at least another ten years in which to compose more music."
If you or anyone you know is struggling with addiction issues, help is available. Visit the Substance Abuse and Mental Health Services Administration website or contact SAMHSA's National Helpline at 1-800-662-HELP (4357).