How Tall Is Joe Rogan?
Michael S. Schwartz/Getty Images
Joe Rogan is someone who is not afraid to share his social commentary — regardless of what the subject may be. He's also someone who takes great care of his physical health, as he often documents his workouts and meal plans on social media. As a UFC fighter (which is one of the podcaster and media figure's many titles), it's his business to be in top shape. But as far as his agenda, Rogan's not looking to save the world. Instead, he just wants to be the best version of himself. 
During a stand-up routine in San Francisco back in 2017, Rogan quipped (via Scraps from the Loft), "I have kids and I lie to them. I get high around 'em, too. People say you shouldn't do that, but they don't see it. They say you shouldn't be intoxicated around your children. Well, I'm not. I'm high. I call it 'elevated.' It's a different thing."
Well, while there's no doubt that Rogan certainly has a larger-than-life personality, a lot of people can't help but wonder just how high (as in feet and inches) he is. After all, he's used to being on his feet, whether it's in the octagon, on a stage, or during his UFC interviews. Let's find out. 
Joe Rogan's height was the butt of a sky-writing joke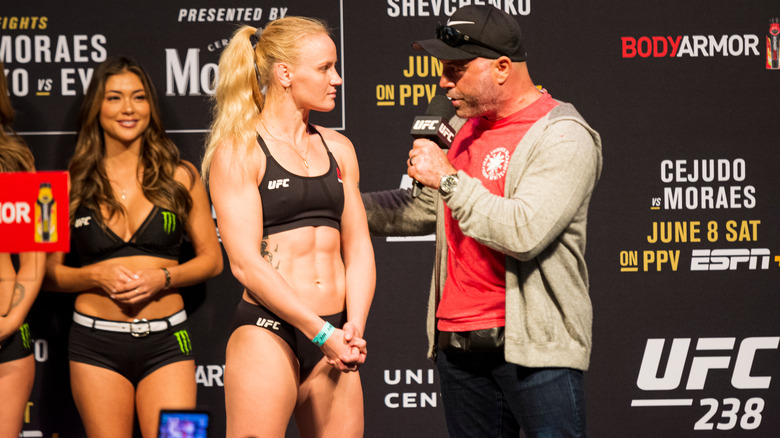 Dawid S Swierczek/Shutterstock
Apparently, Joe Rogan's height came into question back in June during a marriage proposal that was written up in the sky above Los Angeles to a woman by the name of Mollie Pratt. Social media users in the area were quick to notice that while after the standard "Will you marry me?" line, "Joe Rogan is literally 5 foot 3," was written in the sky, according to Uproxx. Meanwhile, TMZ reported at the time that the skywriting might have possibly cost "upwards of" $10,000 which is a whole lot of pocket change to make a point about one man's stature.
Needless to say, the message was meant as a joke (even though Rogan himself has never commented on the stunt) but at the same time, the internet couldn't help but wonder if Rogan is indeed that short or if he has a couple more inches on him. According to his IMDb profile, Rogan is 5-foot-7-and-a-half. But of course, the only person who knows what his true height happens to be Rogan himself. So what does he say on the matter?
Joe Rogan says he's 5-foot-8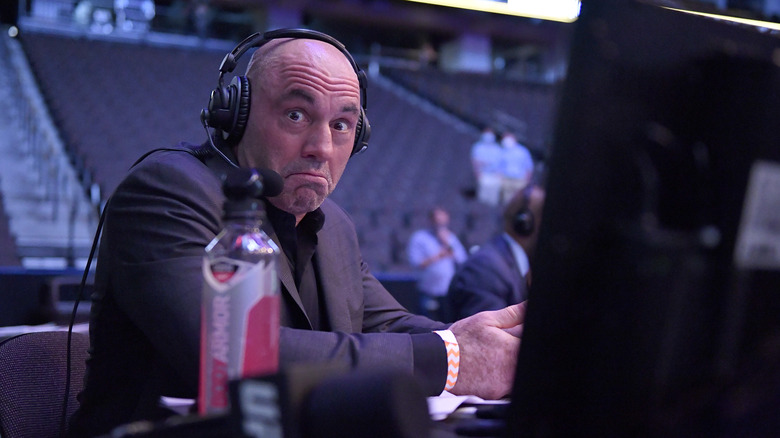 Douglas P. Defelice/Getty Images
Back in 2015, Joe Rogan responded to all the rumors about his height on Twitter. Apparently, he was upset with anonymous people on social media making it sound like he is shorter than he really is. He wrote, "It's people ... changing [W]ikipedia because we were joking around about it. I'm short, but not that short 5' 8."
But that doesn't seem to matter to a man like Rogan, because what he might lack in height, he certainly makes up in character, according to his fans. He also knows that he's accomplished enough in his life that there's no need to pay attention to his haters. "When you're jealous, especially of someone else's art or creations you automatically put up these selfish walls that reinforce your stupid ideas," he wrote back in 2014 during a Reddit AMA. "It's hard to pull those walls down and look at what you're hiding. Look at your own weakness and realize that the jealousy came from knowing that you're intimidated by someone else's work, and that when you compare it to your own, you fall short." That's from a man who has spent the last several years standing tall, success-wise.